By Sabrina Schmidt, Summer Grace, and Amanda Picciotto Feitosa for Jennifer Wood Media, Inc.
International jumper competition is being showcased on the Derby Field at Equestrian Village during WEF 6, where Ana Catalina Cruz Harris (MEX) is the mastermind behind the courses.
Thursday's highlight was the $6,000 Douglas Elliman 1.45m CSI3*, which saw 59 horse and rider duos vying for the top spot of the power-and-speed-format class. Eighteen countries were represented, with foreign athletes making up 66% of the starting order. Great Britain's Grace Debney rode to the win aboard Temple Equestrian LLC's Zarina de Vidau.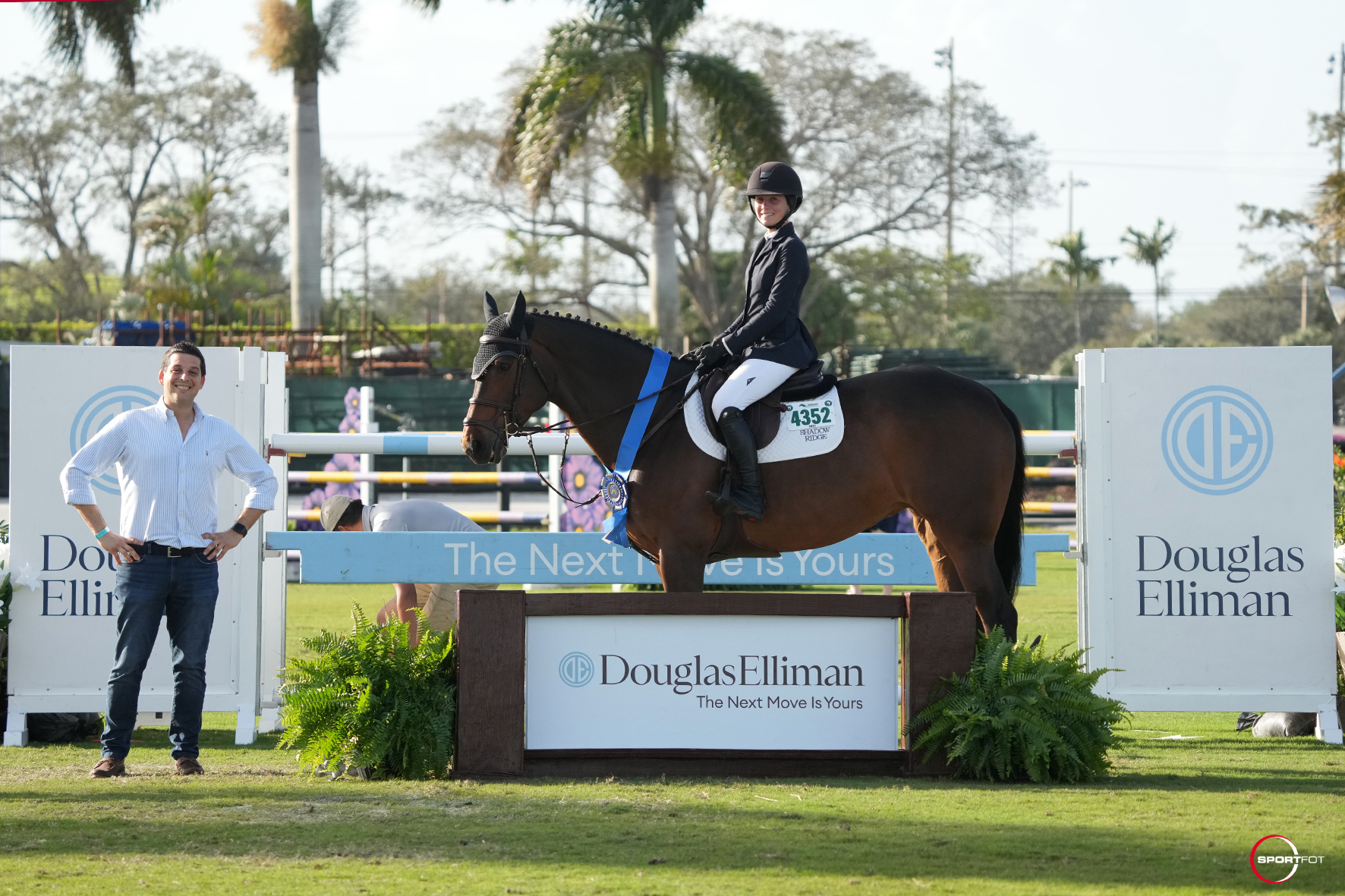 It was a little bit of déjà vu for Debney and Zarina de Vidau who just a couple weeks ago were in the winner's circle for the $50,000 Helgstrand Jewellery 1.45m Grand Prix CSI2*.
"Every round we jump clear gives me and the horse a nice confidence booster, so it was definitely nice coming back out here and being able to take the top spot again," said Debney.
Debney has been partnered with Zarina de Vidau, an 11-year-old CDE mare by Diamant de Semilly, for four years. Even from the beginning, they were always a good match.
"I like the small, fast ones," noted Debney. "You kind of have to be friends with a mare, and I've had a couple that I've had some really good relationships with."
The grass field presents different challenges than jumping in the sand arenas, but from her results it's evident that Zarina de Vidau is right at home on the grass. While rails fell in different places throughout the course, Debney used the setting to her advantage to find the quick, clear path.
"I think that's the best part about this field, is how much it opens them up. The last line was definitely forward in nine [strides]," commented Debney. "She doesn't have the hugest stride, so we always say that she adds a lot, but she walked right down there in nine [strides]. Her gallop just opens up out here, so it's great to feel that."
The pair have their eyes set on the $37,000 CaptiveOne Advisors 1.50m Championship Jumper Classic CSI3* on Saturday. Given Zarina de Vidau's naturally fiery way of going, Debney was careful not to completely let the cat out of the bag today.
"She's super sweet in the barn, amazing to deal with, but she's definitely always on the go, always thinking about the next thing, always wanting to jump, jump, jump," described Debney. "We kind of have to slow her down a little bit and let her just take a minute sometimes, but that's also what makes her so good."
Earlier in the day, 106 combinations took to the $1,000 Bainbridge 1.40m CSI3* power-and-speed class to get their first look at the turf this week. Halfway through the class, some of the jumps were slightly adjusted to preserve the field, resulting in two class sections and therefore two winners. In the first half, Nicholas Dello Joio (USA) found the most efficient track, stopping the timers in 40.16 seconds with The Berry Group LLC's Cornet's Cambridge, a 10-year-old Oldenburg gelding by Balou du Reventon x Cambridge 8. In the second section, Lillie Keenan (USA) piloted Blossom Z to the win in 36.57 seconds. Blossom Z, a 12-year-old Zangersheide mare by Balou du Rouet x Chicago I Z, has previously been ridden by Keenan's trainer McLain Ward (USA), who co-owns the mare with Wyndmont.