Edited Press Release
Wellington, FL – February 25, 2022 – Week 7 of the 2022 Winter Equestrian Festival (WEF), sponsored by Lugano Diamonds, featured top hunter and jumper competition at two facilities on Thursday, February 25. Hunter riders took their turn on the grass Derby Field at Equestrian Village in the $10,000 USHJA National Hunter Derby, which awarded prizes to the top 12 in sections for Open, Junior, and Amateur out of 110 entries. Victories went to Tiffany Morrissey riding Dr. Kathryn Withers's Copernicus K, Clara Propp on Aquitaine Equine's Inquisitive, and Angela Calicchio with City Walk, owned by Cali Horse Sales LLC. Jumpers were featured in the International Arena at Palm Beach International Equestrian Center with Lorenzo de Luca (ITA) and Fabio Leivas Da Costa (BRA) winning five-star and two-star classes, respectively. WEF continues with world-class competition through April 3.
In the $10,000 USHJA National Hunter Derby, all three winners would equal or better their first-round scores with their second handy round. Morrissey and Copernicus K entered the handy round in fifth place with a plan, after a first-round score of 93, which included high option points. They moved up to the win with a second-round score of 95, giving them a total of 188.
"I thought he was great in the first round, but I knew I'd have to pull out all the stops, go inside everywhere, gallop the last fence, be as neat and tidy as I possibly could," said Morrissey of the 12-year-old Zwiebrucker gelding by Popeye K.
"He's been an unbelievable derby horse for us," said Morrissey said of the homebred. "He qualified for derby finals last year, and he's already qualified this year, so he knows the drill now. He's my number one derby horse right now."
Along with their derby win, Morrissey and Copernicus K were presented with the Champion Equine Insurance Hunter Style Award by Laura Fetterman. Kelsey Epperson and Didgereedoo VDL, owned by Lashier Properties LLC, finished in second with an overall score of 187.25 points. Colin Syquia and Cynthia Sulzberger's Front Page were third with 186 points.
In the Junior section, Clara Propp and Inquisitive also came into the second round looking to improve their rank after a first-round score of 85. The two sat in sixth place, but with only a fairly recent return to the ring.
"I didn't feel too much pressure with it being his first show back in a while," said Propp said of the 14-year-old Warmblood gelding. "He was better than I could have expected, so I just wanted to just to step it up in the handy. I wanted to do all the turns that I could. I had a nice gallop to the last fence, because I just wanted to show off a little, and everything went to plan."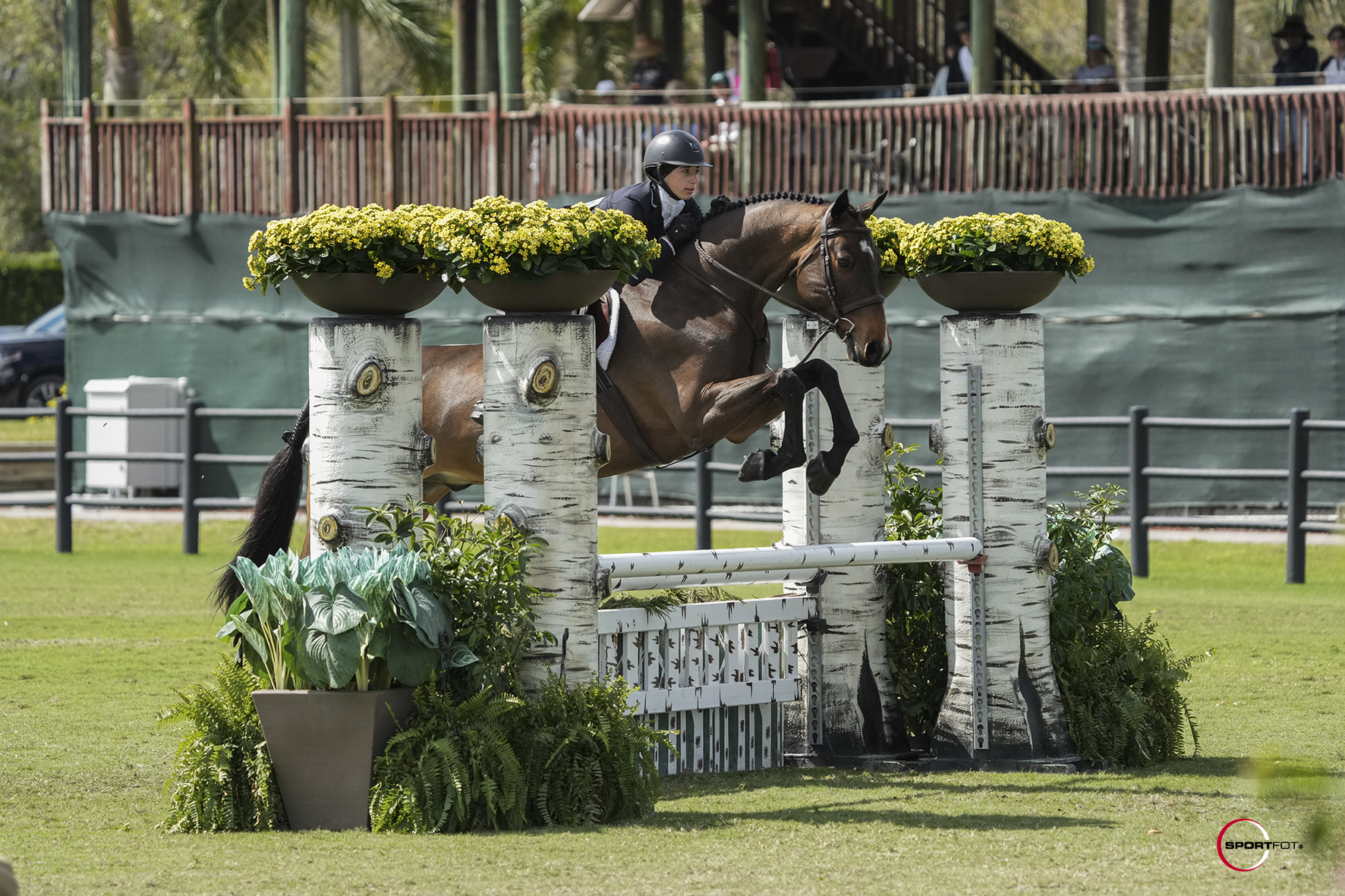 The plan led to a second-round score of 92, giving them 177 for the win. Neither Propp nor Inquisitive are new to derbies, and they both thoroughly enjoy them. Propp finished fourth in last year's derby with Arabesque and won a pony derby at WEF as well.
"He'd been my sister's horse for a long time," said Propp. "She won the Deeridge derby, so he's a pro. He knows his job, and he's so reliable.
"I love the derbies," she continued, "and so does he. He always has his ears perked. You can tell he's really enjoying what he's doing, which is just so nice to see. He's pretty much perfect and always comes out the same horse."
Second place in the Junior section went to Sydney Raidy and Dominik, owned by Joe Currais. They finished with a score of 176. Just behind with a score of 173 in third place were Elizabeth Lowham-Ruzzo and her own Secret's Out.
Unlike Morrissey and Propp, Calicchio started her handy round in the top position with a score of 84.
"Coming into the handy, I was a little nervous, to be honest," said Calicchio. "I ended up getting over it though. As soon as I picked up the canter, I knew I we were on it. He's always been so good, and he listened to me when I asked him to leave from where I did. He's a great boy."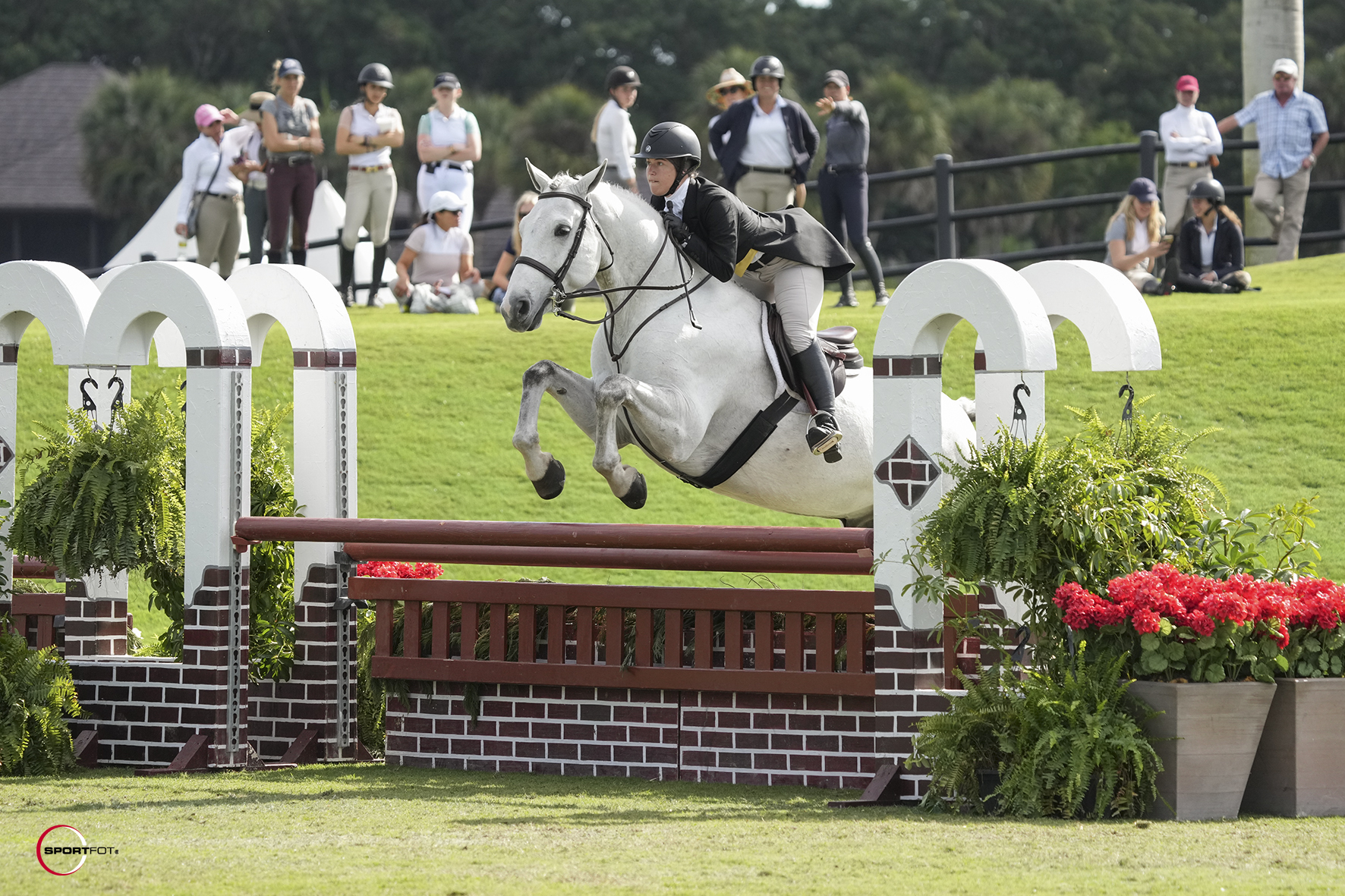 The pair equaled their first-round score with another 84 to win on 168. City Walk is a 10-year-old Selle Francais gelding and had a career change once Calicchio acquired him.
"I've had him for almost three years now," she said. "He was doing the jumpers when I first bought him, but now we do the equitation and hunters. We do the 3'6" Amateur-Owners at WEF, and then also the Ariat and Taylor Harris Adult Medals. This was actually my first time out on the grass out here, and it was a blast. I would love to do it again."
As for his personality, Calicchio noted that he's consistent both in and out of the ring.
"He's really funny, because whenever he gets to stand around like this, he likes to take naps all the time," said Calicchio. "He's always super relaxed. He's always with me and is a really great partner."
Lindsay Mutschler and her own Concord finished second with a total score of 153, while third place with a score of 152 went to Leah Patipa and her own Regard.