Edited Press Release
The $6,000 Corro 1.45m CSI2* wrapped up international competition Friday at WEF 9. Just under 30 entries put forth their efforts over Wade's single-round speed track. The class concluded with a win for the USA as Maria Costa piloted Iceman B SFN to the winning time of 63.40 seconds.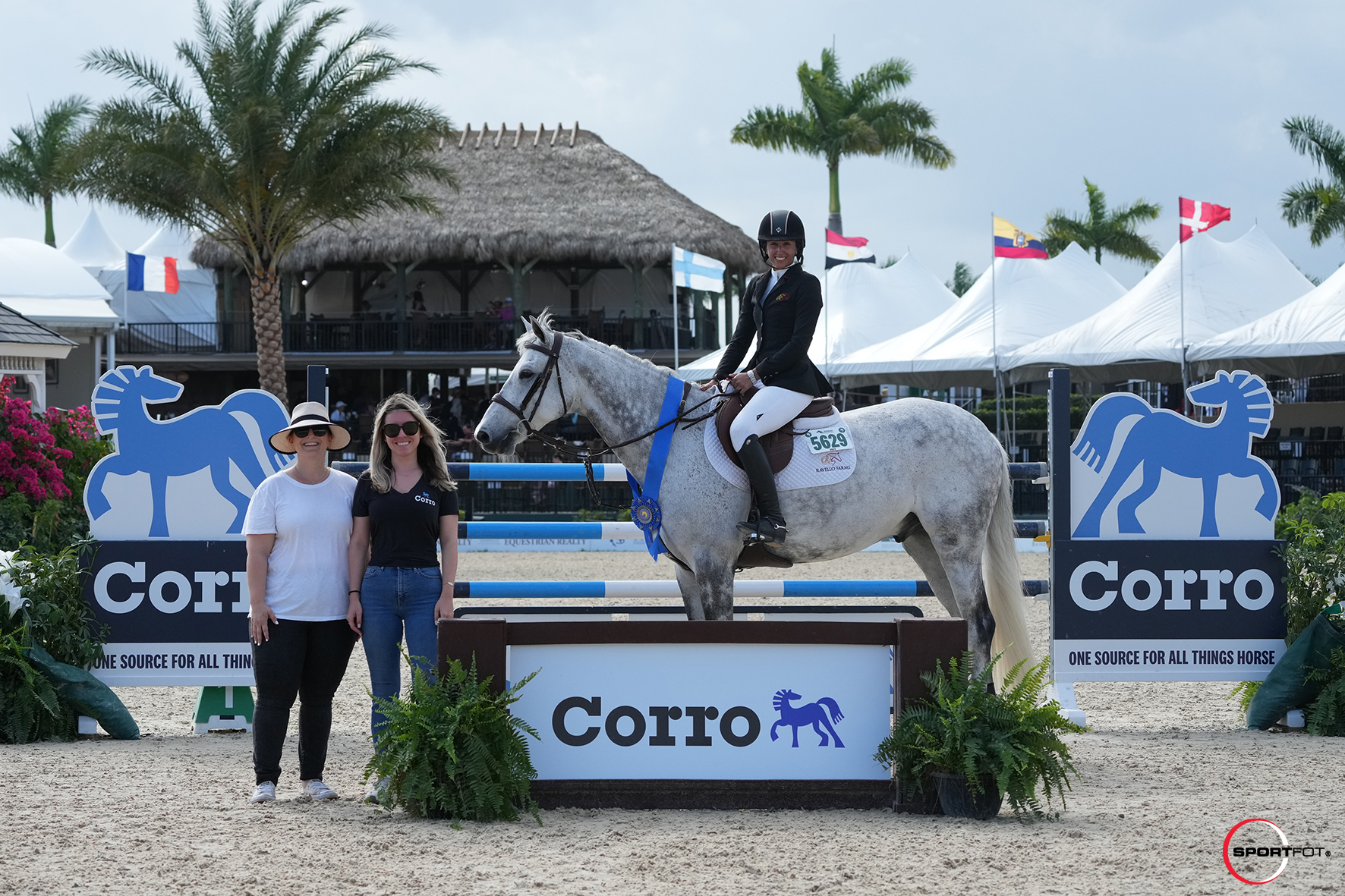 Only six of the opening field managed to come out of Wade's test fault-free; a single rider had two time faults on the clock while an additional eight entries took down one obstacle. Costa put forward the best effort with her nine-year-old KWPN gelding (Mylord Carthago*hn x Corland) and bested the next closest contender by almost two seconds.
"He is very sweet and will pretty much do whatever you ask," said Costa. "We did seven strides instead of eight down the final line, and I think that is really what separated us from the rest. I didn't find the exact spot I wanted landing over the second to last fence, but I rode for the seven anyways because that was my plan. He is pretty great in the way that if I ask for it, he will usually do it."
The gelding is a newer mount for Costa who only acquired him a year ago and has had to take a bit of time to learn his way of going.
"He is a different ride for me as most of my horses in the past have always been hotter, more forward rides," finished Costa. "He is very laid back which has been an adjustment; the goal today was to work on going faster so as not to have time penalties, and we were successful with that, so I am thrilled."
Bruno Passaro (ARG) produced the runner-up time with his second mount in the class, Alejandro Martin Del Campo's 12-year-old Selle Francais gelding Splendide Kannan (Kannan x Quidam De Revel). As one of the six to finish without fault, they landed with a time of 65.70 seconds. Beth Underhill put Canada into the victory gallop as she and Casino Calvin galloped into third place. Underhill navigated the track in 66.61 seconds with the Rein Family LLC's and Torrey Pines's nine-year-old Oldenburg gelding Casino Calvin (Casino Berlin Old x Calvin) to round out the top three.
Final Results: $6,000 Corro 1.45m CSI2*
1. ICEMAN B SFN: 2013 KWPN gelding by Mylord Carthago*hn x Corland
MARIA COSTA (USA), Maria Costa: 0/63.40
2. SPLENDIDE KANNAN: 2010 Selle Francais gelding by Kannan x Quidam De Revel
BRUNO PASSARO (ARG), Alejandro Martin Del Campo: 0/65.70
3. CASINO CALVIN: 2013 OS gelding by Casino Berlin Old x Calvin
BETH UNDERHILL (CAN), Rein Family LLC and Torrey Pines: 0/66.61
4. AMIGO W Z: 2014 Zangersheide gelding by Andiamo Z x Contendro I
FABIO LEIVAS DA COSTA (BRA), Bonne Chance Farm LLC: 0/69.96
5. DORETTE: 2009 Oldenburg mare by Dollar Du Murier x Fighting Alpha 3
MAX WACHMAN (IRL), Coolmore Show Jumping: 0/70.83
6. MELARO OLD: 2013 OS gelding by Messenger x Calvaro F.C.
BRUNO PASSARO (ARG), Alejandro Martin Del Campo: 0/72.00
7. KONAK: 2010 BWP gelding by Nabab De Reve x Cash
CHANDLER MEADOWS (USA), Chandler Meadows: 2/73.76
8. COLDPLAY 31: 2009 Westphalian gelding by Cassini II x Phantom
CAELINN LEAHY (USA), Steve Schaefer: 4/61.53
9. LUCY IN THE SKY: 2009 Swedish Warmblood mare by Tornesch x Quantum
ASHLEY VOGEL (USA), Ashley Vogel: 4/61.97
10. NIXON VAN D'ABELENDREEF: 2013 BWP gelding by Diamant De Semilly x Toulon
AMANDA DERBYSHIRE (GBR), Pine Hollow Farm: 4/63.55
11. FIFTY SHADES: 2008 Westphalian gelding by Call Me Number One x Sion
ANDREA TORRES GUERREIRO (COL), Andrea Torres Guerreiro: 4/63.74
12. BYZANCE MAIL: 2011 Selle Francais mare by Iowa 960 x Carthago
LACEY GILBERTSON (USA), Seabrook LLC: 4/65.57