Edited Press Release
A competitive field of 30 horse and rider pairs participated in Medium Pony Hunters sponsored by Always Faithful Equestrian Club. The number of entries resulted in a California Split of the classes which led to the division concluding with two champions.
Vivian Golden with Baroness of Locheil and J.J. Torano aboard Paris Charm took the joint top honors.
Golden and Baroness of Locheil, a nine-year-old Welsh Pony Cross, just started competing together at the start of circuit, but have already seen multiple championships in the division including weeks three, five, eight, and premiere week.
"It felt good [today] because she's such a good girl. I've been paired with her nicely since she's a mare, and I get along with the mares," said Golden of the Dr. Betsee Parker-owned pony. "She's kind of a little sassy but I just kind of work around it. It's been fun."
The two claimed a first place over fences and first place under saddle to add to the pair of blue ribbons from their over fences efforts on day one, as well as a fifth place.
"Yesterday our courses were good too," said Golden, of Reading, PA. "They were two of the best rounds I think I've ever had on her; everything just came up nicely, and it was just nice because everything flowed."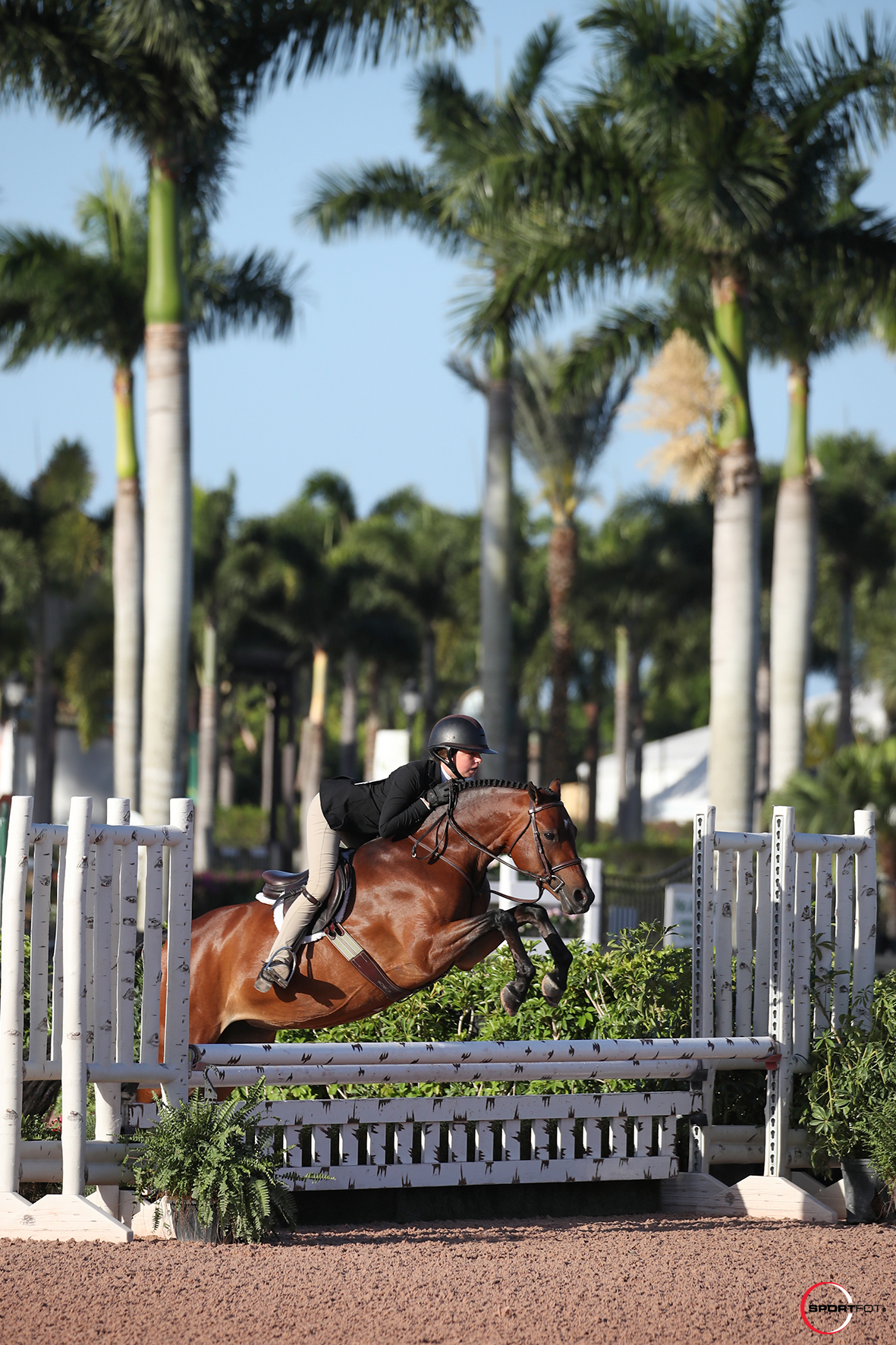 J.J. Torano and Paris Charm, a 14-year-old Welsh pony mare by Halifax owned by Megan d'Amico, were the Section B champions. They won three classes and picked up another second place for the additional top tricolor.
Torano has been riding Paris Charm since the beginning of the 2022 WEF, and while the mare was initially nervous, the pair have formed a good relationship in a short amount of time – also thanks to the pony's favorite treat, Paddock Cakes with mints.
"The best thing about her is how easygoing she is in the ring," said Torano, who noted that she doesn't have any trouble with the tight turns or trot jumps that can be seen in handy hunter courses. "Today she felt really good. She jumped really well."
Torano, who is 11 years old, is also transitioning to competing on horses this year. "Some days I get right off of a horse and I go to ponies, and other days I get right off my ponies and go to horses, which can be hard because the horses are so much bigger and different," he explained. "Everything just comes up differently."
But while the change is something Torano is adjusting to, he finds that Paris Charm helps him in the ring. "She's a pretty easy pony to ride," he noted.
The reserve championships in the Always Faithful Equestrian Club Medium Pony Hunters went to Golden again on Funtastico, owned by Dr. Betsee Parker, and High Tops, ridden by Agatha Lignelli for The Lignelli Family.