By Amanda Picciotto Feitosa for Jennifer Wood Media, Inc.
Wellington, FL – March 23, 2022 – The second-to-last week of the Winter Equestrian Festival (WEF), sponsored by Palm Beach County Sports Commission, began on Wednesday, March 23. Isabella Russekoff (USA) and Suave Pony LLC's Balou's Fly High were victorious on the opening day of WEF 11 in the $10,000 Douglas Elliman Real Estate 1.45m CSI4*, which served as the qualifier for the "Saturday Night Lights" feature, the $150,000 CaptiveOne Advisors 1.50m Series Final Classic CSI4*.
Olaf Petersen, Jr (GER) set the power-and-speed track for 78 starting competitors, representing 19 nations. Going clear proved to be quite possible today, with 39 riders finding their way fault free. Doing so quickly, however, proved to be a challenge answered best by Russekoff and Balou's Fly High, who soared through the short course in 31.66 seconds.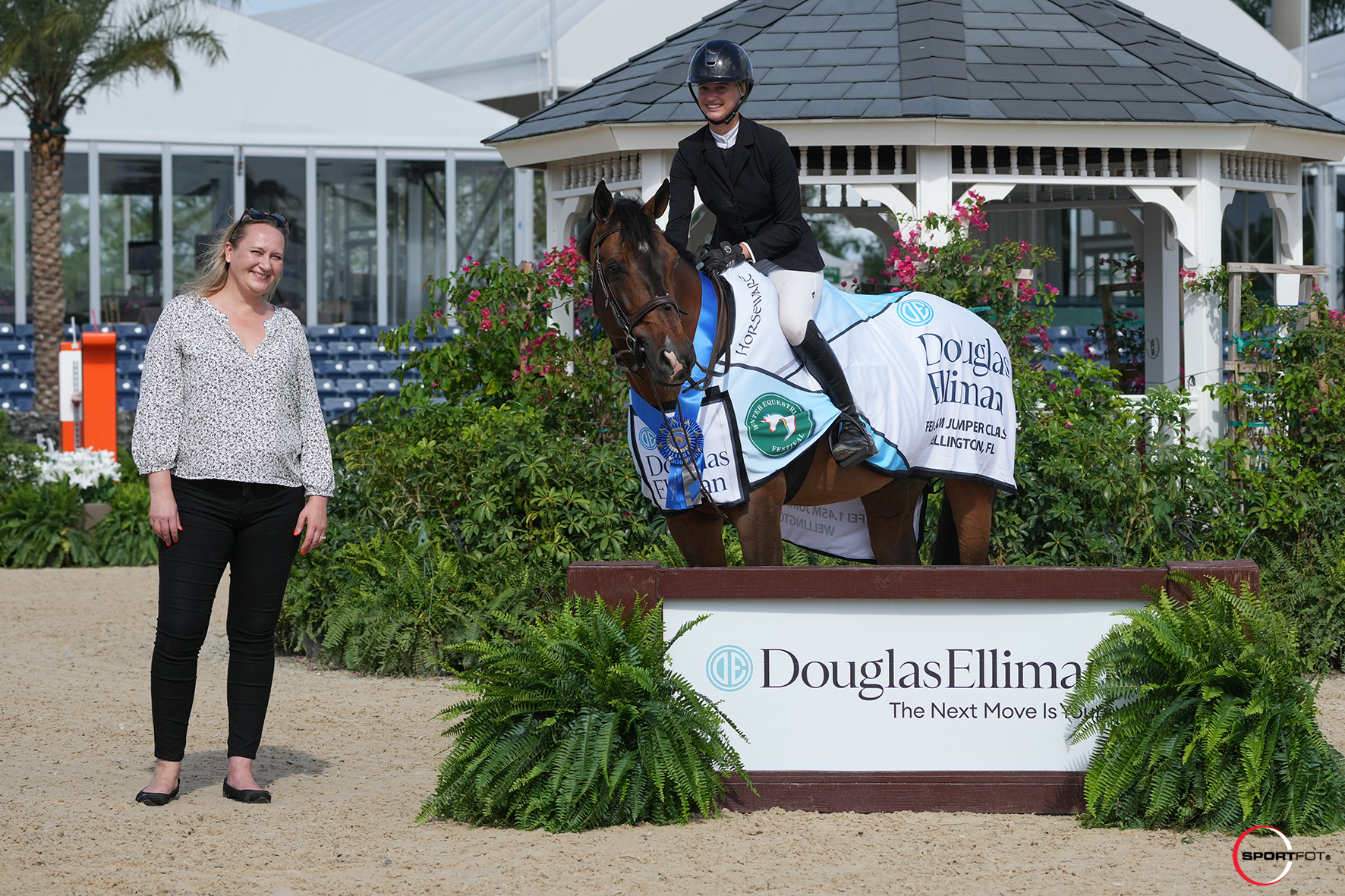 "In the ring, he likes to take me to all the jumps, so I was confident that given this course, we would be able to leave out strides where maybe others could not," explained Russekoff of the 15-year-old Oldenburg stallion by Balou du Rouet x Grandeur. "For example, the last line was a normal five-stride line, but I know with him and how much he loves to go for it at the end of the course, I could choose to do four."
Though his talent and professionalism in the ring are obvious, Balou's Fly High has an interesting character in the barn, and being a stallion, he can be challenging to handle. Because he's such a superstar, Russekoff and her team have learned to work around his quirks.
"He has a huge personality. He gets really emotional, so we have to keep him really separated from everyone else," laughed Russekoff. "When he's having a good day, it's a little easier, but when he's having a bad day, we just kind of let him be and try to be really nice to him."
She continued, "We base our schedule with every other horse at the barn around him, because he has such a big personality. Since he can get so worked up, we don't try too hard to mess with him at home, because he's usually always amazing in the ring."
Balou's Fly High has been a winning partner for Russekoff for seven years and has helped her move up from the 1.20m Low Junior Jumper division all the way through the CSI2* grand prix level. During this year's WEF 8, they finished third in the $25,000 Hermès Under 25 Series Semi-Final. Because of their long relationship, Russekoff finds their wins together to be even sweeter.
"Every win with him is really special. It's especially nice to win with him, because he tries so hard for me every single time he goes in," said Russekoff. "It's awesome when I can also reward him by doing my part to go fast and put in a good round."
Conor Swail (IRL) and Team Philippaerts's Theo 160 raced to a second-place finish in 32.26 seconds. Just three one-hundredths of a second behind them was Richard Vogel (GER) and Dakota de L'Ardrais, owned by Coleridge Equestrian BV.
The day started with the $6,000 Beerbaum Stables CSI2* 1.40m two-phase class, where young talent Zayna Rizvi (USA) topped the leaderboard of 79 entries with Peacock Ridge LLC's Excellent (Cicero Z van Paemel x Ahorn). Rizvi and the 13-year-old KWPN gelding crossed the timers in 28.69 seconds, almost a full second faster than second-place finisher Hailey Royce (USA) with Double Clear LLC's Sonic Boom, who finished in 29.54 seconds. Close behind was Victoria Heurtematte (PAN) to round out the top three aboard her own Flying Dutchman in 30.19 seconds.
In the $1,000 Bainbridge Companies 1.40m CSI4*, the United States were on top again, as Spencer Smith ran away with the win on Purple Road LLC's Copernicus in 36.38 seconds. Smith and the nine-year-old Swedish Warmblood gelding by Camaro M x Cortus just edged out Germany's Richard Vogel and Caramba 92, owned by Horse Management GMBH, who stopped the clock in 36.65 seconds for second place. Third place went to fellow U.S. rider Brian Moggre with Ann C Thompson's I'm Special V, who finished in 42.66 seconds.
Final Results: $10,000 Douglas Elliman 1.45m CSI4* (1.50m Qualifier)
1. BALOU'S FLY HIGH: 2007 Oldenburg stallion by Balou du Rouet x Grandeur
ISABELLA RUSSEKOFF (USA), Suave Pony LLC: 0/0/31.66
2. THEO 160: 2012 Holsteiner gelding by Christian 25 x Calando IV
CONOR SWAIL (IRL), Team Philippaerts: 0/0/32.26
3. DAKOTA DE L'ARDRAIS: 2013 Selle Français gelding by Urlevent Du Bary x Elan De La Cour
RICHARD VOGEL (GER), Coleridge Equestrian BV: 0/0/32.29
4. HERA FBH: 2012 KWPN mare by Comme Il Faut 5 x Heartbreaker
LAURA KRAUT (USA), Ardencote Stud: 0/0/32.82
5. EL BALOU OLD: 2012 Oldenburg stallion by Eldorado vd Zeshoek x Balou du Rouet
DAVID O'BRIEN (IRL), Chansonette Farm LLC: 0/0/33.01
6. CADEAUMINKA: 2013 Dutch Riding Horse gelding by Kannan x Jodokus
LILLIE KEENAN (USA), Chansonette Farm LLC: 0/0/33.49
7. ENANDA: 2009 KWPN mare by Nabab de Reve x Holland
LUCY DESLAURIERS (USA), Luja LLC: 0/0/33.58
8. MTM VIVRE LE REVE: 2009 Westphalian gelding by Ustinov x Chello II
BRIAN MOGGRE (USA), Major Wager LLC: 0/0/33.59
9. KALINKA VAN'T ZORGVLIET: 2010 Belgian Warmblood mare by Thunder vd Zuuthoeve x Flipper d'Elle
KARL COOK (USA), Helen Signe Ostby: 0/0/33.65
10. FEE DES SEQUOIAS Z: 2009 Zangersheide mare by Figaro du Ri D'Asse x Saccor
JUAN MANUEL GALLEGO (COL), Juan Manuel Gallego: 0/0/33.70
11. ELFY DES EQUINOXES: 2014 Selle Français gelding by Milady du Pontreau x Concorde
ANTONIA PETTERSSON HAGGSTROM (SWE), Abdel Saïd: 0/0/33.86
12. OPIUM DU SOUFFLET: 2009 Swiss Warmbood gelding by Ogano Sitte x Landjuweel St.Hubert
NICHOLAS DELLO JOIO (USA), Rocking D Ranch: 0/0/34.15