By Summer Grace and Sabrina Schmidt for Jennifer Wood Media, Inc.
Wellington, FL – April 1, 2022 – The third day of international competition on Friday, April 1, during the final Rolex-sponsored week of the 2022 Winter Equestrian Festival (WEF), closed out with Grace Debney (GBR) winning her first-ever five-star class in the $37,000 Bainbridge Companies 1.45m CSI5*.
Fourteen nations were represented in the 50-horse lineup of the five-star class. Course designer Guilherme Jorge (BRA) built a track worthy of the day's main event with a single-round speed challenge to be completed under an efficient time of 76 seconds. Daniel Coyle (IRL) and his top mount, Farona, took the early lead in the speed class as he stopped the clock in 55.30 seconds with Ariel Grange's 12-year-old KWPN mare (Baltic VDL x Lux Z). The pair held the headline position until nearly the end, but Debney made it clear she did not come to take second.
Debney and her long-time partner Zarina De Vidau, a horse she has had since acquiring her to do the junior jumpers, put complete faith in one another and became the only combination to lower the time on the scoreboard below 55 seconds. By leaving several strides out across the course and relying on the trust they have built, Debney and the Temple Equestrian LLC's 11-year-old CDE mare (Diamant De Semilly) shook up the competition with a final time of 54.97 seconds.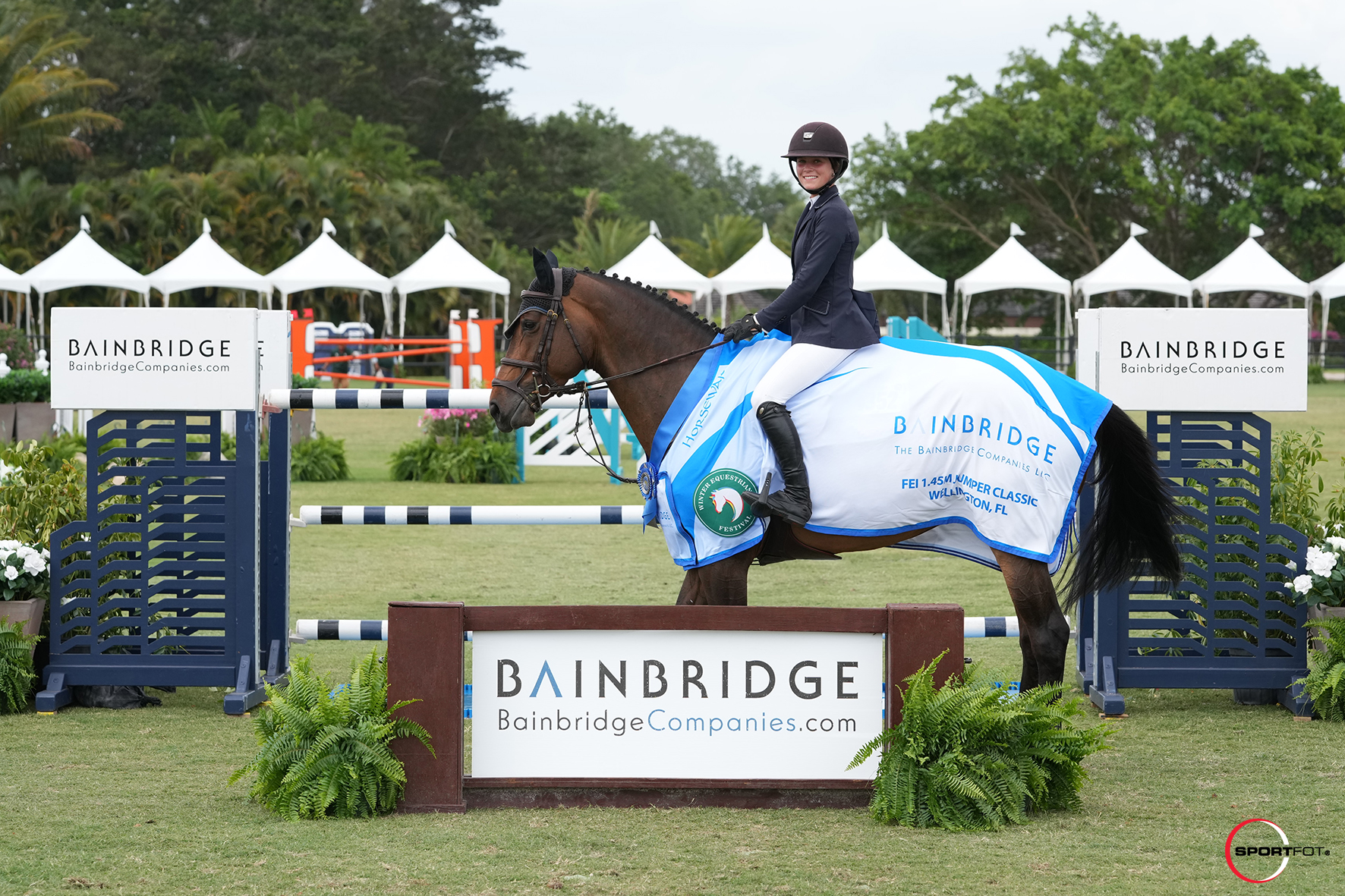 "When we originally walked the course, there were three or four lines that I had planned to do one more stride than I ended up doing," explained Debney. "As the class progressed though, I knew I had to leave out as many strides as I could to have a shot. She has a normal stride, so I was able to gallop down there and get the leave-out numbers without slowing down."
Debney continued that she could have never imagined competing in this caliber of event with this mare when the partnership first came together.
"This has been a dream of mine for the longest time, and I never actually thought it would come true but the fact that it is with her is unbelievably special," added the 18-year-old. "She has been my rock for so long, and somehow she has stepped up even more for me this year. Never in a million years would I have thought I would win a five-star competition during Rolex week with this horse."
According to Debney, the relationship the pair has built is key to being able to achieve what they have.
"Every time we went to leave a stride out today, I would have a split-second thought of pulling to fit in one more," she detailed. "Then I would remember it was Zarina, and I would know that she had my back. We have so much trust in one another, and she truly enjoys her job, which makes it better for all of us."
With his previous leading time, Coyle still received the red ribbon honors while fellow countryman Darragh Kenny (IRL) rounded out the top three. Kenny piloted the HKC Collection LLC's 15-year-old KWPN mare Cicomein VDL (Chacco-Blue x Jus De Pomme) to a clear effort and cleared the timers in 56.40 seconds.
Final Results: $37,000 Bainbridge Companies 1.45m CSI5*
1. ZARINA DE VIDAU: 2011 CDE mare by Diamant De Semilly GRACE DEBNEY (GBR), Temple Equestrian LLC:0/54.97
2. FARONA: 2010 KWPN mare by Baltic VDL x Lux Z
DANIEL COYLE (IRL), Ariel Grange: 0/55.23
3. CICOMEIN VDL: 2007 KWPN mare by Chacco-Blue x Jus De Pomme
DARRAGH KENNY (IRL), HKC Collection LLC: 0/56.40
4. IVORY TCS: 2013 KWPN mare by Falaise De Muze x Ukato
DANIEL COYLE (IRL), Ariel Grange: 0/56.71
5. KIANA VAN HET HERDERSHOF: 2010 BWP mare by Toulon x Lys De Darmen
DANIEL DEUSSER (GBR), Stephex Stables: 0/57.02
6. BRIGHTON: 2006 KWPN gelding by Contendro II x Quick Star TIFFANY FOSTER (CAN), Artisan Farms, LLC: 0/57.32
7. HELLCAT: 2011 BWP mare by Cassander Van Het Bremhof x Conan Z
PAUL O'SHEA (IRL) Eye Candy Jumpers: 0/57.49
8. LAZY: 2011 BWP mare by Hickstead x Cruising
ZOE CONTER (BEL), Stephex Stables and Aurora Farms, LLC: 0/57.70
9. FECYBELLE: 2010 KWPN mare by Carambole x Sjapoo
KARL COOK (USA), Helen Signe Ostby: 0/57.82
10. TIC TAC: 2003 SBS stallion by Clinton x Darco
BEN MAHER (GBR), Jane Forbes Clark: 0/57.88
11. NOCHE DE RONDA: 2009 Oldenburg mare by Quintender 2 x Lovis Corinth
MCLAIN WARD (USA), Marilla Van Beuren, Bob Russell, and McLain Ward: 0/57.94
12. MAESTRO VICA V/D ARK: 2012 BWP stallion by Lordanos x Heartbreaker
NATALIE DEAN (USA), Marigold Sporthorses, LLC: 0/58.35
---
This Post Brought to You by: 
Taylor, Harris Insurance Services
Taylor, Harris Insurance Services (THIS) was founded in 1987 to provide specialized insurance for all types of equine risk.We place our policies with the highest rated and most secure carriers, meticulously selected for reliability and prompt claims settlement. We are proud of our worldwide reputation for responsive and courteous service, and we welcome the opportunity to discuss your equine insurance needs and provide you with a quote.
Access to multiple underwriters
Leader in the U.S. and European markets
Customized policies provide you with a choice
Trusted advisors in the equestrian industry
Direct access to insurance professionals
Policies that cover every breed and discipline across all 50 United States