By Summer Grace and Sabrina Schmidt for Jennifer Wood Media, Inc.
Guilherme Jorge's (BRA) course for the $37,000 CabanaCoast 1.45m Qualifier CSI2* at WEF 12 left only 13 of the original 76 entries eligible for the class's short course. The tight time allowed of 71 seconds played a factor for 10 riders, while five more fell victim to a downed rail. Riders from the U.S., Germany, Canada, Ireland, and Great Britain made up the jump-off.
Trailblazer Lacey Gilbertson (USA) was the front runner as the final adjustments were made and set the time to beat with a blazing fast double-clear performance of 38.58 seconds. Samuel Hutton (GBR) immediately followed with another clear round but settled into the temporary second place with a slightly slower time. The remainder of the competitors gave it their best shot with all but five going fault-free but Gilbertson and Seabrook LLC's 12-year-old BWP mare Karlin Van't Vennehof (Fantomas De Muze x Quasimodo Van De Molendreef) held tight to the top position throughout the entirety of the second round.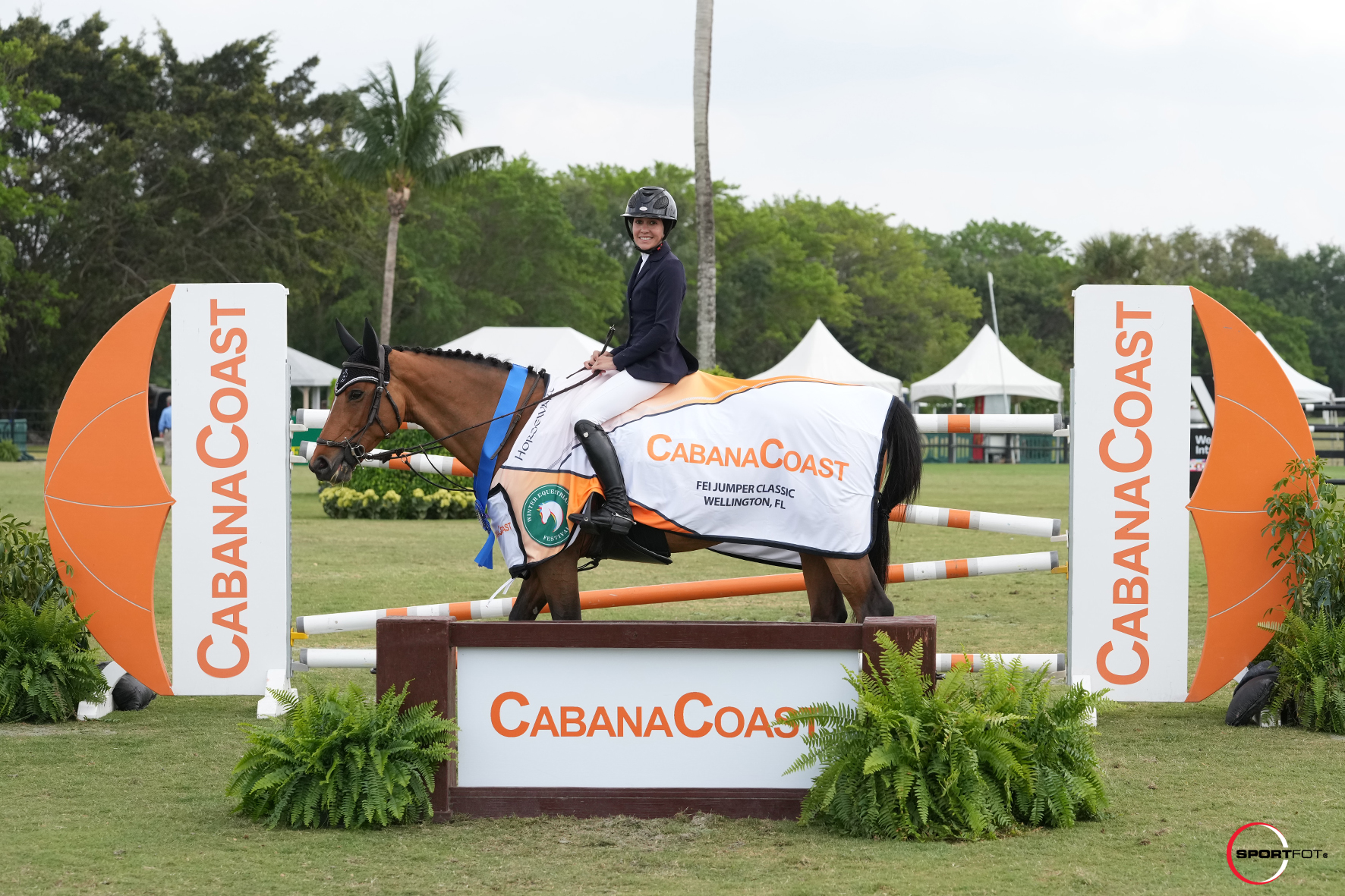 "I went early so I wasn't able to watch any go in either the first or the second round," explained Gilbertson. "We were planning to just have a good ride in preparation for Sunday since it was our first time on the grass. I was very tight from fence one to two, and then just kept flowing after that so everything came up the way I wanted it to. If I just stay out of her way, she gets the job done, and she is very quick across the ground."
The partnership is new for Gilbertson who has only had the mare for several months, but she is excited for their future.
"This mare was previously a ride for Shane Sweetnam, and I just acquired her for myself at the beginning of the WEF season," she detailed. "We owned half of her when Shane was riding her, and she was my type, so it worked out well. I am smaller and not that strong, so I think I get along with the mares I've had because I don't overpower them. She makes my life easy."
Ireland's Tom Wachman shot into the victory gallop with HH Fireball as the pair flew to a fast second place. He and Coolmore Show Jumping's 12-year-old Selle Francais gelding (Number One D'Isp x Toulon) landed roughly half a second behind Gilbertson for the honors. Hutton slipped into the third-place position as his time of 39.67 seconds with Abdel Saïd's 12-year-old BWP gelding H&M Kirlo van den Bosrand (Cardento 933 x Utrillo VD Heffinck) fell just below Wachman's time of 39.10 seconds.
Final Results: $37,000 CabanaCoast 1.45m Qualifier CSI2*
1. KARLIN VAN'T VENNEHOF: 2010 BWP mare by Fantomas De Muze x Quasimodo Van De Molendreef
LACEY GILBERTSON (USA), Seabrook, LLC: 0/0/38.58
2. H H FIREBALL: 2010 Selle Francais gelding by Number One D'Iso x Toulon
TOM WACHMAN (IRL), Coolmore Show Jumping: 0/0/39.10
3. H&M KIRLO VAN DEN BOSRAND: 2010 BWP gelding by Cardento 933 x Utrillo VD Heffinck
SAMUEL HUTTON (GBR), Abdel Saïd: 0/0/39.67
4. FOREVER SFN: 2010 KWPN gelding by Azteca vdl X Non Stop KELLI CRUCIOTTI-VANDERVEEN (USA), Springpaarden Fonds Nederland: 0/0/40.38
5. FAIR FIELD: 2010 KWPN gelding by VDL Zirocco Blue x Chin Chin
KATHERINE STRAUSS (USA), Katherine Strauss LLC: 0/0/41.20
6. VINCI DE BEAUFOUR: 2009 Selle Francais gelding by Diamant De Semilly x Heartbreaker
SAYRE HAPPY (USA), Devon Macneil: 0/0/42.64
7. MAESTRO VAN HET BINNENVELD: 2012 BWP stallion by Hunter's Scendix x Conan Z
WESLEY NEWLANDS (CAN), Weslands Farms: 0/0/42.64
8. CHEROKEE: 2007 KWPN gelding by Cardento 933 x Creool
EMMA MARLOWE (USA), Trelawny Farm, LLC: 0/0/43.00
9. FABREGAS: 2010 KWPN gelding by Zambesi TN x Achill
ALEXANDRA SMITH (USA), Ashland Farms: 0/4/40.68
10. MANHATTAN VAN'T LEEUWERIKENHOF: 2012 BWP gelding by Emerald Van't Ruytershof x Kashmir Van Schuttershof
FILIP DE WANDEL (GER), Five Way Farm LLC: 0/4/40.88
11. DIARADO'S FLYING DUTCHMAN: 2010 Oldenburg gelding by Diarado x Landadel
LAURA CHAPOT (USA), Laura and Mary Chapot: 0/4/48.15
12. CACTUS DE COSNIERE: 2012 Selle Francais gelding by Paddock Du Plessis*hn x Flipper D'Elle*hn*
ERIC KRAWITT (CAN), Eric Krawitt: 0/8/45.26
---
This Post Brought to You by: 
Taylor, Harris Insurance Services
Taylor, Harris Insurance Services (THIS) was founded in 1987 to provide specialized insurance for all types of equine risk.We place our policies with the highest rated and most secure carriers, meticulously selected for reliability and prompt claims settlement. We are proud of our worldwide reputation for responsive and courteous service, and we welcome the opportunity to discuss your equine insurance needs and provide you with a quote.
Access to multiple underwriters
Leader in the U.S. and European markets
Customized policies provide you with a choice
Trusted advisors in the equestrian industry
Direct access to insurance professionals
Policies that cover every breed and discipline across all 50 United States