By Jennifer Wood and Sabrina Schmidt for Jennifer Wood Media, Inc.
Wellington, FL – April 2, 2022 – The pinnacle event of the 2022 Winter Equestrian Festival (WEF) came to an exciting conclusion on Saturday, April 2, in the $500,000 Rolex Grand Prix CSI5*. Olympian Ashlee Bond (ISR) and Karoline Of Ballmore ascended to the top of the podium after an exciting five-horse jump-off.
Course designer Guilherme Jorge (BRA) set a large and technical course befitting a five-star event for the 40 entries that qualified for the class. With a line-up of who's who in show jumping, five horse-and-rider combinations were able to find the key to a clear round and return for the jump-off.
"It's always very special to build this grand prix," said Jorge. "I've been coming to Wellington since 1999. This is the fifth time in a row I've designed the Rolex Grand Prix. Wellington is home now, so for me it feels very special.
"It's always very challenging [to design this grand prix course], because it's the end of the season," continued Jorge of his design plan. "This arena itself gives us a lot of variety. I knew I had to build a tough course, because we had a really, really strong group of horses and riders. I made some adjustments in the end because of the heat and the humidity; I took the spread out of the last few oxers, because we are all feeling the weather a little bit. But, it was fantastic jumping and conditions of the field. Everything worked out very well, so I'm really happy with it."
As a late addition to the starting order due to a scratch in the original order, Spencer Smith (USA) and Quibelle, a 13-year-old Hanoverian mare by FRH Quaid x Stakkato owned by Gotham Enterprizes, LLC, were first into the ring for both the opening round and the jump-off. Over the shortened course, they had an unfortunate rail for four faults in 45.68 seconds, which would leave them in fifth place at the end of the class.
Chloe Reid (USA) was next to contest with Live Oak Plantation LLC's Souper Shuttle. She and the 11-year-old Hanoverian mare by Stakkato x La Zarras 2, which she has ridden for three years, put in an efficient clear round in a time of 47.63 seconds to take the lead, but with two more double clear rides after her, she would land in the third-place position on the podium.
"I felt fortunate that we got to jump this class last year," said Reid, who is 25 years old. "I think that helped because I walked the course and felt confident today, whereas last year I was definitely nervous for the track. She's everything I love in a horse. She has a lot of blood, a lot of character, she's super smart, and she really tried everything for me today."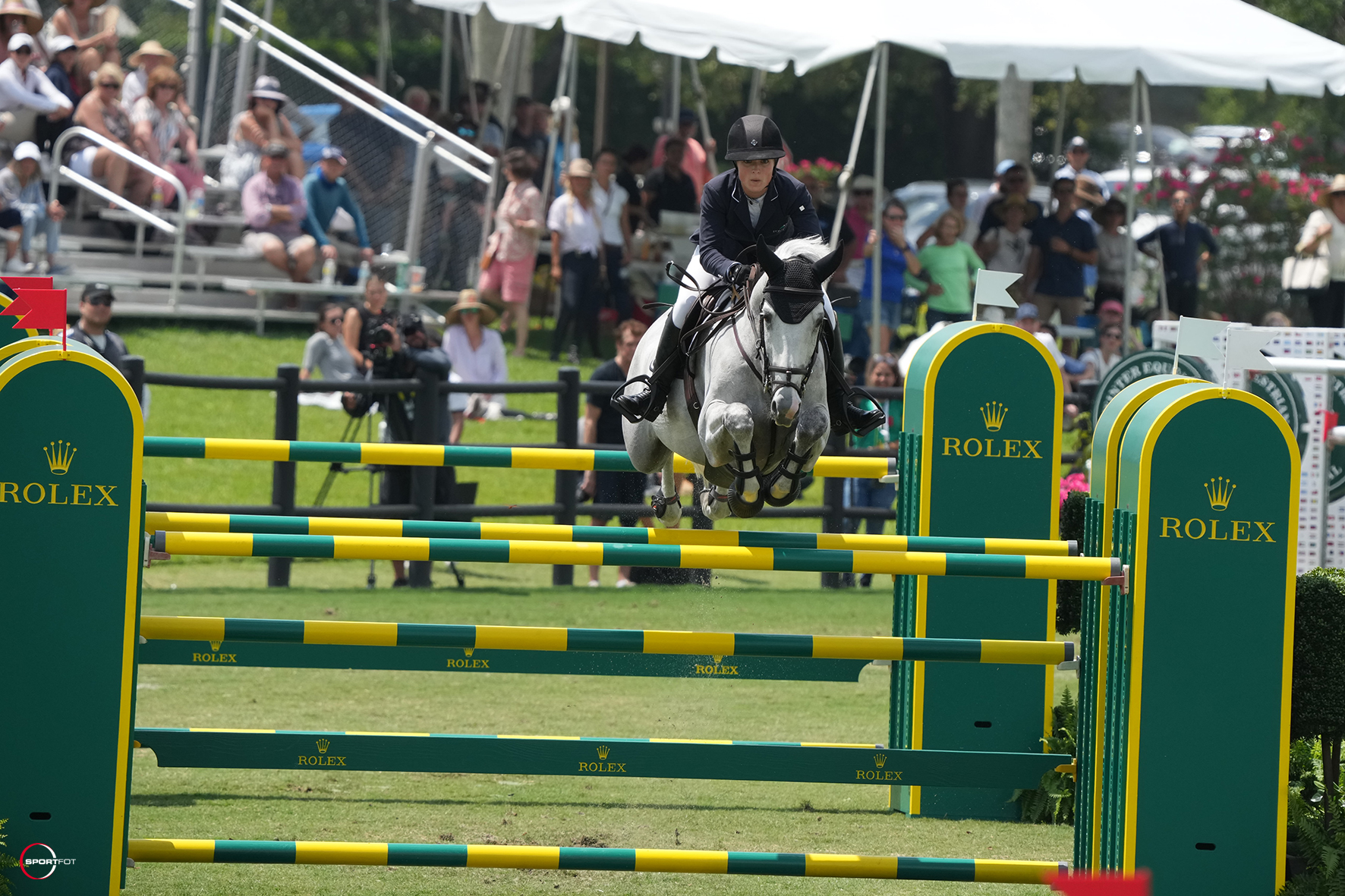 While Souper Shuttle does not have the largest stride, Reid felt that the course worked for her mare.
"I really like to add with her, too much I think sometimes, but I walked it and instantly knew a couple of the questions that riders were talking about weren't going to be a problem for me," she noted. "There were a couple places I knew that she had a fast moving pace where I could do the adds and have time without having to rush."
Always a threat in the jump-off, Daniel Coyle (IRL) piloted Legacy, a 12-year-old Zangersheide mare by Chippendale Z x Bon Ami owned by Ariel Grange, to the fastest time of the jump-off in 43.88 seconds, but a downed jump for four faults gave them fourth place at the end of the class.
Bond and Karoline Of Ballmore, competing in their first jump-off together, were able to blaze through the jump-off course in 44.09 seconds and leave all of the jumps up to take the lead.
"I thought this course really suited a big-strided horse, or a horse like Chloe's where you can do all the add strides," explained Bond. "It seemed like a really nice course to me. I just had to make sure to come really slow into the triple combination, but she was so rideable and just zipped around there, so it felt really nice."
Daniel Bluman, winner of the 2012 edition of this finale grand prix, was clear and just off the winning pace in 44.29 seconds with Ladriano Z, owned by Over The Top Stables LLC, which gave Israel a one-two finish.
"He's a really special horse, so I'm really grateful to have him back. He's been really phenomenal since his comeback," said Bluman of the 14-year-old Zangersheide gelding by Lawito x Baloubet du Rouet, who dealt with an injury in 2020 through to September of 2021, when he returned to the international show ring. "When you have a horse like this, where we've had a partnership already for many years and he's been a very successful horse, you learn to appreciate those types of partnerships. When I realized there was actually a chance of a comeback, I made it clear to my team that the idea was to get the horse back in good shape and aim him for the grands prix that we enjoy jumping and that we wish to win."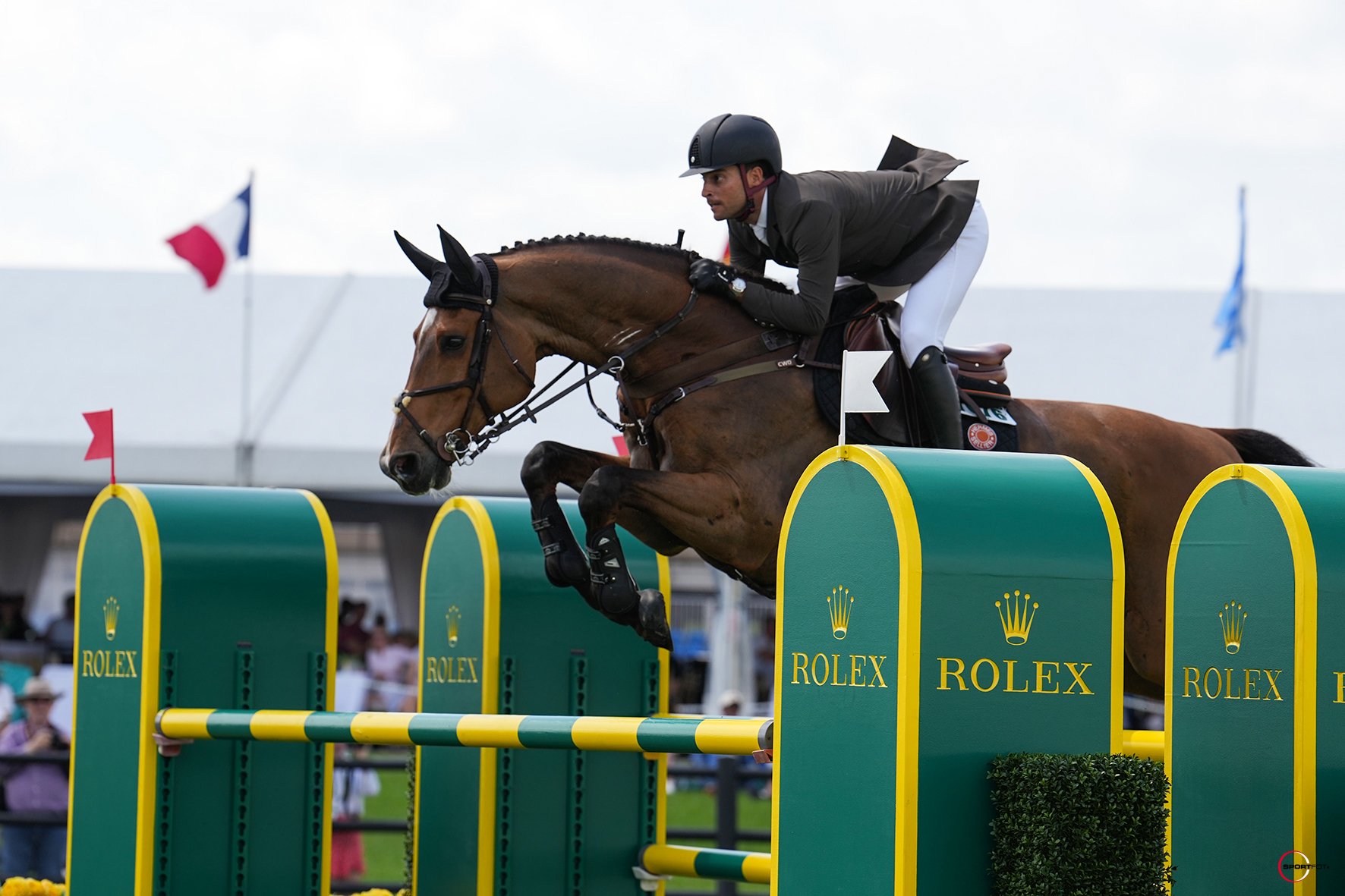 Bluman has now finished in second place three times in the finale grand prix of WEF, and he felt the conditions for the day were "amazing." He continued, "The field looked beautiful, and I think that the Rolex Grand Prix has to feel different than every other grand prix we jump at in Wellington. That was accomplished today, so congratulations to Gui for that. The win wasn't meant for me but I'm very happy it was for Ashlee. She deserved it, and she's a really great teammate. This is definitely one of the most special grands prix in the world, in my opinion, and [Ashlee] just added it to her list."
Bond only started riding "Korra" five weeks ago. The horse previously competed with Belgian Olympian Nicola Philippaerts.
"In the short time I've known her, I don't think I've ever sat on a horse so brave," said Bond of the 12-year-old Belgian Warmblood mare by Diarado x Convento Van De Helle. "I jumped almost at the tops of the standards in the warm-up, adding so many strides and going so slow, and she jumps a foot over it. She's like a rocket, like a ball of power. You can just pull her together and go so slow and so up and down, and then she just explodes. She makes my job really easy; I'm very blessed to have her."
Bond felt her win was "super surreal" but was validation for her team for "all of the hard times and all of the times you're unsure of what you are doing."
She concluded, "You just keep plugging along and trusting in your team and believing you will come out of the other side better. I think it really showed that our perseverance through the circuit, coming together, and fighting through the hard times really works towards the good. Today really proved that."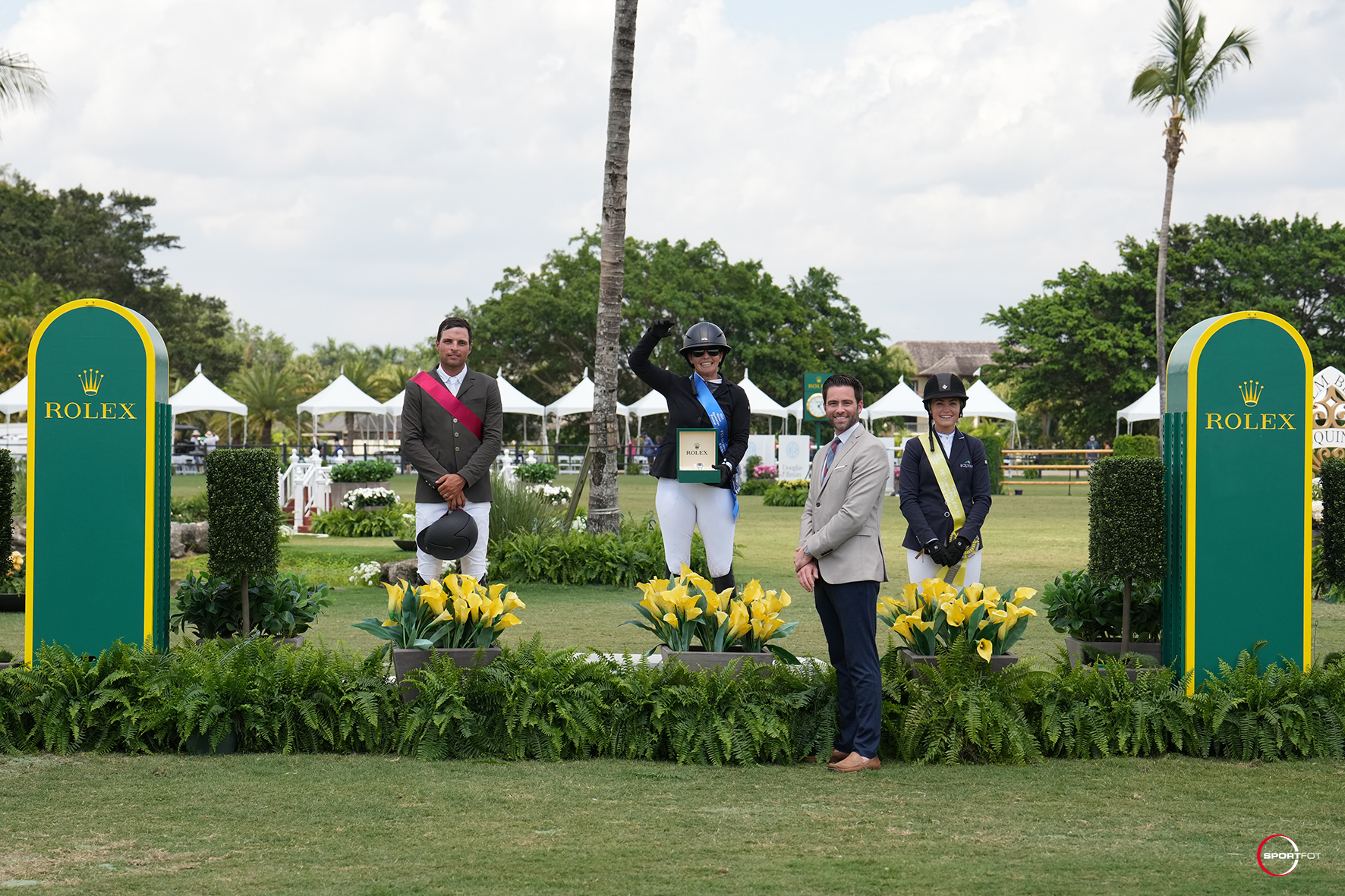 Final Results: $500,000 Rolex Grand Prix CSI5*
1. KAROLINE OF BALLMORE: 2010 Belgian Warmblood mare by Diarado x Convento Van De Helle
ASHLEE BOND (ISR), Ashlee Bond Showjumping & Gladewind Partners: 0/0/44.09
2. LADRIANO Z: 2008 Zangersheide gelding by Lawito x Baloubet du Rouet
DANIEL BLUMAN (ISR), Over the Top Stables LLC: 0/0/44.29
3. SOUPER SHUTTLE: 2011 Hanoverian mare by Stakkato x La Zarras 2
CHLOE REID (USA), Live Oak Plantation LLC: 0/0/47.63
4. LEGACY: 2010 Zangersheide mare by Chippendale Z x Bon Ami
DANIEL COYLE (IRL), Ariel Grange: 0/4/43.88
5. QUIBELLE: 2009 Hanoverian mare by FRH Quaid x Stakkato
SPENCER SMITH (USA), Gotham Enterprizes LLC: 0/4/45.68
6. DAVIDOFF DE LASSUS: 2009 Belgian Sport Horse stlalion by Ugano Sitte x Ksar Sitte
ZOE CONTER (BEL), Stephex Stables: 1/87.11
7. GINGER-BLUE: 2011 KWPN mare by Plot Blue x Royal Bravour
BEN MAHER (GBR), Jane Forbes Clark: 4/82.92
8. GREAT-TIKILA J: 2011 KWPN mare by Carosso VDL x Nabab de Reve
DARRAGH KENNY (IRL), HKC Collection LLC, LLC: 4/83.71
9. FIGOR: 2010 KWPN gelding by VDL Groep Zagreb x Indoctro
TIFFANY FOSTER (CAN), Artisan Farms LLC: 4/84.18
10. KILLER QUEEN VDM: 2010 Belgian Warmblood mare by Eldorado vd Zeshoek x For Pleasure
DANIEL DEUSSER (GER), Stephex Stables: 4/85.06
11. JAMES KANN CRUZ: 2013 Irish Sport Horse gelding by Kannan
SHANE SWEETNAM (IRL), Gizmo Partners LLC: 4/85.85
12. CONTAGO: 2011 Oldenburg gelding by Cornet Obolensky x Cassini II
EUGENIO GARZA PEREZ (MEX), El Milagro: 4/85.95
---
This Post Brought to You by: 
Taylor, Harris Insurance Services
Taylor, Harris Insurance Services (THIS) was founded in 1987 to provide specialized insurance for all types of equine risk.We place our policies with the highest rated and most secure carriers, meticulously selected for reliability and prompt claims settlement. We are proud of our worldwide reputation for responsive and courteous service, and we welcome the opportunity to discuss your equine insurance needs and provide you with a quote.
Access to multiple underwriters
Leader in the U.S. and European markets
Customized policies provide you with a choice
Trusted advisors in the equestrian industry
Direct access to insurance professionals
Policies that cover every breed and discipline across all 50 United States