Edited Press Release
Wilmington, OH – Fifty-two stylish hunters graced the R+L Arena for the final 'Derby Friday' of the 2022 Winter in the Midwest horse show circuit at World Equestrian Center – Wilmington.
Bobby Murphy of Lexington, Kentucky set the beautiful courses which featured brilliant natural details, long approaches to fences and plenty of options for riders to show off their horse's bold, athletic abilities and handiness.
A competitive field of 19 entries contested the $10,000 USHJA Hunter Derby 3′ Open with scores reaching the 90s. After climbing the rankings over the past several weeks tonight's victors earned their spot in the winner's circle with a bold and brilliant performance. Oakley Clark of Middlebury, Vermont and his own Billy Irish (Guy Cavalier x Lady Mary) captured their first $10,000 USHJA Hunter Derby 3′ Open win at World Equestrian Center.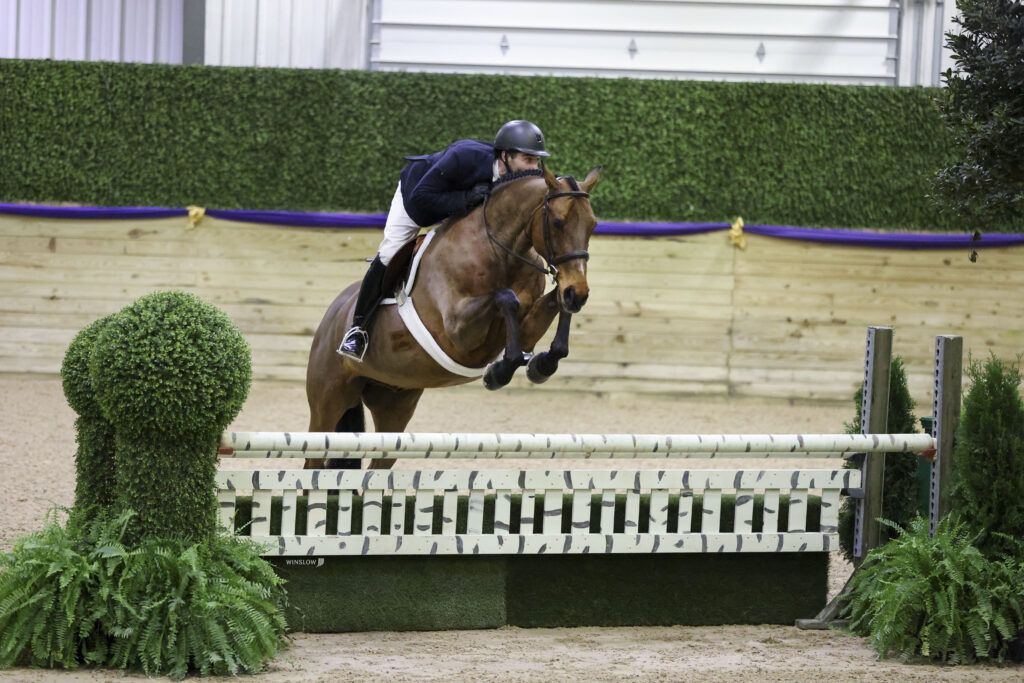 "I love this horse!" Clark exclaimed. "This course was made for him – there was so much extra fill and it was pretty spooky. He is the bravest horse ever and that really shined through. I gave him my full trust to gallop right at the scarier jumps and he was perfect. I knew he would look through the bridle and march right to some of these more impressive jumps. Sometimes people will ride more defensive to these spookier jumps but I was able to lead him to them without thinking twice."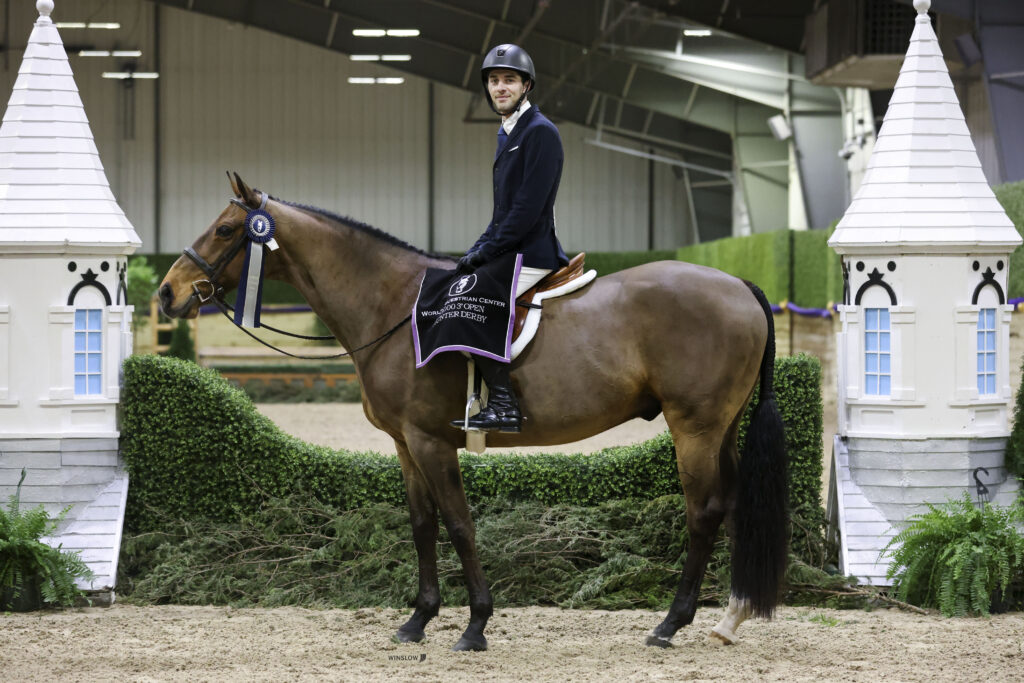 Taking the lead by more than 10 points, Clark and the 15-year-old Irish Sport Horse gelding soared to the top by earning 86 points in the first round and 90 points in the handy. Their stylish efforts through both tracks earned the pair a combined score of 176 points and first-place honors.
"I want to thank my team," Clark said. "I have an awesome group in the barn and my husband JC has helped my riding so much. They make this all possible!"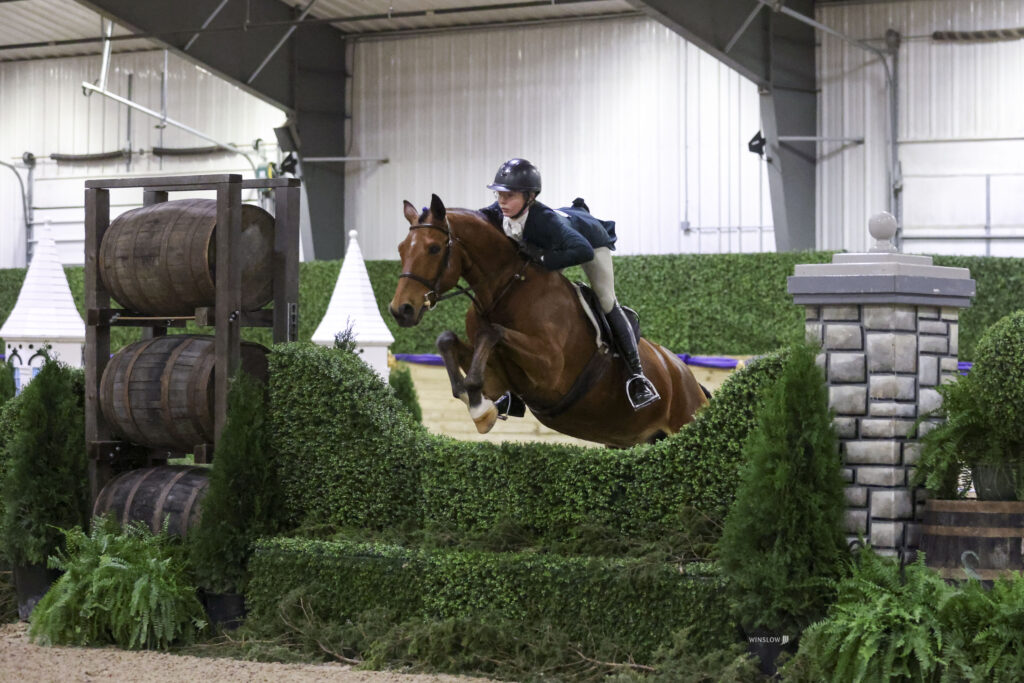 Seventeen-year-old Skylar Wireman of Bonsall, California and MZ Farms LLC's Bonne Starlight topped a field of 33 entries to win the $10,000 USHJA Hunter Derby 3' Non Pro.
Wireman and her string of talented mounts have amassed impressive accomplishments during their time at World Equestrian Center Wilmington. During the four-week run, she and her horses have won a $10,000 WEC Welcome Stake, $15,000 WEC Welcome Stake, $30,000 WEC Grand Prix and now two $10,000 Hunter Derby Non Pro classes. Wireman and the stylish 10-year-old Hanoverian gelding delivered their usual impressive performances – earning scores of 89 in the first rounds and a 94, the highest score of the day, in the handy. Their exceptional efforts produced a final score of 183 points to secure the win.
"Bonne Starlight was incredible and he was on his game all day," Wireman said. "From the warm up to the show ring, he was with me every step of the way. This horse loves a challenge and I was excited to ride the more spooky course. He is on the greener side but so brave and he jumps better when there is more for him to look at!"
$10,000 USHJA Hunter Derby 3′ Open Results:
Billy Irish, Oakley Clark: 86 | 90 | 176
Stakkatol 7, Liz Atkins: 78 | 87 | 165
Chanel Van't Ameldonk Z, Taylor Johnson: 81 | 79 | 160
Cinda, Melissa P. Donnelly: 76 | 83 | 159
Corlando 49, Melissa P. Donnelly: 82 | 74 | 156
Ademaro Van Encanta, Molly Mcadow: 74 | 76 | 150
Juan Colorado, Melissa P. Donnelly: 80 | 69 | 149
Escapade HS, Leann Kelly: 73 | 72 | 145
Campanula, Samantha Hill: 69 | 73 | 142
Arkyle, Samantha Douglas: 75 | 59 | 134
$10,000 USHJA Hunter Derby 3′ Non Pro Results:
Bonne Starlight, Skylar Wireman: 89 | 94 | 183
Breathless, Sara Barnes: 90 | 84.5 | 174.5
Cosmo Cool, Grace Hildebrand: 86 | 88 | 174
Red Roc, Kiera C. Phlipot: 78 | 86 | 164
Co-Pilot, Katie Finley: 81.5 | 79 | 160.5
Bacardi, Riley Gasaway: 84 | 76 | 160
Layla, Danielle Flavin: 82 | 75 | 157
Confidence, Haylee Moore: 81 | 75 | 156
Dallas, Grace Pritchard: 80 | 74 | 154
Exceptional, Eryn Stanton: 82.5 | 69 | 151.5
---
This Post Brought to You by: Purina
We Shape the Future of Health & Wellbeing for Pets & People. We're Committed To Pets, People And The Planet We All Share. Purina Cares. Innovation. Quality. Safety