Edited Press Release
Wellington, FL – May 7, 2022 – The Spring IV week of the ESP Spring Series saw hunters compete on the grass Derby Annex field of Equestrian Village throughout the week. The week's feature class for hunter competitors took place on Friday, with Jennifer Bliss and Flight topping a field of 16 competitors to capture their first derby win together thanks to two high-scoring rounds in the $2,500 USHJA National Hunter Derby, presented by Equiline.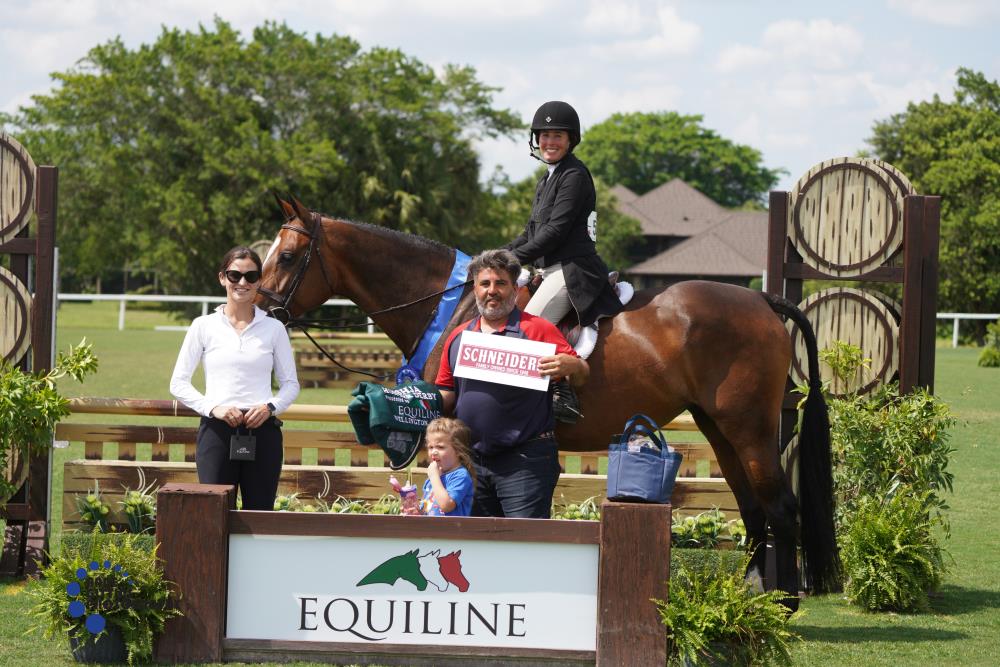 "Her name is Flight, but we call her Juliet in the barn," Bliss shared of the Dandelion Farm LLC entry. "We've had her for about a month-and-a-half now. She has some young jumper mileage from Germany, but the owners contacted me at the end of the Winter Equestrian Festival and asked if I would be interested in working with her and seeing if she wanted to be a hunter. This is our third horse show with her, and we've been taking it very slowly. This week I competed in the 3'3" Greens with her and she was champion, so we decided to try the hunter derby with her today. Ultimately, I think the derbies are going to be the place for her."
Following the classic round of competition, just one point separated the top three pairs. Bliss of Wellington, FL, and Flight sat in second place with a score of 87, just one point behind frontrunners Molly Sewell and Dana Equine LLC's Intuitive, who posted a score of 88. Sewell, also of Wellington, FL, had another horse in third place with Heather Smith's Konig Der Loewen. In the handy round, Bliss and Flight improved upon their earlier performance receiving a score of 88 to capture the tricolor ribbon with a total score of 175. Sewell finished in second place on Intuitive with a total score of 174 and third place on Konig Der Loewen with a combined score of 170.
Course designer Andy Christiansen (ECU) set a handy round that consisted of nine efforts that included a trot jump and presented competitors with plenty of options for inside turns to show off their horse's handiness. "This was my very first handy with her, and her first handy too. I did quite a few of the inside turns in the beginning, and with the trot jump I just took a little bit of extra time before and after it just because that was new for her. I wanted to be a little conservative at the end after she had been so good in the beginning," Bliss explained. "I was really thrilled with her performance. I didn't know what to expect, or if she was going to get jazzed up, but she stayed very rideable throughout the course."
On competing at the ESP Spring Series, Bliss noted, "This is a friendly atmosphere for the younger ones to get going, and it works out very nicely for us. Some of our older horses are having a break after WEF, so we have a different group of horses competing at these shows. We will show again next week and at the June shows here. We travel a little bit in July and August, but this is our home base, so we'll be back here in September."
As the groom of the winning derby horse, Deywi Rodriguez was the recipient of the Schneiders Groom Award following the $2,500 USHJA National Hunter Derby, presented by Equiline. As part of the recognition, Rodriguez was presented with a bag of high-quality grooming supplies courtesy of Schneiders Tack.
For the full results of the $2,500 National Hunter Derby presented by Equiline, please click HERE.
On Saturday afternoon, competitors jumped for the blue ribbon in the $1,000 2'6″-2'9″ Hunter Derby, presented by Score At The Top. Nabbing the win by more than ten points, Samantha Senft of Wellington, FL, and her own La Roux 11 led the victory gallop with a total score of 177 points. The winning pair was awarded 86 points in the classic round and then improved upon their performance in the handy round for a score of 91 to top the class. Jill Brewer of Marshall, TX, and Pinecone Farm LLC's Let It Be finished in second place with a cumulative tally of 166 points, followed by owner-rider Gigi Stetler of Fort Lauderdale, FL, on Galileo with 151 points for the final podium spot.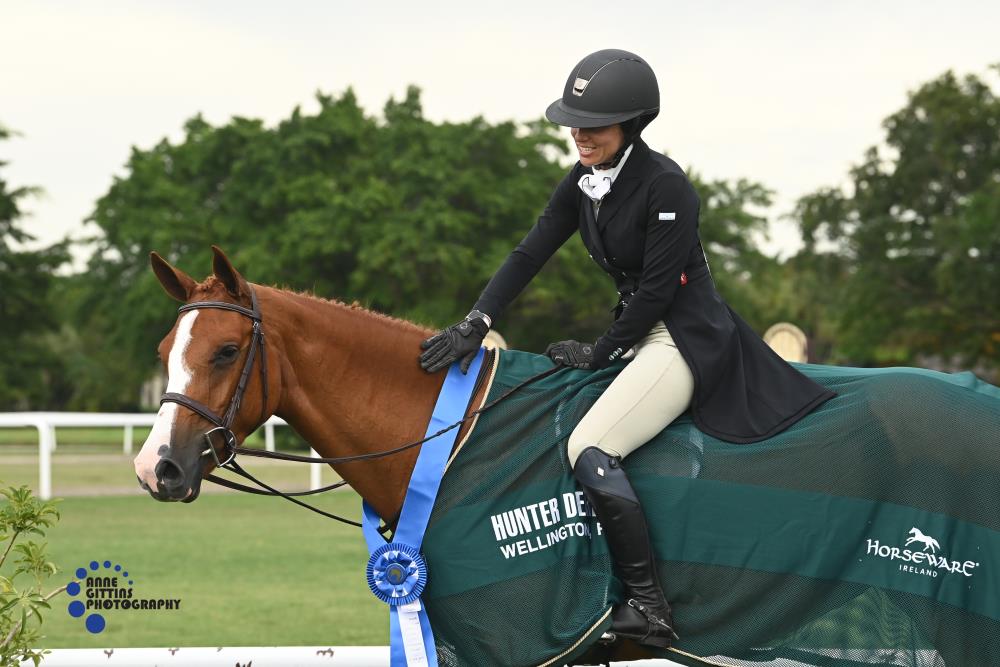 Ava Scharbo of Winnetka, IL, and her own Logan impressed in the USHJA 3' Hunter division presented by Perfect Products. Though the pair only competed in three of the division's five classes, they earned first place in all of their showings, which included two over-fences classes and the under saddle, to accrue the most points towards the overall championship honors. Hollywood, ridden by Steven Gregorio of Wellington, FL, and owned by Ava Cukrowski, captured the reserve championship thanks to consistent performances which earned four second-place results.
In the 15-17 Equitation, Natalie Groulx of Bloomfield Hills, MI, piloted Kate Abajian's Lambada to a dominating victory in the divisional standings. The partnership was awarded three first-place finishes in three classes to earn the championship tricolors by a wide margin. The reserve honors were given to Xavier Gomez of Wellington, FL, after the junior rider navigated Mary Alexander's Cor De Lea to three second-place ribbons.
---
This Post Brought to You by:
Taylor, Harris Insurance Services
Taylor, Harris Insurance Services (THIS) was founded in 1987 to provide specialized insurance for all types of equine risk.We place our policies with the highest rated and most secure carriers, meticulously selected for reliability and prompt claims settlement. We are proud of our worldwide reputation for responsive and courteous service, and we welcome the opportunity to discuss your equine insurance needs and provide you with a quote.
Access to multiple underwriters
Leader in the U.S. and European markets
Customized policies provide you with a choice
Trusted advisors in the equestrian industry
Direct access to insurance professionals
Policies that cover every breed and discipline across all 50 United States