Edited Press Release
HARRISBURG, Pa. – May 7, 2022 – USEF/Cacchione Cup competition culminated with the Penn State University junior Julianna Empie (Chester Springs, Pennsylvania) taking home the coveted championship title. Empie is the first Penn State Equestrian team member to be crowned the USEF/Cacchione Cup Champion in 44 years when Luanne Richards rode to the championship in 1978.
Empie rode spectacularly all week. She was a one-half point behind the top score of 88 Lilly French (Cleveland, Ohio) from Miami University of Ohio. Empie impressed the judges in the flat phase aboard Maverick (Savannah College of Art and Design) and scored a 93 to move her into the top slot going into today's work-off round.
Judges Todd Karn and Tom Brennan brought back the top-six riders for a challenging over-fences test. The test, like the over-fences phase, included options for riders to best showcase their skills but required some thought about their mounts. After a tight turn off the rail to a trot fence at the far end of the arena, riders could choose to go directly to fence three – the IHSA/Alumni wall jump – or take a longer track around to jump it going away from the judges.
The test also included some flat work and asked the riders for three changes of lead along the judges' line and a counter canter to fence seven, a single natural-rail oxer coming towards the ingate.
Riders stood nervously in the arena awaiting results. As places were called out in reverse order, the last two standing were Empie and Arielle LoGuidice (Morganville, New Jersey) from Centenary University. Empie came out on top.
Penn State Equestrian Team Head Coach Kirstin Gretok stood next to Michael Dowling, coach at Centenary University, during the results. "My stomach was a little tight with excitement and anxiety. We were really proud of the two of them because Arielle beat her [Empie] at Zones. He had mentioned to me that he felt these two were going to lead the Cacchione Cup at Nationals."
While only a few of the top-six riders chose the direct option from the trot fence to the IHSA wall, many of the riders chose the more conservative longer approach.
"I had some questions about how I wanted to go from two to three in the test," Empie said. "I figured that the handier option would be to go right from the trot jump to the IHSA jump, which is what Arielle did. But I watched the horse that I drew, Snowbound, throughout the week and he tended to land left and is a little more of a hunter type. I just didn't think I'd be as smooth with that [direct] option., so I chose to go around and rollback to the IHSA the other way."
Gretok thought the test asked a lot of good questions. "We adjusted our plan," Gretok said. "I think we did the right thing for the horse, which is what I actually believe the judges wanted all week. Ride the horse not the class."
In 2019, Empie won the USHJA Lindsay Maxwell Emerging Athletes Program (EAP) National Training Session. As a junior, she has one more year of school at Penn State and one more year to qualify for the IHSA National Championship Horse Show and the USEF/Cacchione Cup. Grotek had nothing but praise for Empie. "It's a privilege to get to teach her and help her become the horseman she's going to be. It's refreshing to meet somebody that really cares about the horses and truly tries to give them the best ride they can have."
Empie also was champion in the Collegiate Cup Open Equitation on the Flat after a no-stirrup work-off of the top four.
WHAT THE JUDGES THOUGHT OF THE USEF/CACCHIONE CUP
EMORY AND HENRY SUCCESSFULLY DEFEND THEIR COLLEGIATE CUP CHAMPIONSHIP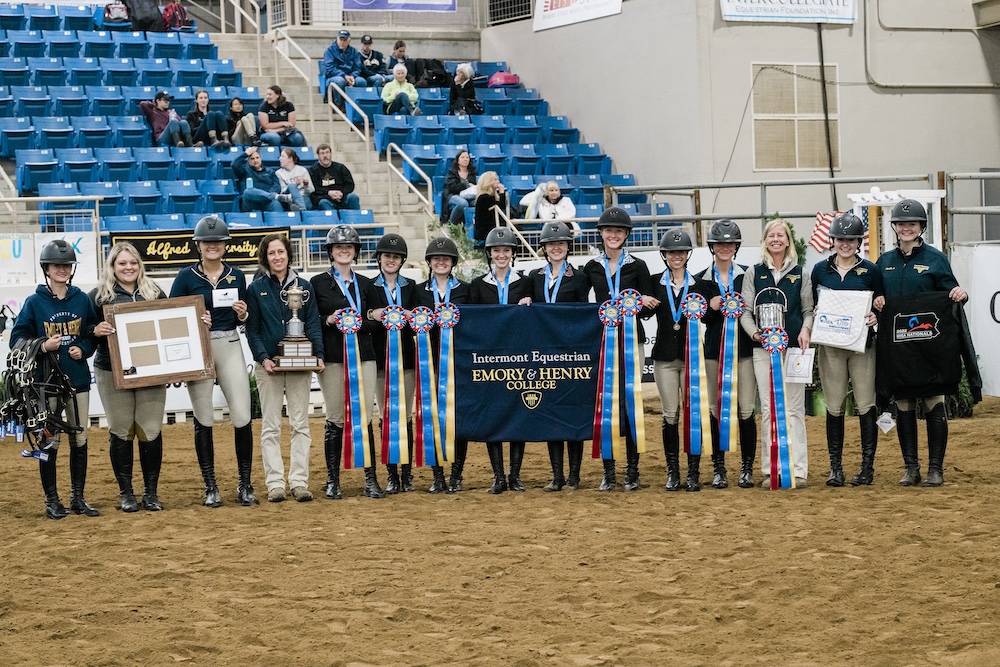 Emory and Henry earned the Collegiate Cup, defending their title from the 2019 IHSA National Championship Horse Show, before COVID-19 forced the cancellation of two postseasons. The Emory and Henry Equestrian Team, led by coach Heather Richardson, topped all the IHSA hunter seat teams, earning 42 points and the Collegiate Cup championship. The Miami University Equestrian Team, coached by Heather Pinnick earned 39 points for the reserve championship.
"(During the down time) we learned how to ride," Richardson said with a laugh. "We didn't show very much, if at all, we didn't do any collegiate stuff. We just really focused on correct technique, correct, riding, correct human stuff for the highest-level horsemanship. It's an all-inclusive program. It's not all just about the competition. It's about the technique. It's about the horse care. It's about doing well in your classes, like farrier science, nutrition–all the topics, so they're well-rounded horse people. It makes a difference in the saddle."
Richardson explained that there are only eight riders representing Emory and Henry in competition and 12 supporting team members at IHSA Nationals but there are around 67 on the team that make it happen.
"It is a big program," she said. "Everybody makes a contribution to what we're doing When we're hosting horse shows, everybody works, from the open riders all the way through the walk-trot. Every member plays a part. We have many horses too, to care for – and we're always looking for more. We have lovely school horses donated from friends, family, friends and alumni."
FRESHMAN RIDES TO NRHA/AQHA INDIVIDUAL OPEN REINING TITLE
Spectator cheers filled the Pennsylvania Farm Show Complex and Expo Center during the NRHA/AQHA Individual Open Reining class. Twelve riders galloped, spun and slid to the delight of the crowd. The top-three riders finished in a two-and-a-half-point spread.
Middle Tennessee State University (MTSU) freshman Jordan Martin (Murfreesboro, Tennessee) wowed the judges aboard Dustin, a rider-favorite draw from Black Hawk College, and took home the NRHA Lawson Bronze Trophy. Martin and Dustin received a score of 146.5.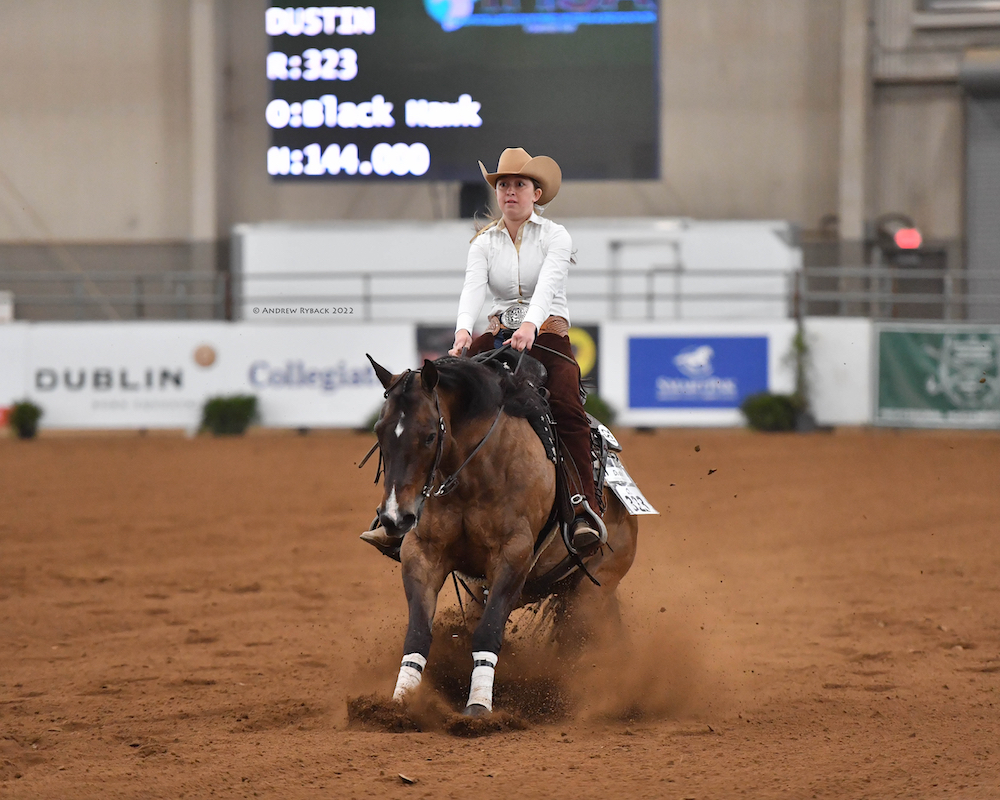 Being a freshman at Nationals should come with some nerves, but not for Martin. "I was not real sure what to expect, but I was excited for it," she said. Her MTSU coaches Andrea Rego and Ariel Higgins echoed that Martin is the epitome of cool, calm and collected. "[She] Doesn't have nerves that we know of yet, but those may come in the next three years," Rego said. "She's incredibly talented, yes, but probably what gets her the furthest is just her mental game," Higgins added. "She does not get worked out about anything, so she can just think really clearly, no matter what."
"I thought she plused most of her maneuvers, especially her circles," said Rego. "She probably got most of her momentum for the score [from the circles]. Then she just had a really good ride, a really good feel for everything [and] made adjustments as needed. She went for the circles and made the stops work and she just rode really smart."
Martin, her coaches and the rest of the MTSU Equestrian Team have their eyes on the high-point prizes which will be awarded at the conclusion of the show Sunday.
Reserve championship title was awarded to Nathan Sparren (Bolivar, Ohio), a senior from Midway University riding Slim, a bay gelding provided by Middle Tennessee State University. Sparren rode Slim to a score of 145, one-and-a-half points behind Martin.
Rounding out the top three was Nigel Lancaster from Hilliard Ohio. The junior from The Ohio State University rode to a 144 score with Rue, provided by Karen Black Reining.
NRHA/NSBA TEAM RANCH RIDING
After a very successful Individual Ranch Riding class Friday, Team Ranch Riding provided a fun show for spectators in the Pennsylvania Farm Show Complex and Expo Center. Team members, friends, families and coaches showed their appreciation for the rides with hoots and hollers as nine riders executed the pattern for the NRHA/NSBA Team Ranch Riding National Championship class.
Joining her teammate Stephanie Miller (Loveland, Colorado) as national champion is West Texas A&M junior Sydni Niles (Fox Lake, Illinois). Niles rode Juice from Morehead State University.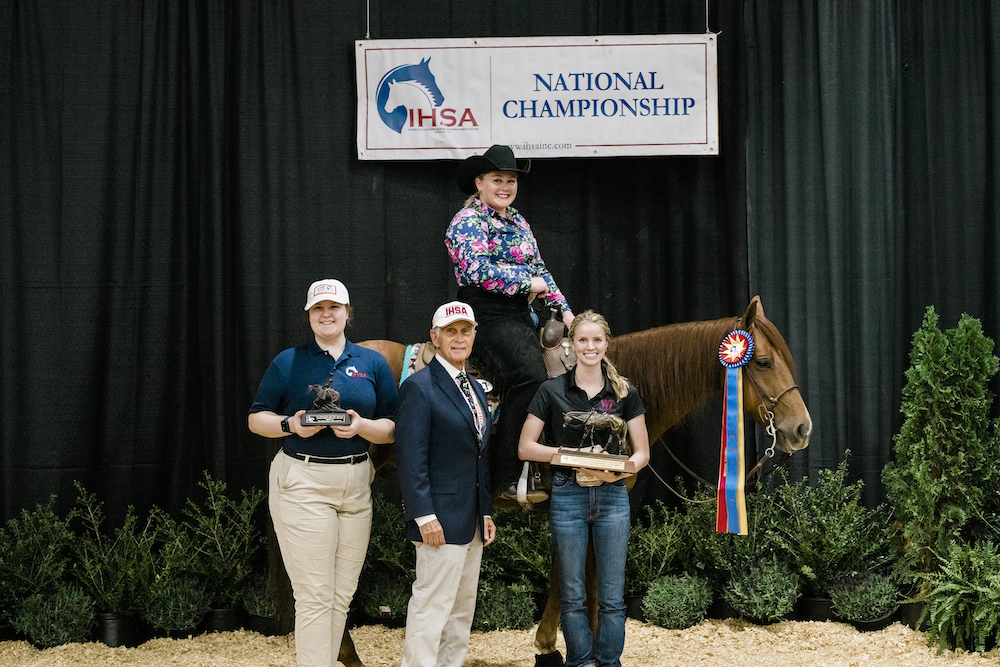 "He was really smooth," Niles said about Juice. "[We] Got through each maneuver really well, and I really appreciate being able to ride him."
Taking the reserve call was Jordan Schauer (Centerburg, Ohio) from Midway University about the Cazenovia College gelding, Red. Closing out the top three is Black Hawk College freshman Autumn Cary (Syracuse, Nebraska) aboard Flint from Midway University.
---
This Post Brought to You by:
Taylor, Harris Insurance Services
Taylor, Harris Insurance Services (THIS) was founded in 1987 to provide specialized insurance for all types of equine risk.We place our policies with the highest rated and most secure carriers, meticulously selected for reliability and prompt claims settlement. We are proud of our worldwide reputation for responsive and courteous service, and we welcome the opportunity to discuss your equine insurance needs and provide you with a quote.
Access to multiple underwriters
Leader in the U.S. and European markets
Customized policies provide you with a choice
Trusted advisors in the equestrian industry
Direct access to insurance professionals
Policies that cover every breed and discipline across all 50 United States