By Michelle Yelton for TIEC
Mill Spring, NC – May 14, 2022 – It was a sweet victory for 16-year-old Zayna Rizvi (Greenwich, CT) and Exquise du Pachis in the $30,000 Cleghorn Golf & Sports Club Grand Prix at Tryon International Equestrian Center (TIEC). As the youngest rider among a slate of 26 competitors, Rizvi and the 2010 Belgian Sport Horse mare (Vagabond de la Pomme) raced to the finish in 39.812 seconds, rising to first following her second place finish in the Horseware Ireland Welcome Stake earlier in the week.
In second place was Willie Tynan (Lexington, KY) with a time of 40.72 aboard Fancy Girl, the 2010 Dutch Warmblood mare (VDL Zirocco Blue x Silverstone) owned by Michelle Guardino-Dettelbach. Sarah Hubbard (Cornwall, CT) and Latino van de Looise Heide, the 2011 Belgian Warmblood gelding (Cantos x Quadrillo) owned by Hubbard Horses, LLC, rounded out the podium in third place with a time of 41.274.
As second in line to test the course by designer Joe Rycroft (CAN), Rizvi was focused on shedding nerves and time.
"Since I went second [in the jump-off], I knew I had to put down a good round and hope that I could go fast enough. [Exquise du Pachis] has a huge stride, so I think that's where I have an advantage, and she's great at the turns, so I just kind of let her go and she did it all perfectly," explained Rizvi.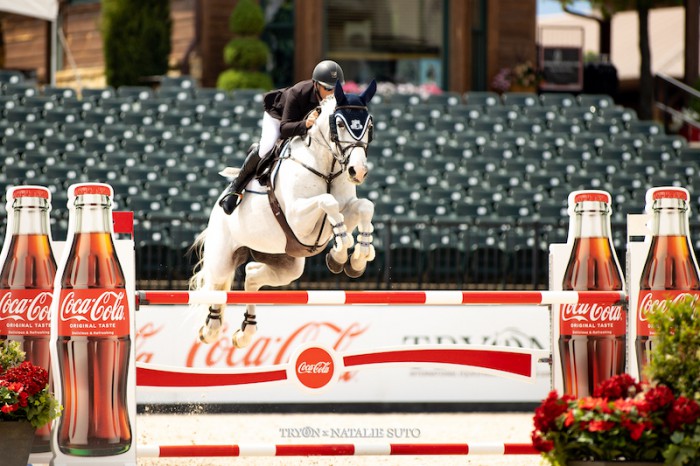 "I thought the first course was actually pretty nice for me," she continued. There were definitely some things that I was worried about going into it after walking the course, but I thought she did so well at all the spots where I thought we might have a little trouble."
"Patchy" is a new partner for Rizvi, having just recently acquired her earlier this year, but she already feels the mare's loyalty.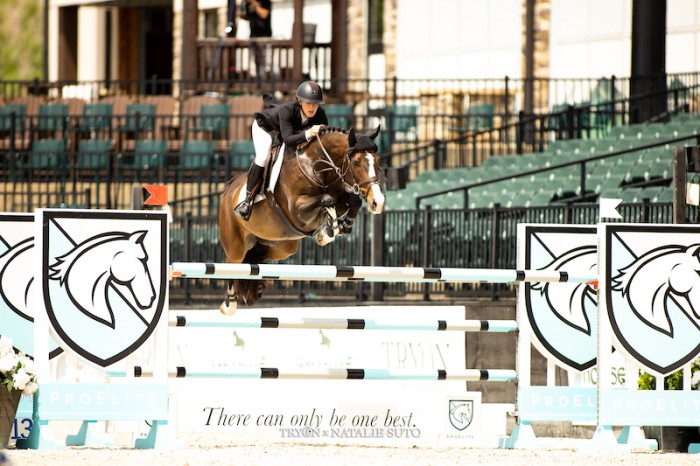 "She's been so great! We're both kind of getting to know each other, but she's always right there with me. She tries really hard and I can tell that it's going to be a good partnership," added Rizvi.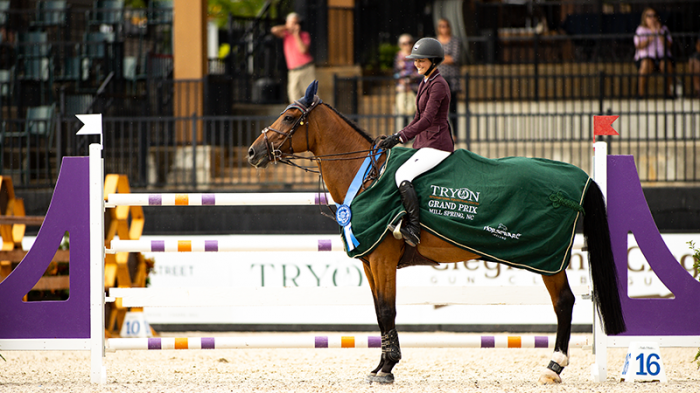 An annual stop on her competition calendar, Rizvi shared why TIEC is a part of her schedule.
"I love it here. We always come at least once a year. I love how it's like its own little community. I feel like the horses love it here, too, and it's always a really fun time."
For full results from the $30,000 Cleghorn Golf & Sports Club Grand Prix, click here.
---
This Post Brougt to You by: Mane 'n Tail