Edited Press Release
Wellington, FL – September 25, 2022 – Sunday concluded the ESP Florida State Fall horse show, and along with it the Region 10 ASPCA/NHSAA Maclay Championship. The highlight of equitation competition for the week, the class will certainly be remembered by its 2022 champion Eleese Shillingford of Milton, GA, who showcased her proper form and effectiveness aboard Eleanor Rudnicki's Simply Stated, whose barn name is 'Apple,' over three phases of tough competition. With her victory, Shillingford has officially earned a spot on the roster for the 2022 ASPCA Maclay National Championship, the pinnacle of equitation finals which will be held November 6 during the final day of the National Horse Show in Lexington, KY.
Though their stellar performance would not indicate, Shillingford and Simply Stated were only recently paired together. The winning rider praised the horse and her trainer, sharing, "I've been riding him for about 10 weeks. My favorite thing about him is his personality. He is not only an amazing equitation horse, but he is also a really sweet guy and I'm very lucky to be able to ride him. I train with Michael Britt-Leon, and I've been with him for about three years. I would not have made it to where I am without him. He is the one who pretty much taught me everything I know from a beginner, and he encouraged me to get into the jumpers and equitation."
For the first round of competition, course designer Andy Christiansen (ECU) tested horse-and-rider pairs with a track of 12 elements, which included a series of rollbacks and a set of option fences that riders could choose which direction and order in which to jump them.
"I wanted to create a fair but challenging course without creating too much of a problem for any of the riders or horses," remarked Christiansen. "I also wanted to be able to use some jumps that are similar to those that will be used for the Finals, which would be the skinny vertical, the wall, and the post-and-rail. Additionally, I played a little bit with distances used a few straight lines, namely the oxer-vertical line the oxer-oxer line in four strides."
Shillingford and Simply Stated were the final combination to jump the pattern and put forth a standout effort that pushed them to the top levels of the leaderboard.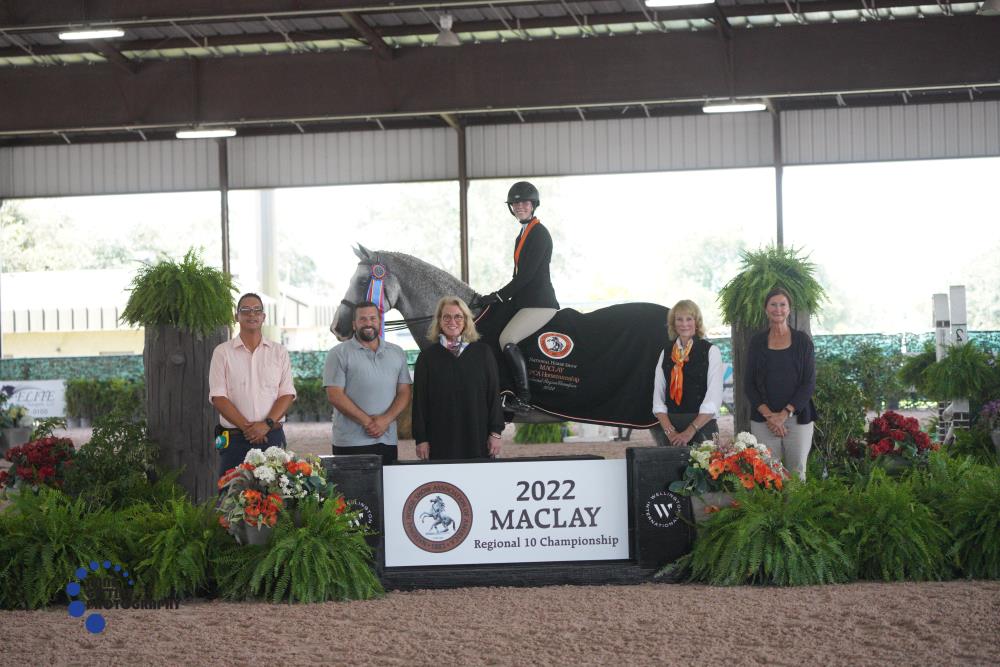 "For the first round, my game plan was to establish a strong canter before I even got to jump one because I didn't want to just run there and make it look messy," reflected Shillingford. "I wanted to get him under me so I could hold onto him a little bit. He has a massive stride, so I wanted to open that up a little bit and then sit back and make it look really slow. I was able to take wide tracks to some of the fences, which helped because it made it seem like the fences were right out of stride."
Following the first jumping phase, the top 24 highest-scoring duos were invited back to the ring for the flat phase. Throughout this round, the judges panel composed of Scott Hofstetter and Virginia Edwards requested that riders show off their position at various gaits, including the hand gallop and sitting trot. Based on their performances in the first two rounds of riding, four high-scoring teams were then invited back to the Van Kampen Ring for final testing. In addition to Shillingford on Simply Stated, those partnerships included Charlotte Clivio of Miami, FL, on Davito, Kendall Dean of Ocala, FL, on Congham Club, and Schuyler Dayner of Odessa, FL, on Joske van de Knuffel. The test asked horses and riders to hand gallop fence 2, trot fence 3, canter fence 4b, right counter-canter fenco 10, left counter-canter fene 10, and then return to line at a sitting trot. Dean kicked off the third and final phase, followed by Dayner, Shillingford, and then Clivio.
"Going into round two, I wanted to make sure I really showed off the hand gallop because he is so good at lengthening his stride and I can see my distances really well on him. Straight out of the line-up I picked up my hand gallop from the half seat, and I was able to turn inside all the decorations to the trot jump. My main concern was making sure to get the counter-canter, so I did a lead change to each of them, and then finished it off with a nice sitting trot back to the line," commented Shillingford of her strategy and execution during the work-off.
It turned out that Shillingford's plan paid off and following the testing phase she was announced as the 2022 victor of the Region 10 ASPCA/NHSAA Maclay Championship. Dean and her own Congham Club earned the runner-up position, followed by Dayner and Jenna Hanson's Joske van de Knuffel in third place and Clivio on Emme Hechtman's Davito in fourth position.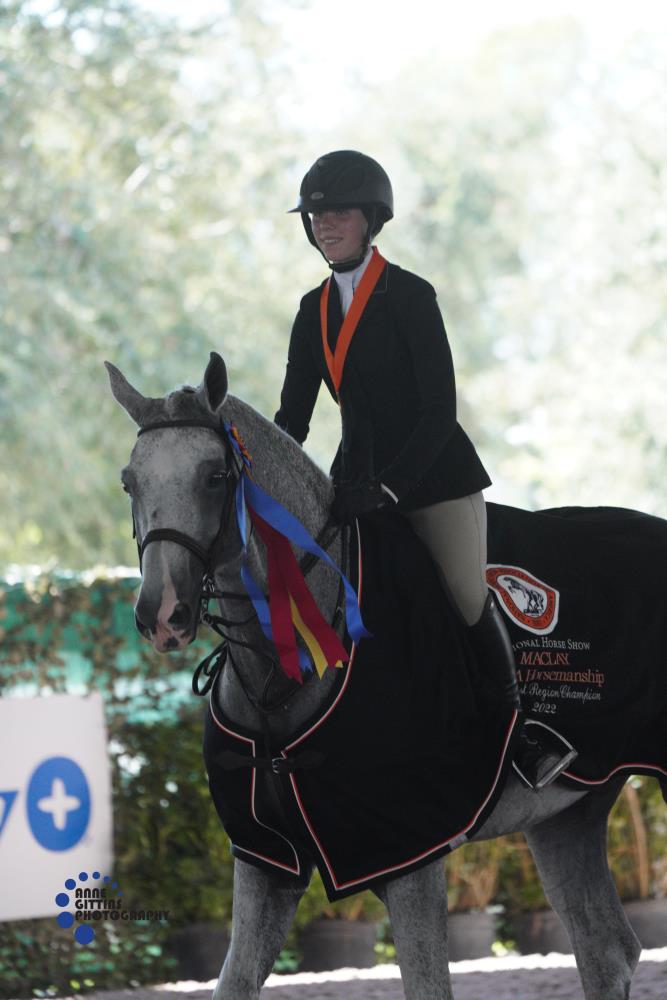 Following her win, Shillingford commented on her upcoming preparations for the ASPCA Maclay Finals in November, now that she is officially qualified, saying, "We will go home and make sure that Apple gets a good couple of weeks of rest. We will do a lot of flatwork since that is where good jumping stems from, and then a couple of weeks out from the National Horse Show we will start to set up more complicated courses and have some fun."
For the full results of the Region 10 ASPCA/NHSAA Maclay Championship, click HERE.
Content posted from https://pbiec.com/
---
This Post Brought to You by: American Stalls
Designed for Horse People
by Horse People.
American Stalls began building horse stall equipment in 2006 when HITS Horse Shows approached our family's steel business to build 1,500 horse stalls for its Saugerties location. Ever since, we have worked on thousands of commercial and private equine facilities across North America. Horse stalls, barn doors, and flooring are large investments that you will make toward your horses' safety and facility longevity. This is why we design and build equipment that fits seamlessly into your lifestyle.
When you work with our team, we will work to understand your needs as the horse owner, your facility's environment, and your horses' needs. We will then recommend options that are best suited for your project. In addition to clients, we strive to provide architects, builders, and designers with the knowledge, technical drawings, and customer service needed to ensure success for your project. Our mission is to build the most elegant and safe equine products while delivering world class customer service. Our equipment is designed for horse people by horse people.