Edited Press Release
The $25,000 Resilient Fitness National Grand Prix took place on Wednesday, December 14, the final day of the Holiday Festival Show at Wellington International. Twenty contestants competed for the lion's share of the prize money over the course designed by Mauricio Garcia Ballesteros (PUR). After a seven-horse jump-off, the USA's Sarah Scheiring and Anibale De Hus took their place in the winner's circle after clearing the jump-off in the fastest time.
"Anibale is a twelve-year-old stallion, with lots of personality. He's truly the kindest animal in the world, he will try his heart out for all of his people," said Shering. "I got lucky in the first round because I was quite slow, but I was quite happy with it. In terms of the course, I thought it was really well done. It didn't seem so technical when I walked it, but it definitely had some tricks throughout, which I think is the mark of a good course designer," commented Scheiring.
Ballesteros set an opening track of thirteen obstacles, followed by a seven-obstacle jump-off. Scheiring was the first of her competitors to perform a clear first-round, as well as the pathfinder for the jump-off. It was crucial to set a competitive pace in the second-round, with a time-allowed of 52 seconds.
"I was the first to go in the jump-off and wanted to see what Anibale could do in terms of picking up speed," explained Scheiring. "I didn't think I was super-fast, specifically on this horse, but he was right there with me throughout the turns and kept a good pace. He built confidence over every jump."
With a time of 39.695 seconds Scheiring and Anibale De Hus took the win. Taking the second spot was Vaness Hood (USA) and Lou Lou VLS, owned by Take Two LLC, with a clear jump-off time of 40.022 seconds. Completing the podium was Blythe Karolyi (USA) and Venitienne, owned by Karolyi Showjumping Inc, with a double-clear time of 41.064 seconds.
Scheiring plans on returning for the WEF season, and is hopeful to bring home more wins with Anibale, "This class is the last one that I will jump with him pre-circuit, we will bring him out again for premiere week. The plan is to do some three-star and four-star and maybe aim for something a little bigger towards the end of season!"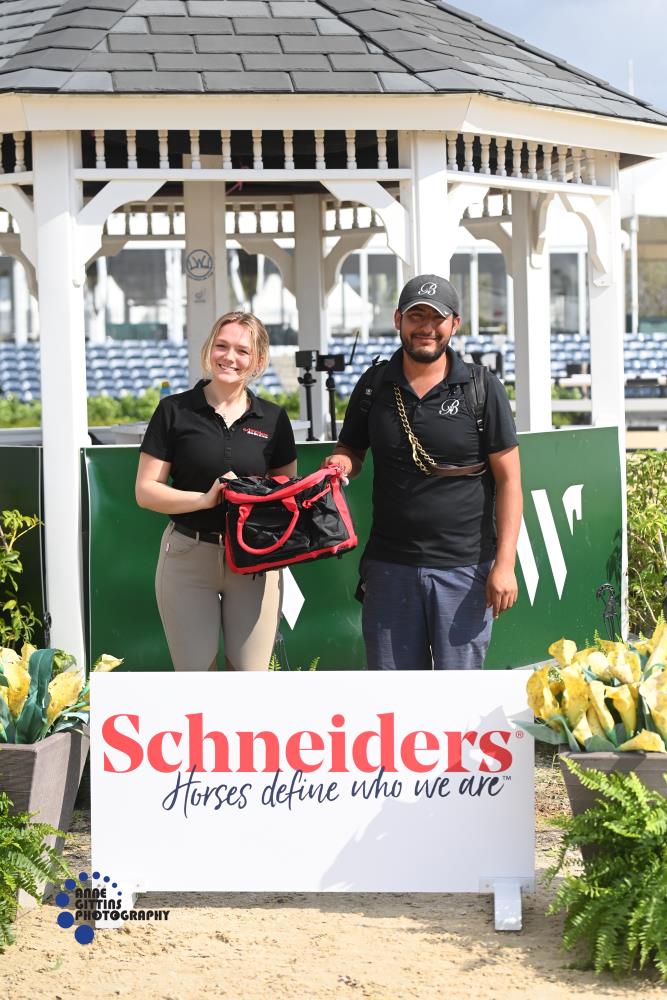 Following the class, the Schneiders Groom Award was presented to David Reyes, as the groom of the winning Grand Prix horse. As part of the recognition, Reyes was presented with a bag of high-quality grooming supplies courtesy of Schneiders.
For full results of the $25,000 Resilient Fitness National Grand Prix, please click HERE.
Original press release from https://pbiec.com.
This Post Brought to You by:
Taylor, Harris Insurance Services
Taylor, Harris Insurance Services (THIS) was founded in 1987 to provide specialized insurance for all types of equine risk.We place our policies with the highest rated and most secure carriers, meticulously selected for reliability and prompt claims settlement. We are proud of our worldwide reputation for responsive and courteous service, and we welcome the opportunity to discuss your equine insurance needs and provide you with a quote.