Edited Press Release
In the $10,000 USHJA National Hunter Derby, the premier hunter class of the ESP Holiday Finale, John French and Susan Moriconi's Wyatt earned the top score and the top check.
Twenty-six riders competed in the derby, which was held in the "Hunt and Go" format. Designed by Danny Moore, the course consisted of fourteen obstacles in total, and included four high options. Fences one through eight represented the Classic phase, while fences nine through fourteen represented the Handy phase.
"My goal today in this class was to actually work on lead changes, and I only ended up needing to do one; Wyatt jumped super smooth. This is his first week moving up to the 3'6", [and] he was actually champion in the 3'6" Greens this week, so it was nice to come into this course and continue working on something different," French detailed. "I think he's a great horse for turning and rolling back rather than just the usual outside-diagonal-outside, so this was a great course for him to get focused on his hind end. Now that I see how well he has moved up, I would like to try some international derbies with him."
French and Wyatt scored 182 overall, earning an 88 in the Classic phase and a 90 in the Handy phase, including four points for taking the high options. French was ninth to go in the order and held the winning score throughout the remainder of the class. Following in a close second was Geoffrey Hesslink of Shelbourne, VT, and Chivalry, owned by Little Brook LLC, with an overall score of 181.5, earning an 85.5 in the Classic phase and a 92 in the Handy phase, plus four points for the high options. Completing the podium was Hannah Isop of Pawling, NY, and Carousel, owned by Lisa Longo, with an overall score of 180, earning an 85 for the Classic phase and a 91 for the Handy phase, plus four points for taking the high options.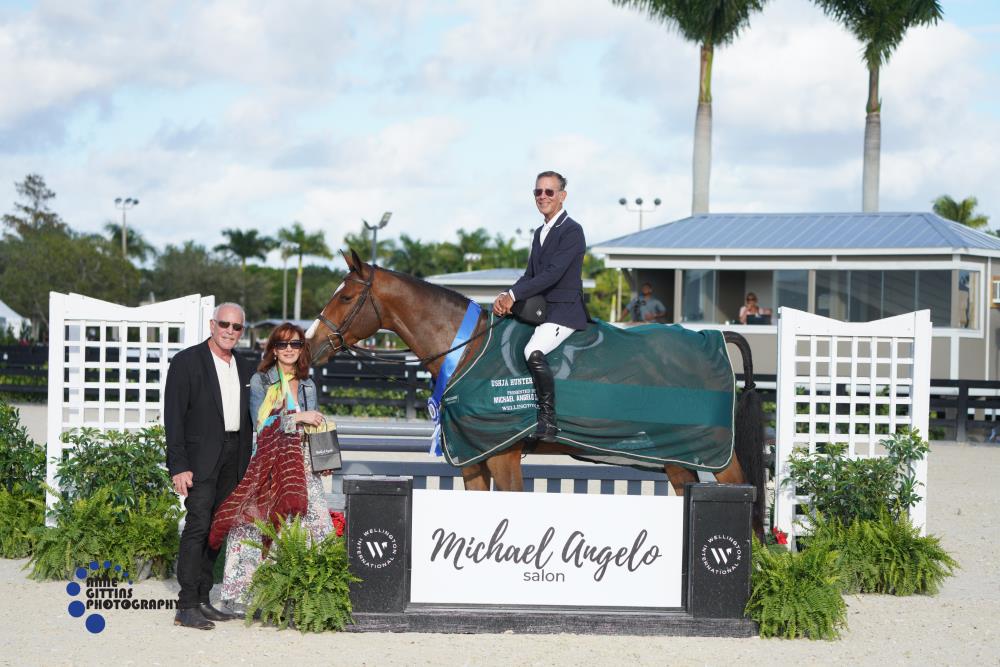 "Wyatt is definitely a keeper in our barn. I can't wait to take him into the International Ring during week six of WEF 2023 and over to the grass field for some fun derbies," French concluded.
For the full results of the $10,000 USHJA National Hunter Derby presented by Michael Angelo Salon & Spa, please click HERE.
Original press release from https://pbiec.com.
This post brought to you by 
Alexis first spent her childhood playing behind her parents' shop cases in the Jewelers Building of Boston, where the stories and people she observed inspired her to dream of her own business where she would make and sell beautiful things. Guided by her intuition, Alexis designed her first piece of jewelry in 2011 and has since become an award-winning designer and destination for good luck charms, talismans, personal power objects, and Luxuries for your Soul™. In addition, my coveted shields have grown a community of worldwide collectors, motivated by my trademarked mantra SHIELD YOURSELF®.
The pieces created by Alexis Kletjian are influenced by the lore and magic of bygone eras and designed for the modern world. Gemstones are hand-selected and Alexis cultivates relationships for meaningful exchange by aligning herself with souls of similar beliefs.