Edited Press Release
San Juan Capistrano, Calif.—July 26, 2023—Rising Equitation star Avery Glynn took the top spot in the USHJA Gladstone Cup Equitation Classic – West, presented by Intermont Equestrian at Emory & Henry College at Blenheim Equisports on July 23. Starting in ninth place after round one, Glynn and Dalmore finished with a half-point lead of 169 in the Handy Hunter-style round to then claim the tricolored ribbon after the final work off. Grace Russo earned reserve honors with Diplomat, and Rachel Dalfonsi and G-Star rounded out the top three.
Coming into the Classic Hunter Round designed by Scott Starnes and judged by Mark Jungherr and Melissa Bark, 41 horse-and-rider combinations were vying for the coveted championship title. Ella Cate Duke, of Lake Oswego, Oregon, took the initial lead with a score of 88 aboard her own Understudy. After the first round, Duke held a six-point lead above eventual comeback champion, Glynn, of Petaluma, California, with Kenilworth Sport Horses LLC's Dalmore.
The top 25 riders returned in reverse order for the Handy Hunter-style course where the leaderboard saw big changes in placings. Ending the first round in ninth place, Gylnn wowed the judges in the second round, earning an 87 and a first-place seat going into the final round on a total score of 169. Moving down one position from round one was Duke, with a score of 80.5, earning her a cumulative score of 168.5. Rising from fifth to finish the second round in third, Sabine Close, of San Carlos, California, rode her own Off To Neverland to an 83.5, bringing her overall score to 167.5. Natalie Curtis of San Carlos, California, aboard her own Havelly D, rose from eleventh to sit in fourth on a 165.5. Russo, of Los Angeles, California, with her own Diplomat, moved from eighth to sit fifth with a two-round total of 165, and Dalfonsi, of Bend, Oregon, riding on CNC-OLO Farm LLC's G-Star made the leap 10 spots up to sit in sixth place on a 164.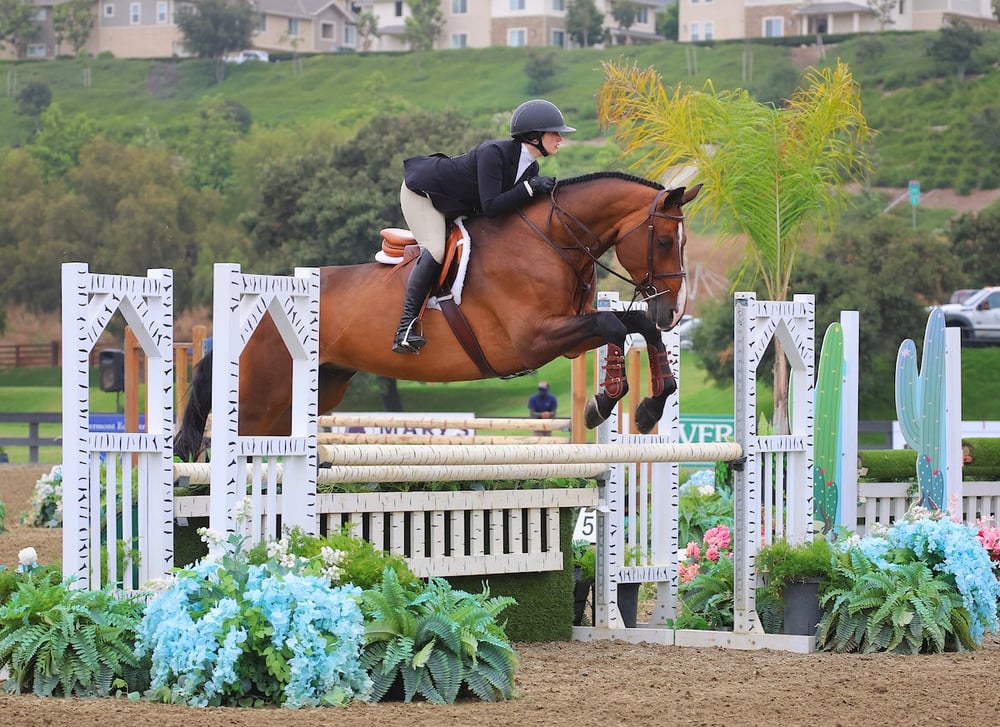 "I wanted to have a solid first round. My goal for the class was to make the work off, so I wanted to have a round that would put me somewhere in the top 10 preferably," said Glynn of her Classic Hunter Round strategy. "For me personally, I was in the perfect place going into the second round. I like having the ability to move up better than sitting on top. My strategy was to be bold and improve from my first round, to hopefully make the work off."
The top six were then called back to trade mounts for the final round, where placings continued to shuffle. In the end, Glynn held strong through the final round where she showcased her skills on Duke's Understudy to take home the title. Moving from fifth to earning reserve honors was Russo on Dalfonsi's mount, G-Star. Dalfonsi jumped from sixth into third overall aboard Russo's Diplomat. Coming in fourth riding Dalmore was Duke, while Curtis rode Close's Off To Neverland into fifth. Close rounded out the top six after her jumping efforts on Curtis's Havelly D.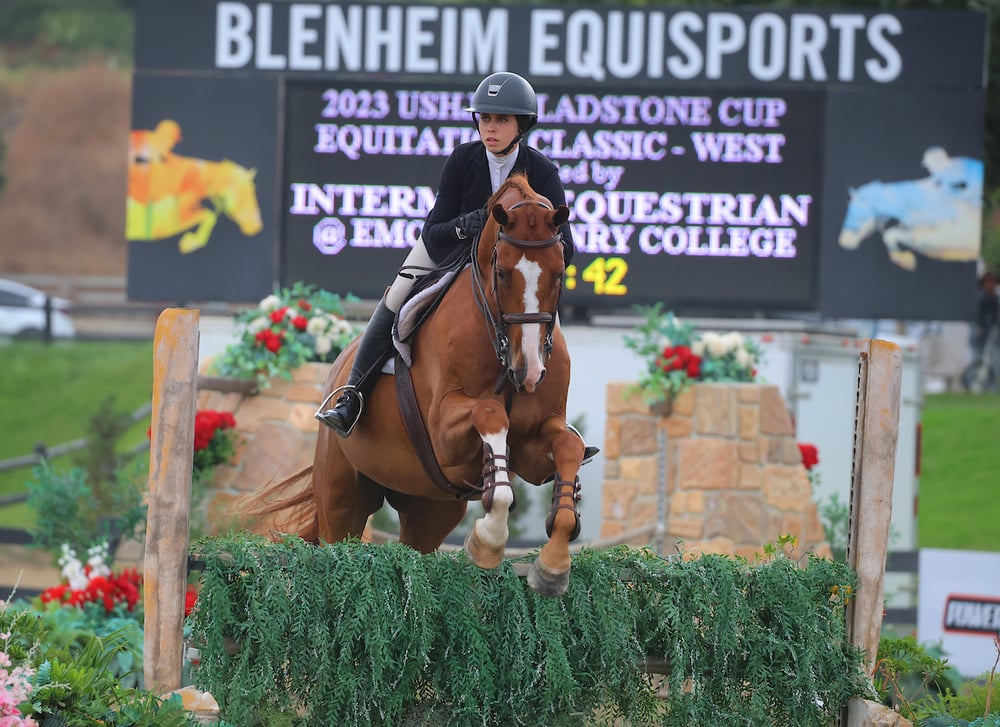 "I have a lot of experience with catch riding and riding all types of horses, so I think that a horse swap was a good test for me," said Glynn. "I was in the lead going into the work off so my plan was to go ride the best round I could to hopefully stay on top. The horse that I swapped onto gave me a lot of confidence even with only having two warm-up jumps. I really enjoyed riding Understudy in the work off, he was a lovely horse to swap onto."
As Champion, Glynn was awarded a $5,000 scholarship to Intermont Equestrian at Emory & Henry College, a gift certificate from CWD, a cooler and a keeper trophy. Russo collected the reserve ribbon and an Essex Classics gift certificate for her efforts. The top 10 received sashes and saddle pads from USHJA. Earning the honor of Best Equitation Horse was Corochino Z, owned and ridden by Paloma Primavera.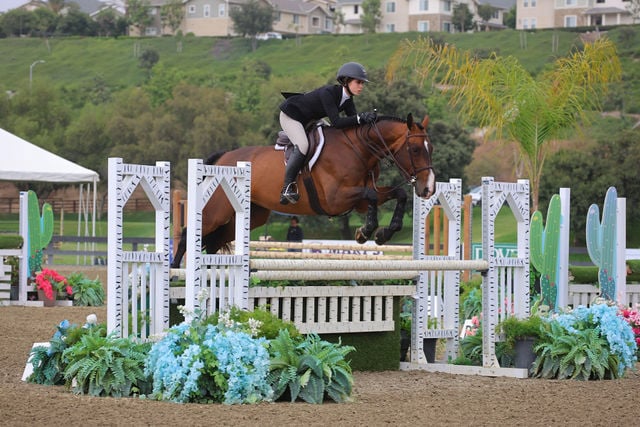 "I have only shown Dalmore a few times before. I showed him twice earlier this year in the Desert and then last week. Last week was his first time competing in the Equitation and he has picked it up quickly. He has a lot of experience in the derbies, so it was an easy change for him," said Glynn on her partnership with Dalmore.
"This win means so much to me because it is my fifth time competing in competitions in this class. Every year I've shown a different horse, but never made the work off before. I was hoping I would make the work off this year, and it was very special to win in my last Junior year," Glynn continued. "[I would like to give] a big thank you to Dalmore's owner, Julia Nagler, and my mom for getting this horse here for me this week!"
The USHJA Gladstone Cup Equitation Classic, presented by Intermont Equestrian at Emory & Henry College, is a three-round class that combines the precision of equitation and handiness of hunters over a course set at 3'6″. Held during the East and West Coast Adequan/USEF Junior Hunter National Championships, the Gladstone Cup is open to any rider that is an Active USHJA junior member at the time of the competition and has won a USEF Hunter Seat Medal, ASPCA Maclay, USEF Show Jumping Talent Search, either phase of WIHS Equitation Classic at a National or Premier show or Overall WIHS Equitation Classic during the qualifying year.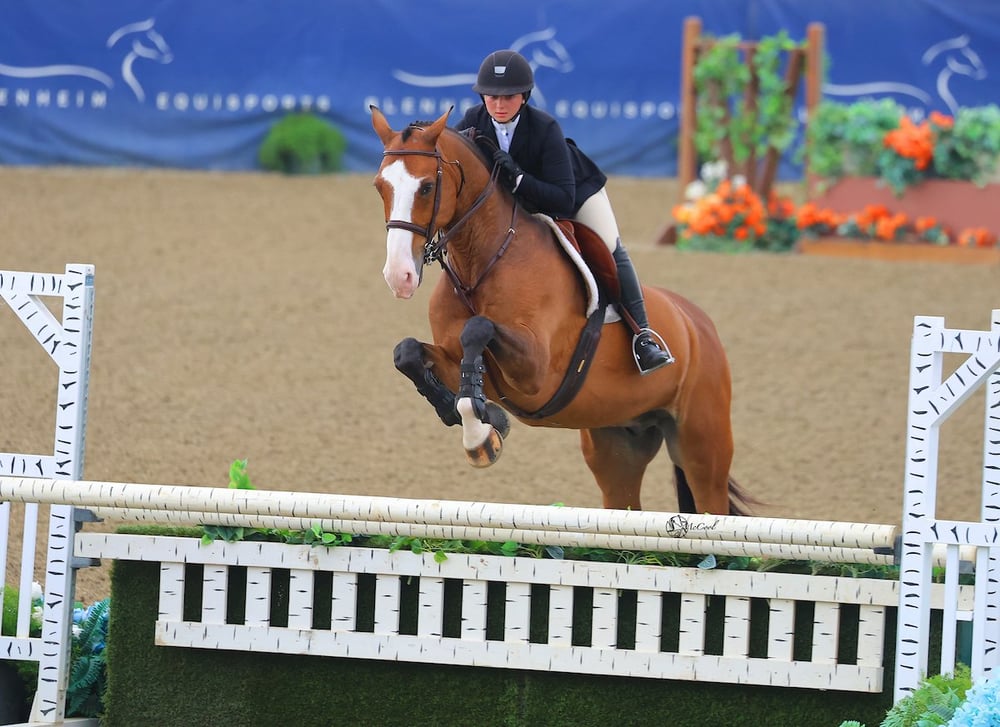 New in 2023, the USHJA Gladstone Cup Equitation Classic for Amateurs will debut on the West Coast on July 26 during the Blenheim Racing Festival in San Juan Capistrano, California. The East Coast Classic for Amateurs will be held during HITS on the Hudson VIII, September 6-9 in Saugerties, New York.
The USHJA sends special thanks to the entire Blenheim Equisports team for hosting the Classic. The USHJA also thanks Official Sponsors CWD, Nutrena and Parlanti; Presenting Sponsor Intermont Equestrian at Emory & Henry College; and Award Sponsors Essex Classics and Charles Owen.
For more information about the USHJA Gladstone Cup Equitation Classic, presented by Intermont Equestrian at Emory & Henry College, visit ushja.org/Gladstone.
Photos: McCool Photography
USHJA Gladstone Cup Equitation Classic – West, Presented by Intermont Equestrian at Emory & Henry College Results
Rider | Horse | Trainer
Round 1 | Round 2 | Two-Round Score*
*The Final Round was not scored.
1. Avery Glynn | Dalmore | Hope Glynn
82 | 87 | 169
2. Grace Russo | Diplomat | Michael Endicott
82.5 | 82.5 | 165
3. Rachel Dalfonsi | G-Star | James Hagman
79 | 85 | 164
4. Ella Cate Duke | Understudy | Shelley Campf
88 | 80.5 | 168.5
5. Natalie Curtis | Havelly D | Laura Connolly
81.5 | 84 | 165.5
6. Sabine Close | Off To Neverland | Olivia Dawson-Grove
84 | 83.5 | 167.5
Original press release courtesy of USHJA.