Edited Press Release
San Juan Capistrano, Calif.—July 27, 2023—Nicole McMillion added her name to the history books as the inaugural winner of the USHJA Gladstone Cup Equitation Classic for Amateurs – West on July 26 during the Blenheim Racing Festival in San Juan Capistrano, California.
Following three rounds of competition, 19-year-old McMillion of Huntington Beach, California, earned the championship tricolor riding Barman des Ponts owned by Cassandra Karazissis. The reserve championship went to McMillion's barnmate, Blake Lindsley of Los Angles, California, aboard Della Walker's Twizzler, and Emily Williams from Santa Clarita, California, rounded out the top three with her own Carlo.
"The class was so fun!" said McMillion, who entered the class only this week. "I didn't really expect to do the [Gladstone Cup], and I'm just really, really happy with how it went."
McMillion was one of 38 entries that took on the first phase of the class, the Classic Hunter Round, and at the conclusion of the round, she was positioned in second place with a score of 86.5. Holding the lead with a score of 88 was Williams, and Maryam Ghassemi from Dana Point, California, with Oak Creek Farms LLC's Al Capone sat in a close third place with a score of 86.
From there, the field was narrowed to the top 20 riders who returned in reverse order of their standings for the Handy Round. McMillion replicated her impressive first-round performance, earning another 86.5 to hold on to third place with a cumulative score of 173. Bella Primavera of Aptos, California, moved into second place with scores of 85 and the high score of class, a 91, for a 176 total aboard Jenna McAmis's First Mate KF, and Williams further cemented her lead with a handy score of 90.5 for a 178.5 total. A notable performance by Lindsley earned her a handy score of 90, moving her up 10 spots from round one into sixth place, which secured her a seat in the final rider work off.
The top six were then called back for a final work-off round, and it was there that judges Melissa Bark and Mark Jungherr saw McMillion shine above her competitors. With a well-executed test that included a trot fence, the demonstration of two simple changes of lead and a sitting trot, among other questions, McMillion cemented the victory.
"I thought the test was great," said McMillion, who trains with Karazissis. "It was definitely more of a test than I was expecting. There were a lot of opportunities to go inside and really shine; I think it left it wide open for it to be anyone's game!"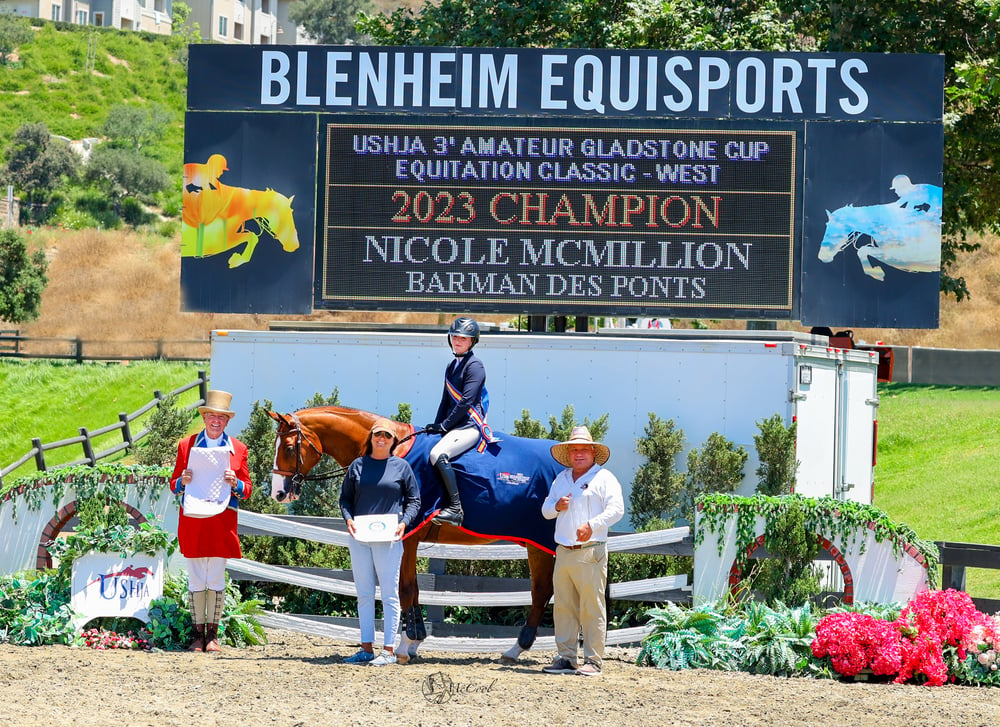 McMillion, who is in her first year as an amateur, previously contested the Gladstone Cup as a junior and topped the 2019 EMO Insurance/USHJA 3'3" Jumping Seat Medal Finals – West, so when Karazissis brought up the opportunity to ride Barman des Ponts in the class, McMillion jumped at the chance.
"I love having the classic round and then the handy round. I think it really mimicked the Junior Gladstone; the courses were very similar," explained McMillion. "This was [Barman des Ponts] first major equitation final. He is for sale, and he's fantastic. His jump is an absolute 10, and he's so sweet on the ground. This was our first class together, but he's just a lovely horse. I'm very grateful for the ride."
McMillion will continue to put her equitation skillset to use as she heads to Texas A&M University to compete on the school's National Collegiate Equestrian Association team in just two short weeks. Following her championship win, McMillion will have a new Essex Classics riding shirt, a cooler and a keeper trophy to take a long with her as she was presented with all three on Wednesday.
Also recognized in Wednesday's awards ceremony as the Best Equitation Horse was Carlo, owned and ridden by Williams.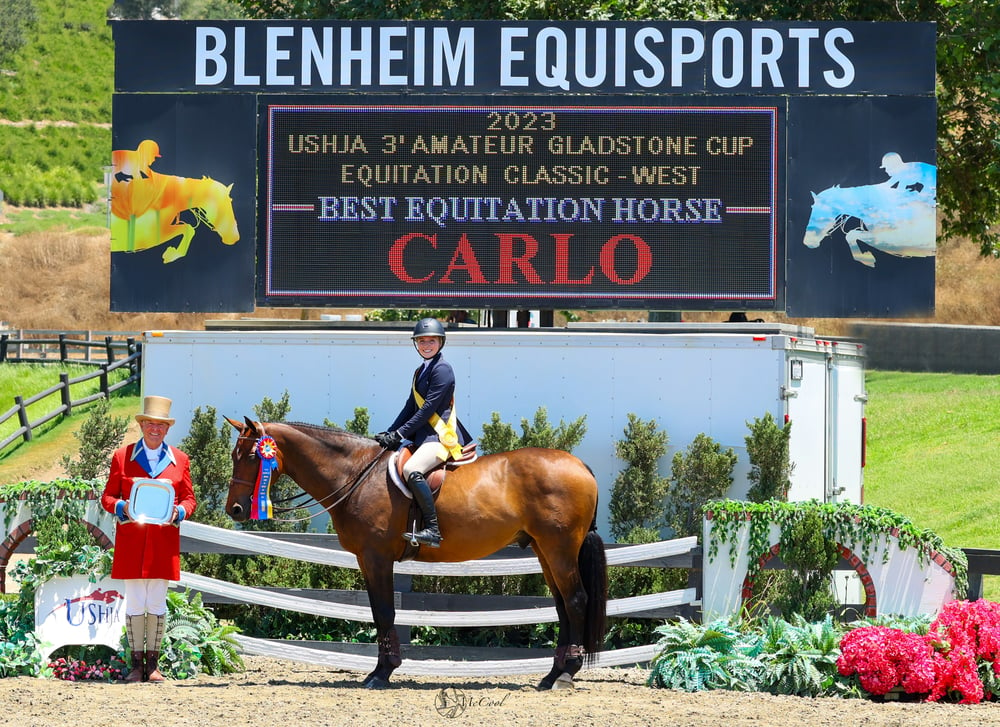 The USHJA Gladstone Cup Equitation Classic for Amateurs is a three-round class that combines the precision of equitation and handiness of hunters over a course set at 3'. The USHJA Gladstone Cup Equitation Classic for Amateurs is open to any Amateur rider that has placed first, second or third in adult equitation classes in the age group equitation at 2'9" or higher or 3'3" Adult Jumping Seat Medal class, Taylor Harris Insurance Adult Medal class, and Ariat National Adult Medal class at a competition with a start date of June 1 and an end date 45 days prior to the Championship date. Riders must be an active USHJA Amateur member at the time of competition in order to compete.
The second and final inaugural USHJA Gladstone Cup Equitation Classic for Amateurs will take place on the East Coast over September 6-9 in Saugerties, New York during HITS on the Hudson VIII.
The USHJA sends special thanks to the entire Blenheim EquiSports team for hosting the Gladstone Cup Equitation Classic for Amateurs. The USHJA also thanks Official Sponsors CWD, Nutrena and Parlanti; and Award Sponsors Essex Classics and Charles Owen.
For more information about the USHJA Gladstone Cup Equitation Classic visit ushja.org/Gladstone.
USHJA Gladstone Cup Equitation Classic for Amateurs Results
Rider | Horse | Trainer
Round 1 | Round 2 | Two-Round Score*
*The Final Round was not scored.
1. Nicole McMillion | Barman des Ponts | Cassandra Karazissis
86.5 | 86.5 | 173
2. Blake Lindsley | Twizzler | Cassandra Karazissis
79 | 90 | 169
3. Emily Williams | Carlo | Karli Schroeder
88 | 90.5 | 178.5
4. Bella Primavera | First Mate KF | Elizabeth Reader
85 | 91 | 176
5. Kathy Nolan | Just Because | Nicole Norris
83 | 86 | 169
6. Maryam Ghassemi | Al Capone | David Bustillos
86 | 83.5 | 169.5
Original press release courtesy of RandolphPR for USHJA.