The $7,500 Futures Prix 1.40m during Week 4 at the World Equestrian Center – Ocala's Winter Spectacular included a field of 39 competitive entries. The course for the class featured 15 jumping efforts including three combinations and a liverpool oxer. Nine entries advanced to the jump-off with six managing double clear rounds, but none could catch the duo of Hanna Toering and her own Balou Moon BHF (Balou Du Rouet x Coquette BHF).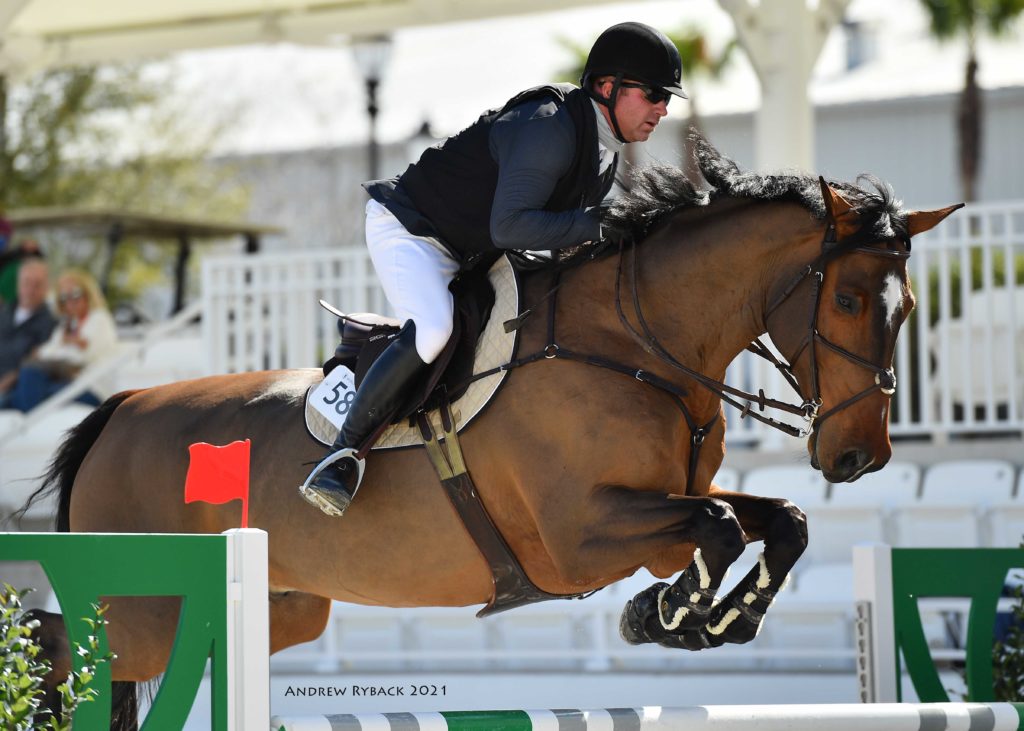 The pace in the class was set by Kyle Dewar aboard Barbara Center's Carmit T (Contant Q x Akvileja). Dewar and the 9-year-old Swedish Warmblood gelding took the blue in the Central Florida Hunter Jumper Association $5,000 1.30m Welcome Stake in early December and stepped up to the 1.40m today. The pair were quick and clear in the first round in 82.699 seconds, well within the time allowed of 90 seconds. They continued straight to the jump-off, keeping their pace and jumping a second clear round in 37.306 seconds, setting a tough time to beat.
Carmit T held the lead in the class until Hanna Toering and her own Balou Moon BHF (Balou Du Rouet x Coquette BHF) took to the course. Toering and the 11-year-old Hanoverian mare earned top placings in the 1.30m jumpers at the Florida Horse Park Winter Classic II just two weeks ago, preparing them well for today's class. The duo took their time in the first round, making sure to leave all rails up in 88.096 seconds. Toering and the fiery mare advanced straight to the jump-off, surging forward and hugging the inside track to each fence. They blazed through the timers at 36.803 seconds, moving into the top spot to ultimately win the class.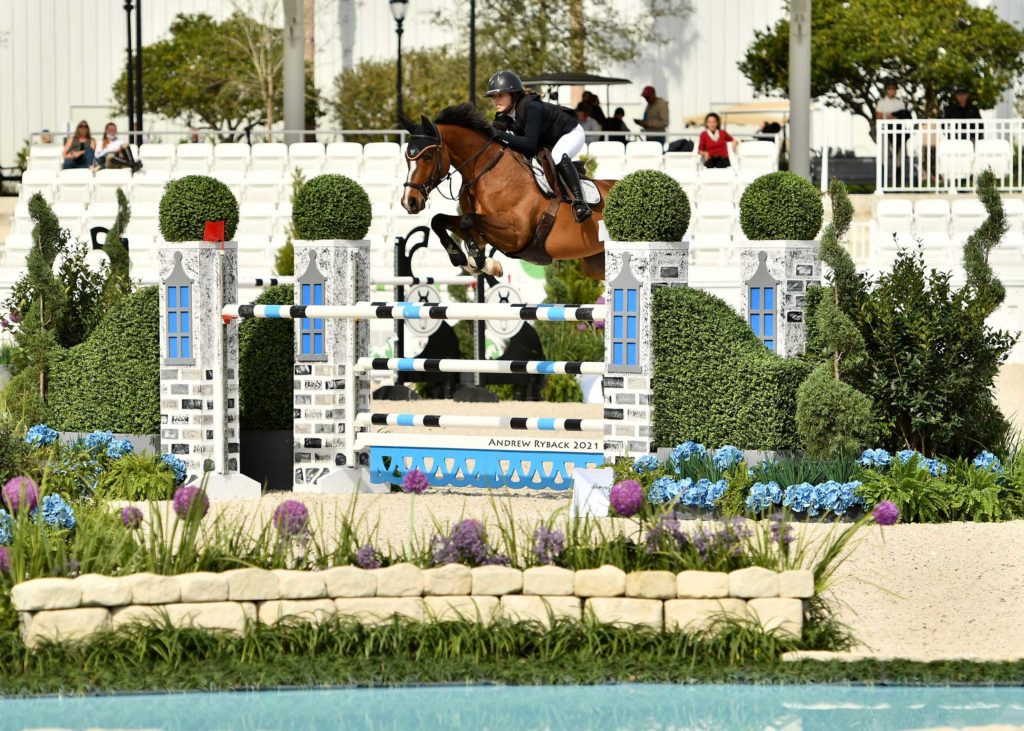 Rounding out the top three finishers were Mary Meghann Huitt and her own Cool Down 5 (Coronas x Zingold). Huitt and the 12-year-old Westphalian gelding finished 3rd in the $25,000 American Standard Grand Prix 1.40-1.45m in the October at Bruce's Field II show and were on form for today's class. The pair navigated a clear first round in 85.220 seconds before continuing straight to the jump-off. They also chose the inside track, managing a second clear round in 38.089 seconds for 3rd place.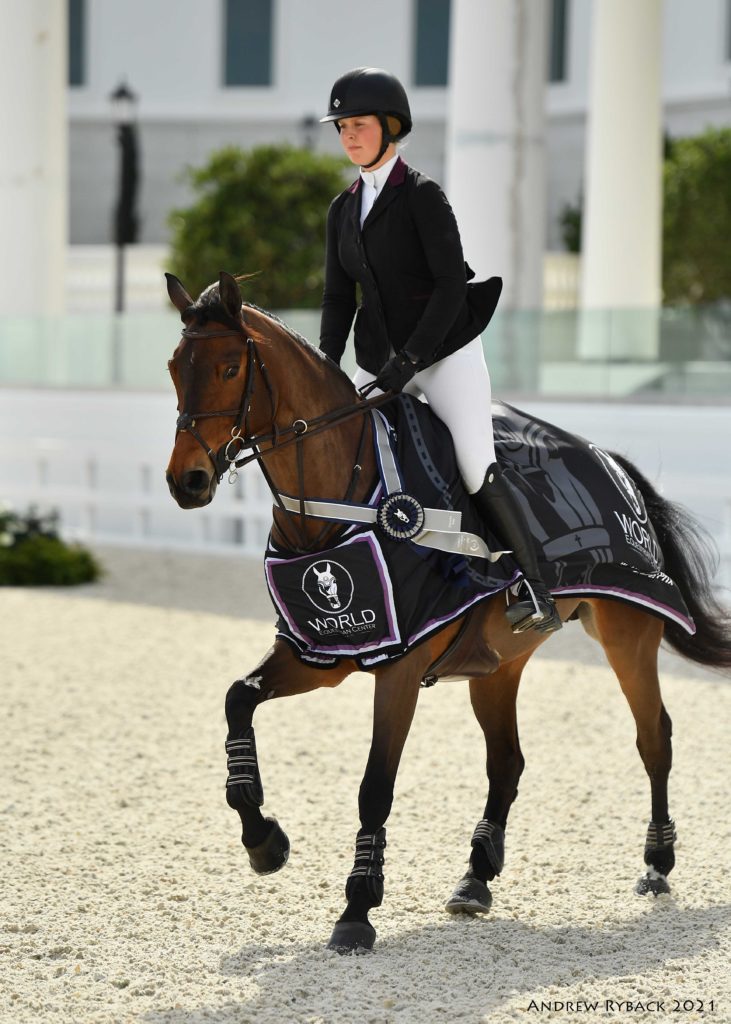 Toering took a moment to chat with us after the class, "Thank you to everyone at World Equestrian Center, this show is done really well. The facility is amazing, the footing is fantastic, the jumps are great and everything is well done and so well thought out. The course designer did a great job today. The track was really good and the options in the jump-off allowed you to stay out if you had a younger horse or go tighter if you had a more experienced horse."
When asked about her plan in the jump-off, Toering replied, "I was really happy with Balou Moon BHF today. She came out and felt great heading into the ring. In the jump-off, I was able to get her forward to jump 1 and get nicely down to jump 2. She was able to get nice and forward around to turn to 14, then she landed and kept going in the rollback to the one-stride combination. She jumped the vertical well, then was great to the final fence. She stepped up and helped me out a lot."
She also told us about her special connection with Balou Moon BHF, "I've had her for her entire life, my family bred her. I started her as a 3-year-old and this is her second year competing in the 1.40m. It's nice to be able to spend so much time with one horse, and to develop and grow with them."
Toering also added, "Thank you to everyone at team Showcase and to Terry Brown for helping me so much with this horse. It's really nice to work with such amazing people that really want to better the horses and better themselves. It's a great environment to be in."
$7,500 Futures Prix 1.40m Results
Balou Moon BHF, Hanna Toering – 0 | 0 | 36.803
Carmit T, Kyle Dewar – 0 | 0 | 37.306
Cool Down 5, Mary Meghann Huitt – 0 | 0 | 38.089
Coquelicot VH Heuvelland Z, Sean Jobin – 0 | 0 | 38.525
Dali De Vy, Christine McCrea – 0 | 0 | 39.995
Quick Key Sr Z, Anna Christina Gansauer – 0 | 0 | 43.295
Glorix Van De Mispelaere, Jenna P. Friedman – 0 | 4 | 38.948
E-gitalica Z, Oliver McCarthy – 0 | 4 | 39.070
Quicksilver 3E, Alexandra Mitchell – 0 | 8 | 41.004
P.S. I Love You, Marcus Gruenthal – 4 | 86.298
Photos courtesy of Andrew Ryback Photography.