The course for the $7,500 Futures Prix 1.40m featured 15 jumping efforts including a double combination, a triple combination and a liverpool. With just one available inside turn and plenty of space between the fences in the jump-off, speed was the determining factor of the class. Thirty-one entries contested the track and seven managed to jump double clear, but it was Christina Kelly and her own Kingdom (Lux Z) that notched their second Futures Prix win of the season, beating second place by nearly two seconds.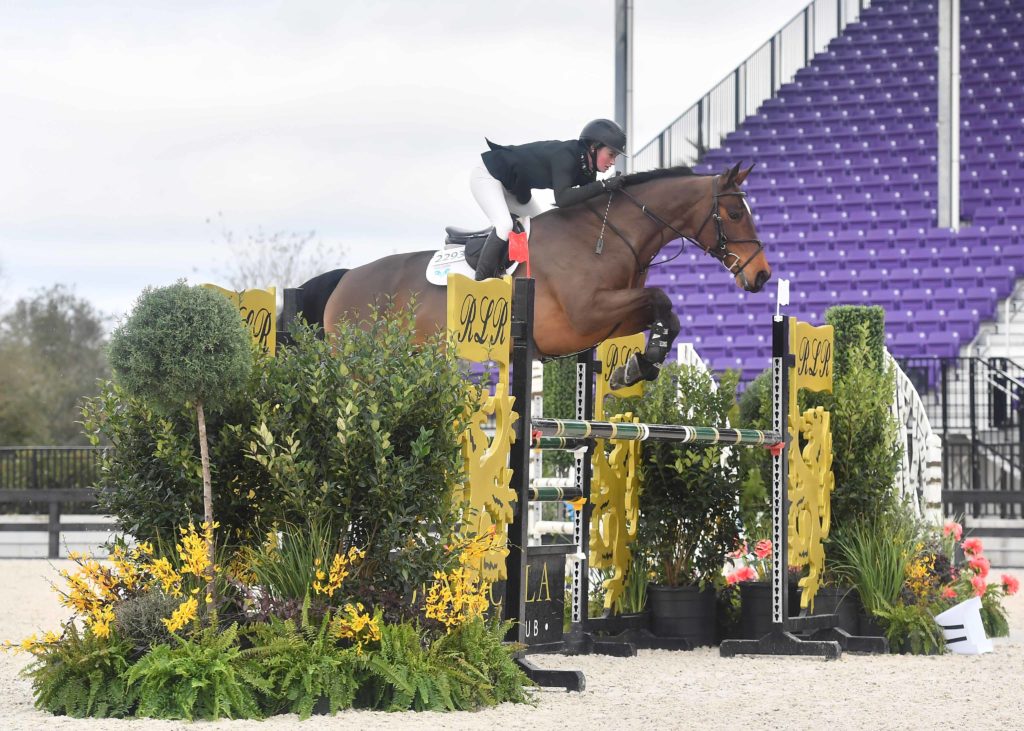 Elizabeth Yeager and her own Justin set a quick pace in the class early in the order. Yeager and the 12-year-old Belgian Warmblood gelding have earned ribbons in the 1.40m jumpers at World Equestrian Center — Ocala over the past two weeks and stepped up to the 1.40m today. The pair was quick and clear in the first round in 81.129 seconds, well within the time allowed of 89 seconds. They continued straight to the jump-off, taking the inside turn option to the combination, shaving valuable seconds off of their time. Yeager and Justin stopped the clock at 43.088 seconds, setting a tough time to beat.
Yeager and Justin held the lead in the class until Ireland's Christina Kelly and her own Kingdom (Lux Z) took to the course. Kelly and the 13-year-old Irish Sport Horse gelding nabbed the blue ribbon in the $7,500 Futures Prix 1.40m during Week 1 of the World Equestrian Center — Ocala Winter Spectacular and returned this morning in search of another victory. The duo navigated a clear first round in 84.082 seconds, then advanced straight to the jump-off. Rather than taking the inside turn to the combination, Kelly opted to stay out, but gallop down the first and last line, leaving a stride out in each to make up time. Their efforts paid off as Kelly and Kingdom stopped the clock with a second clear round in 41.361 seconds to ultimately win the class.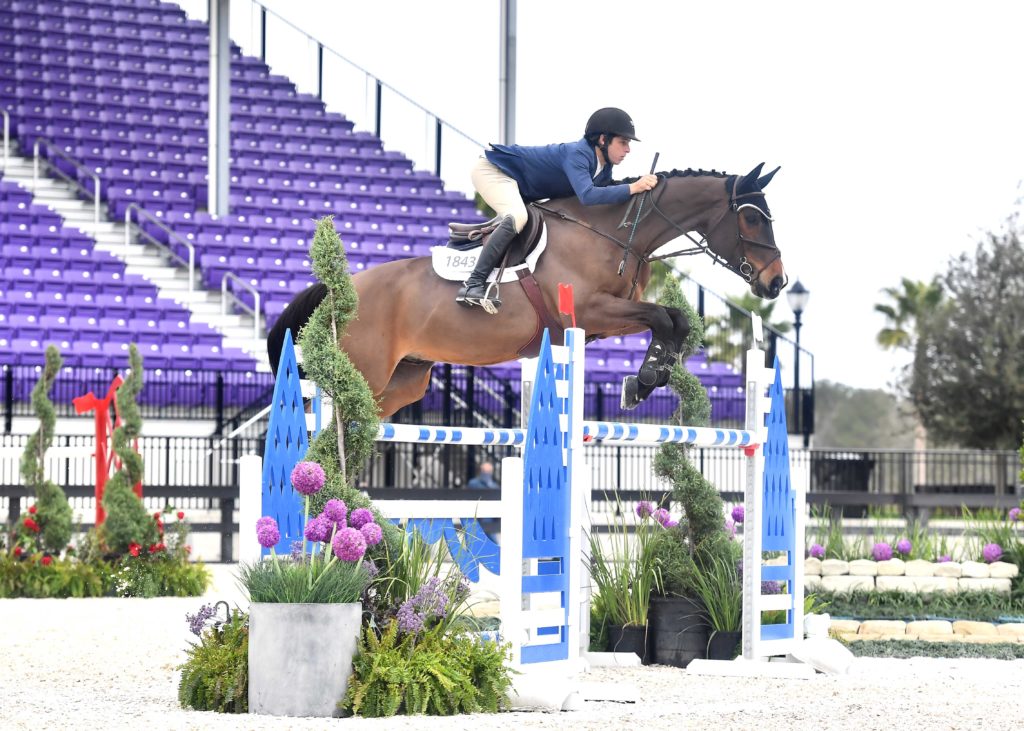 Tommy John Russell and Vick Russell's Shining De Reve (Zandor Z x Akinella) also had a stellar ride in the $7,500 Futures Prix 1.40m. The 14-year-old Selle Francais gelding earned a 12th place finish out of 65 entries this week in the 1.20m jumpers with owner Vick Russell, preparing him well for this morning's class. Tommy John Russell and Shining De Reve found a clear first round in 85.546 seconds, conserving plenty of energy for the short course. The pair advanced straight to the jump-off, staying out to the combination but surging forward between fences. They crossed the timers with all rails up at 43.432 seconds, sliding into 3rd place just behind Yeager and Justin, leaving Kelly and Kingdom in the top spot.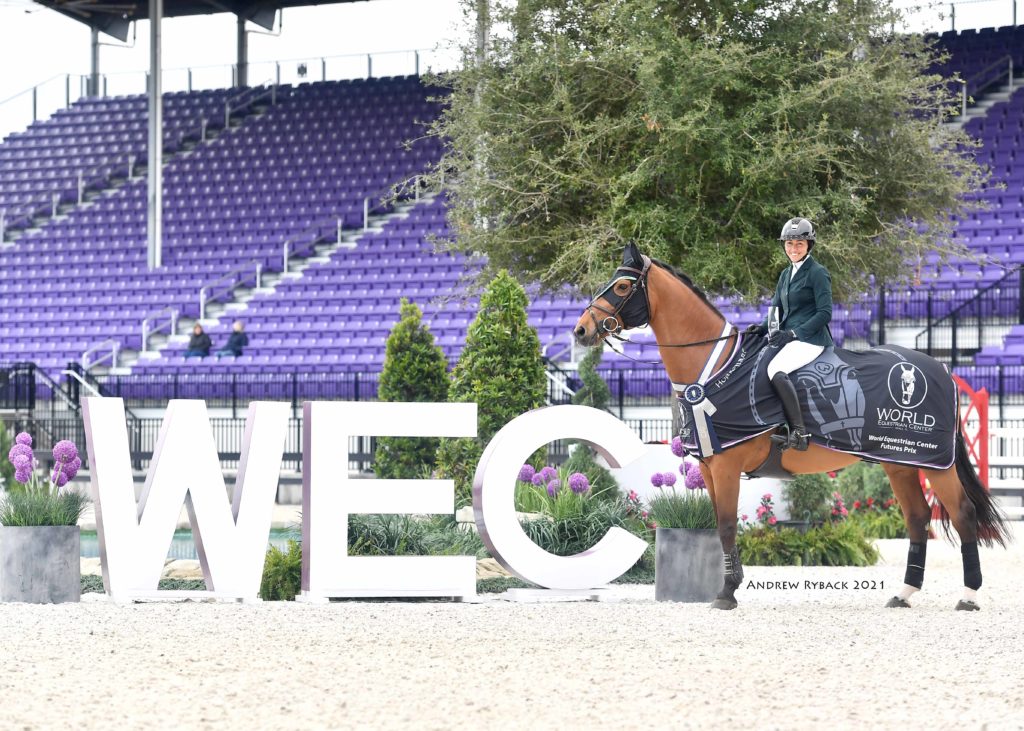 Kelly of Double C Ranch in Ocala, Florida took a moment to chat ringside about her win, "He's been jumping great all week. We've given him a couple of weeks off to let him have a break after he started back in the 1.40m. We did the 1.30m earlier this week and he was great. It was fun to have a nice double clear class. I tend to get a little competitive and go faster than I expect. He was great, he just keeps coming out and doing his job."
When asked about her plan in the jump-off, Kelly replied, "He is really good at covering ground, he's got a huge stride. He's an easy one to leave a stride out on, so my plan was to leave out down the first and last lines instead of having to go inside to the double, because it was quite tight. He's got that big step, so I knew that he had that in him. I got a good few shots at the single jumps, too, so the plan worked out well. It was a good time."
Kelly and Kingdom competed in the grand prix ring together years ago before the handsome gelding was sold. He has now found his way back to Kelly and she looks forward to their future together, "I'm so happy that I've got him back. Hopefully we can keep him this time and get him back up to the grand prix again. He's been going really well!"
$7,500 Futures Prix 1.40m Results
Kingdom Christina, Kelly – 0 | 0 | 41.361
Justin, Elisabeth Yeager – 0 | 0 | 43.088
Shining de Reve, Tommy John Russell – 0 | 0 | 43.432
Cay Z, Juan Bolanos – 0 | 0 | 45.467
MAFIOSI 111, Juan Jose Bancalari – 0 | 0 | 45.598
Cianna Z, Jill Gaffney – 0 | 0 | 45.603
MTM Cedrik, Dorrie Douglas – 0 | 0 | 45.668
Itile Horta, Heather Steinman – 0 | 4 | 42.296
Sibon Clover, Candice King – 0 | 4 | 49.929
Zilouet Mystic Rose, Juan Bolanos – 0 | 8 | 45.088
Photos courtesy of Andrew Ryback Photography.