By Summer Grace and Sabrina Brashares for Jennifer Wood Media, Inc.
Wellington, FL — March 14, 2021 — In the $73,000 CaptiveOne Advisors 1.50m Classic CSI5*, the final class of the day in the International Arena for the ninth week of the 2021 Winter Equestrian Festival (WEF), Kent Farrington (USA) and Creedance, owned by Farrington and Haity McNerney, were uncatchable for victory on Sunday, March 14.
WEF 10, which runs on March 17-21, is sponsored by Horseware Ireland and features the $37,000 Douglas Elliman Real Estate 1.45m Jumpers CSI3* on Thursday, the finals for the Spy Coast Farm Developing Jumper series for Five-, Six-, and Seven-Year-Olds and the $37,000 Adequan® WEF Challenge Cup CSI3* on Friday, the $37,000 CaptiveOne Advisors 1.50m Classic CSI3* on Saturday, and $50,000 Hermès Under 25 Grand Prix Series Final and $137,000 Horseware Ireland Grand Prix CSI3* on Sunday.
A total of 59 horse-and-rider combinations took their shot against Alan Wade's (IRL) track. Featuring a line-up of 11 entries, the jump-off promised to be a hard-won effort, but the Farrington was a force to be reckoned with and ultimately secured the win.
Wade's top courses have been well-planned and challenging all week, and his last course of the week held true. A lengthy number of competitors missed the chance to return for the jump-off by a single unfortunate rail while several others suffered time infractions.
Combinations that returned for the jump-off included top athletes such as Farrington, Daniel Deusser (GER), and McLain Ward (USA). Sweden's Henrik Von Eckermann was the first to complete the second track fault-free after crossing the timers in 35.10 seconds with the Portfolio Horses, LLC's Glamour Girl. His effort with the 10-year-old KWPN mare (VDL Zirocco Blue x Moonlight II) was enough to secure the third place ribbon at the end of the class. Eduardo Menezes (BRA) flew into second place with his own H5 Quintol. He and the 16-year-old Oldenburg gelding by Quintender x Cento managed an efficient time of 34.83 seconds but was still well-behind the class leader.
Farrington returned late into the jump-off order with his winning 14-year-old Dutch Warmblood gelding Creedance (Lord Z x Notaris). The pair made it obvious they were a duo that would not be bested as they effortlessly cleared every obstacle and blazed through the timers in 34.12 seconds.
"[Creedance] is a horse that is hyper competitive in these style classes," explained Farrington. "I put him specifically in today's class instead of the grand prix because it is still early in the year and, as he is getting a bit older, I am choosing classes that he is more comfortable in to save him up for the rest of the year."
Farrington and Creedance have won at events around the world in the years they have been partnered.
"What is wonderful about him is that he can jump at any venue, whether it is Aachen or Wellington, and he always gives a great effort," he detailed. "He is naturally just so fast across the ground that I typically have to make sure that I actually slow him down towards the end of the track or he can get too aggressive. He has been a great horse for my career."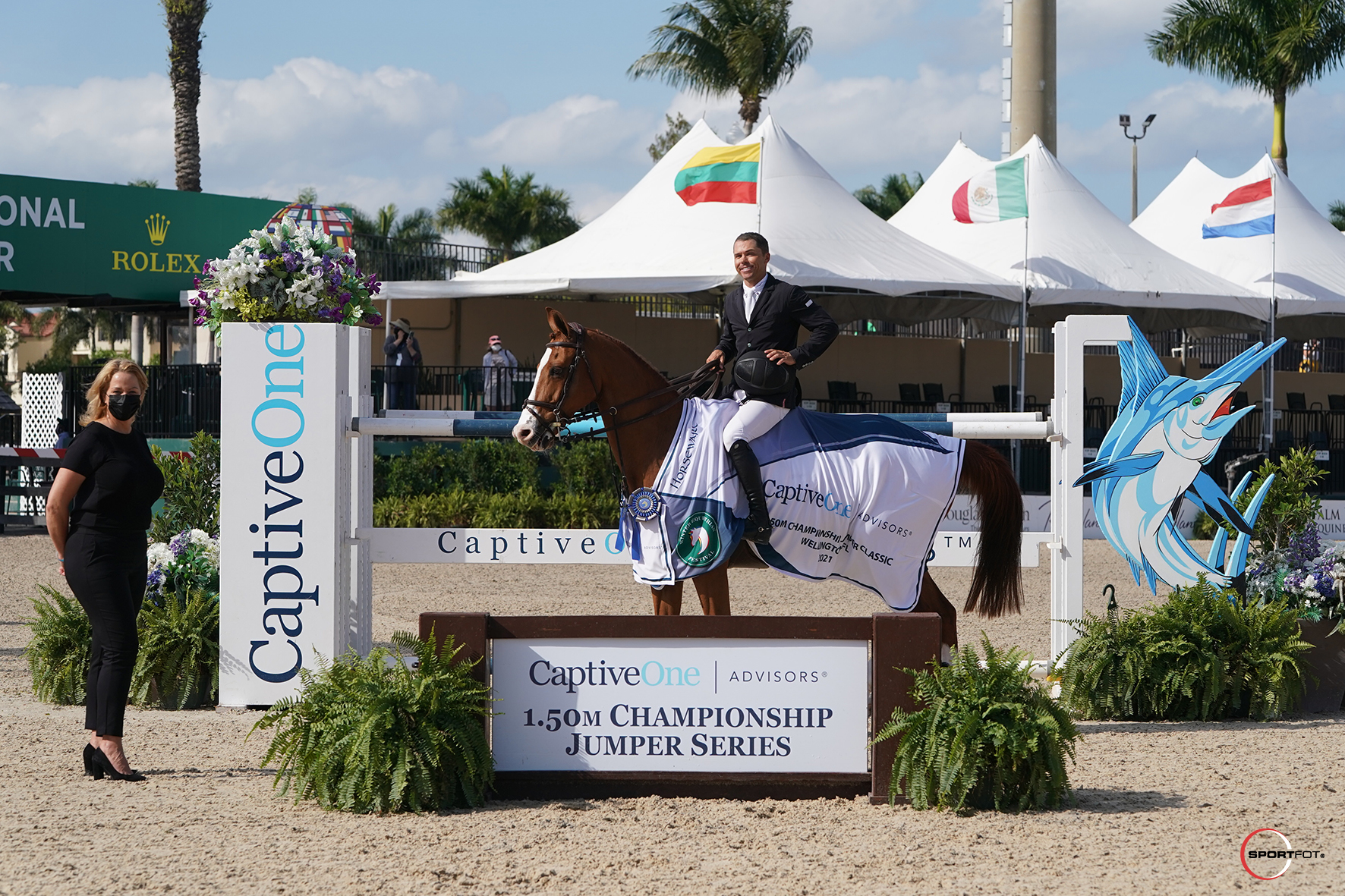 "Alan Wade is a very good course designer but his courses are usually strong, much like today's was," Farrington continued. "His track today was challenging, and there was a very strong field of riders and top horses, so I thought the competition was excellent."
Earlier in the day, David Oberkircher aboard Corry Be Good captured the $15,000 SJHOF High Amateur-Owner Jumper Classic, presented by Lugano Diamonds and also won the Champion Equine Insurance Jumper Style Award presented by Laura Fetterman.

Final Results: $73,000 FEI CSI5* CaptiveOne Advisors 1.50m Classic
1. CREEDANCE: 2007 Dutch Warmblood gelding by Lord Z x Notaris
KENT FARRINGTON (USA), Kent Farrington & Haity McNerney: 0/0/34.12
2. H5 QUINTOL: 2005 Oldenburg gelding by Quintender x Cento
EDUARDO MENEZES (BRA), Eduardo Menezes: 0/0/34.83
3. GLAMOUR GIRL: 2011 KWPN mare by VDL Zirocco Blue x Moonlight II
HENRIK VON ECKERMANN (SWE), Portfolio Horses, LLC: 0/0/35.10
4. SQUIRT GUN: 2011 Oldenburg gelding by Diarado x Quick Star
PAUL O'SHEA (IRL), Eye Candy Jumpers :0/4/35.51
5. SCUDERIA 1918 TOBAGO Z: 2008 Zangersheide stallion by Tangelo Vd Zuuthoeve x Mr Blue
DANIEL DEUSSER (GER), Stephex and Scuderia 1918: 0/0/35.87
6. BRIGHTON: 2006 KWPN gelding by Contendro II x Quick Star
TIFFANY FOSTER (CAN), Artisan Farms LLC: 0/4/34.41
7. BULL RUN'S PRINCE OF PEACE: 2009 Holsteiner gelding by Cardenio x Contender
KRISTEN VANDERVEEN (USA), Bull Run Jumpers Six LLC: 0/4/35.33
8. CONTAGIOUS: 2009 German Sport Horse gelding by Contagio x For Keeps
MCLAIN WARD (USA), Beechwood Stables LLC: 0/4/35.77
9. RMF TINKERBELL: 2008 Oldenburg mare by Incolor x Argentinus
JESSICA SPRINGSTEEN (USA), Rushy Marsh Farm LLC: 0/4/37.08
10. SLIGO BALOU BOY: 2009 Irish Sport Horse gelding by Balou Du Rouet x Catiana
DARRAGH KENNY (IRL), Michael Kearins: 0/4/43.75
11. CONTEFINA LVF: 2012 Holsteiner mare by Cotefino x Southern Girl
ASHLEE BOND (ISR), Little Valley Farms: 0/8/36.47
12. IBELLE ASK: 2008 BWP mare by Verdi x Robin Des Bruyeres
YURI MANSUR (BRA), Stutteri Ask A/S: 1/74.61