By Sabrina Brashares for Jennifer Wood Media, Inc.
The $10,000 USHJA National Hunter Derby Hunt and Go was the second class to take place on the Derby Field at Equestrian Village on Friday. The class was divided into three sections of professionals, amateurs, and juniors and awarded a winner in each division. Victoria Colvin, of Loxahatchee, FL, rode Brad Wolf's Doctor's Orders to the top prize in the professional section with an overall score of 182. The winner of the amateur section was Piper Benjamin and her own Jon Snow after they received a total score of 174. For juniors, Ariana Marnell and Ocean Road, owned by Keri Kampsen and Lexy Reed, took top honors with a final score of 180.
Ken Krome designed a "Hunt and Go" course of 14 fences with the first eight considered as the classic round and the remainder being the handy portion. Riders were given four high option fences and were tested over a trot fence.
Well-known hunter professional Colvin has had the ride on the eight-year-old Westphalian gelding by Carrico for the past two years. Colvin, who shows the gelding in the Pre-Green Hunters, shares the ride with owner Wolf who competes Doctor's Orders in the Amateur-Owner 3'3" Hunter division. Although this venue was new for Doctor's Orders, Colvin guided her mount to a high score of 92 in the classic round and a score of 90 in the handy phase.
"This is actually my first handy round on him since I only show him in the Pre-Green [Hunters]," explained Colvin. "This is also his first time showing on a field so he was really great out there. He is very brave."
"I did my other horse first, and he was quite brave too," continued Colvin. "It was a little windy and late so I didn't know what to expect, but I don't think anybody did. When I trotted out there, he seemed pretty calm. The more forward I went, the better he jumped, so once I knew he was comfortable I just went for it!"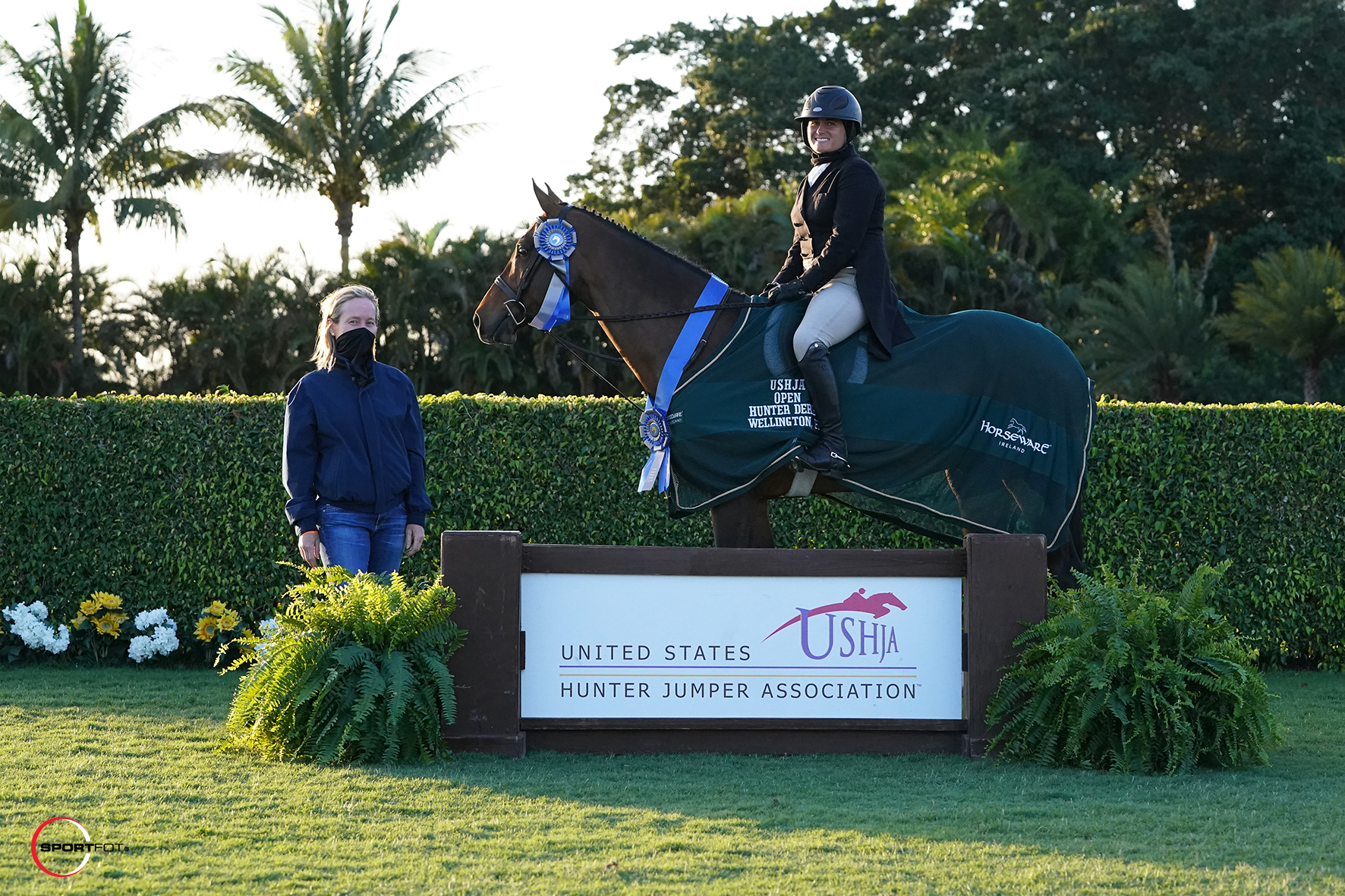 Hannah Isop, of Pawling, NY, and Lisa Longo's Carousel earned a second place ribbon with a total score of 175. The pair received a classic round score of 88 and a handy score of 87. Kelly Mullen and Southern Arches, LLC's Drumroll placed third. Mullen, of Franklin, TN, rode Drumroll to a classic round score of 85.75 combined with a handy score of 88 for a final score of 173.75.
In the amateur section, Benjamin, of Lake Forest, IL, and Jon Snow earned the top prize with an impressive performance in both the classic and handy round. Benjamin has been paired with Jon Snow, the 10-year-old Holsteiner gelding by Lenett, since 2017. The rider took a break from riding while in college and has just recently returned to the show ring this year.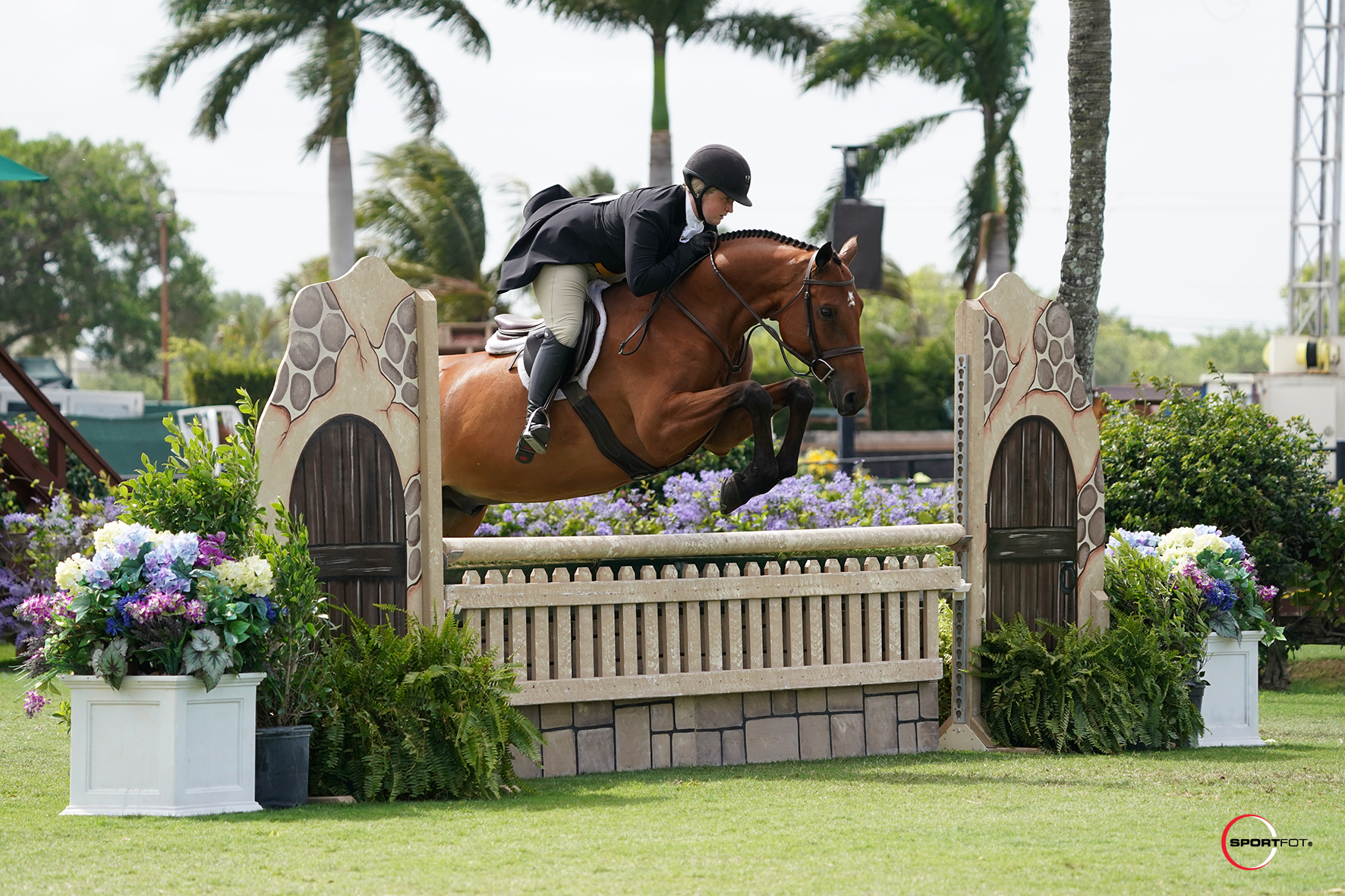 "We were actually going to sell him," said Benjamin. "I was not really available to ride but then this past year I got the opportunity to again. We have had this circuit together to rebuild our connection, so it's been really nice to have that time with him."
The duo earned a score of 87 in both the classic and handy round to put the pair at the top of the leaderboard.
"He has a huge stride and is really brave so I was planning to just gallop around, which is when he feels his best," explained Benjamin. "Honestly, my plan was just to get in there and survive! It's my last class this circuit so I just wanted to make it through. I knew he would do it though; he is so great."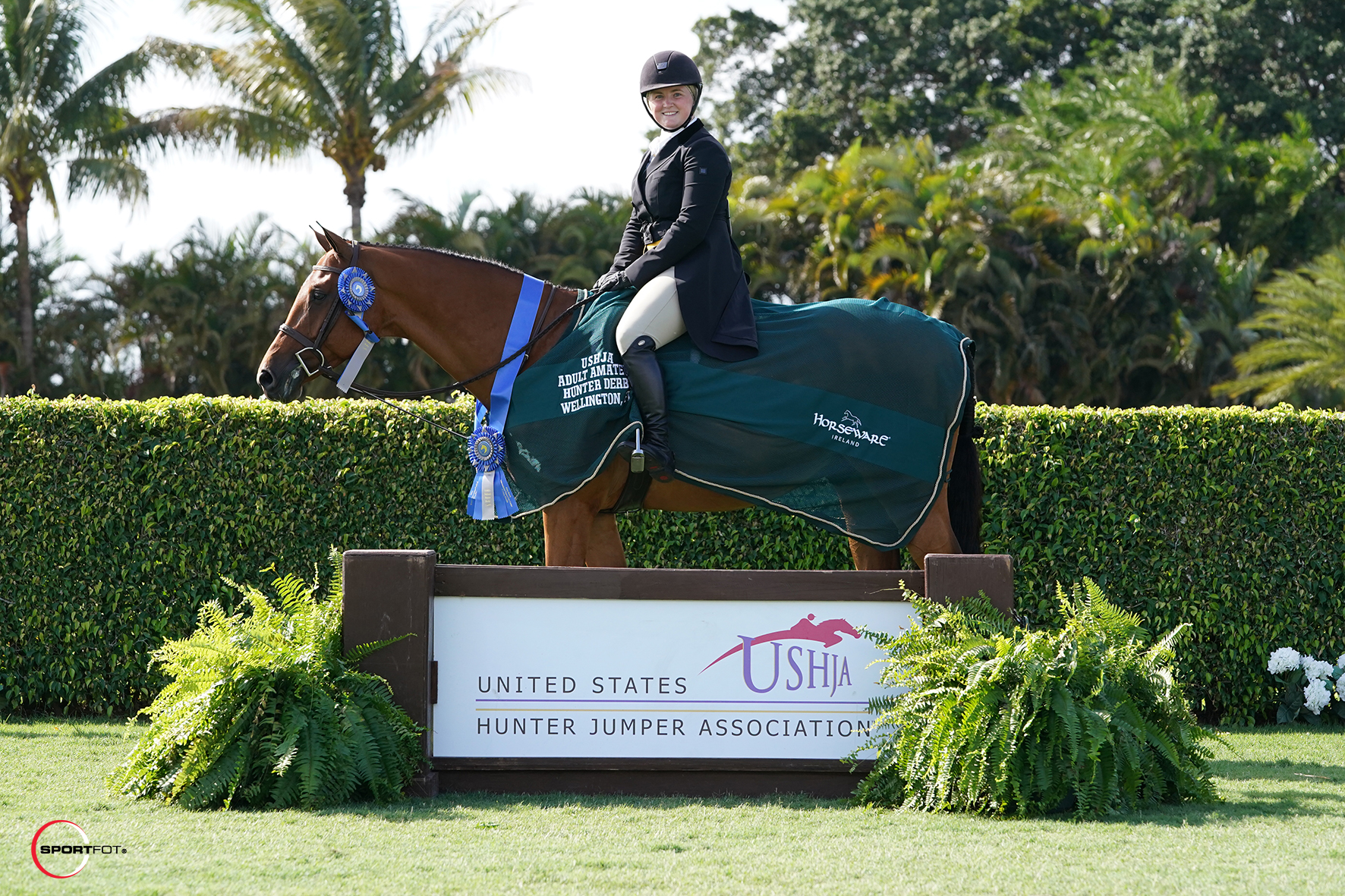 The second place ribbon went to Allyson Blais, of Boynton Beach, FL, aboard her own Escudo. The pair received a classic score of 86, a handy score of 83, and an overall score of 169. Nicole Oliynyk, of Plainville, MA, rode her own Checkandino to a third place finish in the class with a total score of 165. The pair earned a classic round score of 79.5 and a handy score of 85.5.
Marnell, of Las Vegas, NV, and Ocean Road proved unbeatable in the junior section of the $10,000 USHJA National Hunter Derby Hunt and Go. Marnell and her mount are a fairly new combination, but that did not stop the duo winning their first hunter derby together. The pair earned a high score of 91 in the classic round followed by an 89 in the handy phase.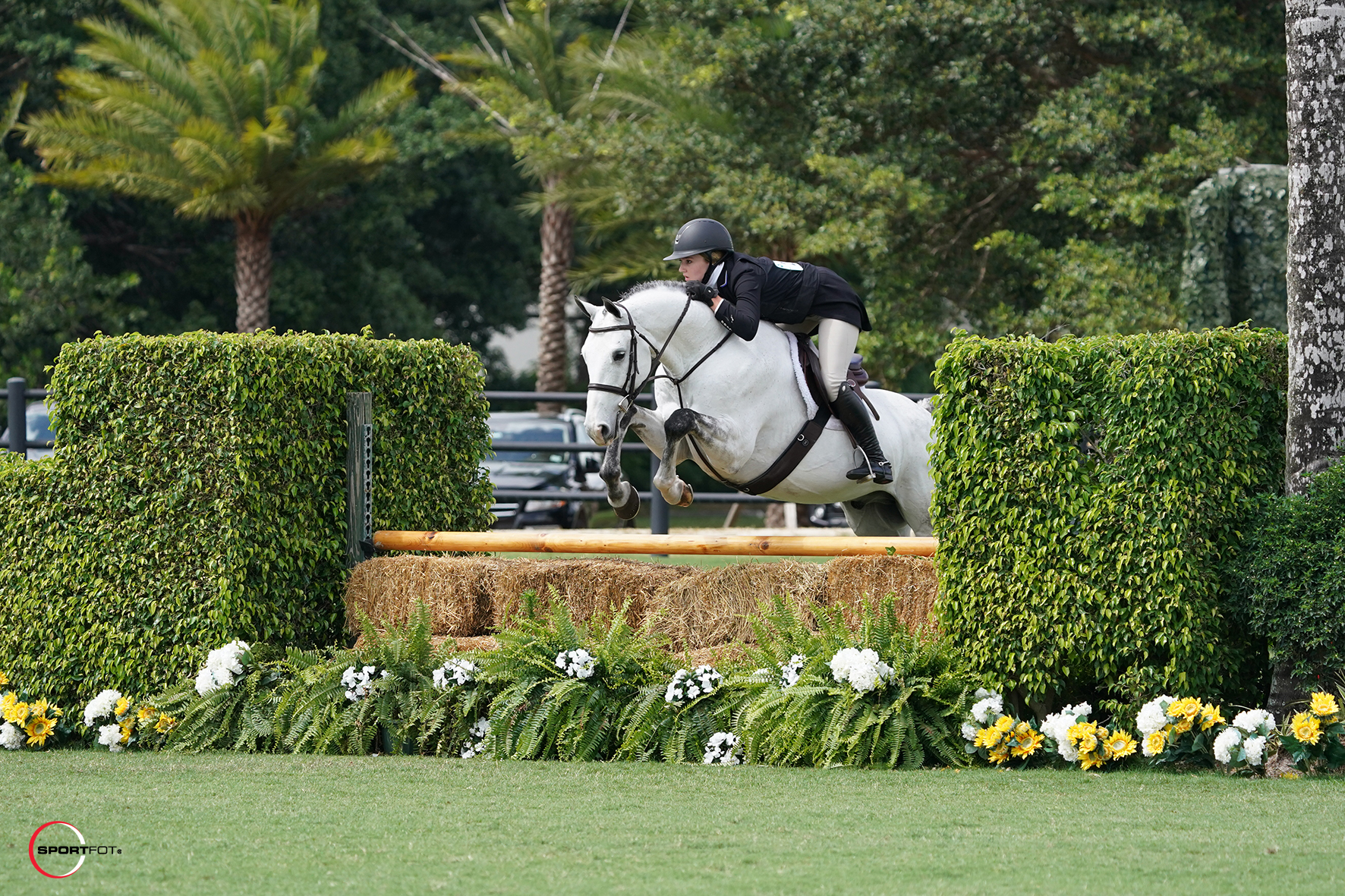 "He is probably my favorite horse that I've ever had," commented Marnell of the coming eight-year-old Belgian Warmblood gelding by Canatano Z. "I went second on the first horse that I did in the class. He ended up fifth, so I got a nice feel for the track. What I liked from that round I wanted to carry over, and what I didn't like I wanted to make some small adjustments. He is really different from that horse so I just tried to really ride a good plan for [Ocean Road]. He is so easy, he really knows his job, and he loves his job. I just tried to guide him but he really knows what to do.
"After the fence before the trot fence I tried to turn pretty tight and keep a good balance and good rhythm," continued Marnell. "To the last jump and all of the single oxers I tried to really gallop so it looked very 'huntery.' He jumps so well so that really helped us too."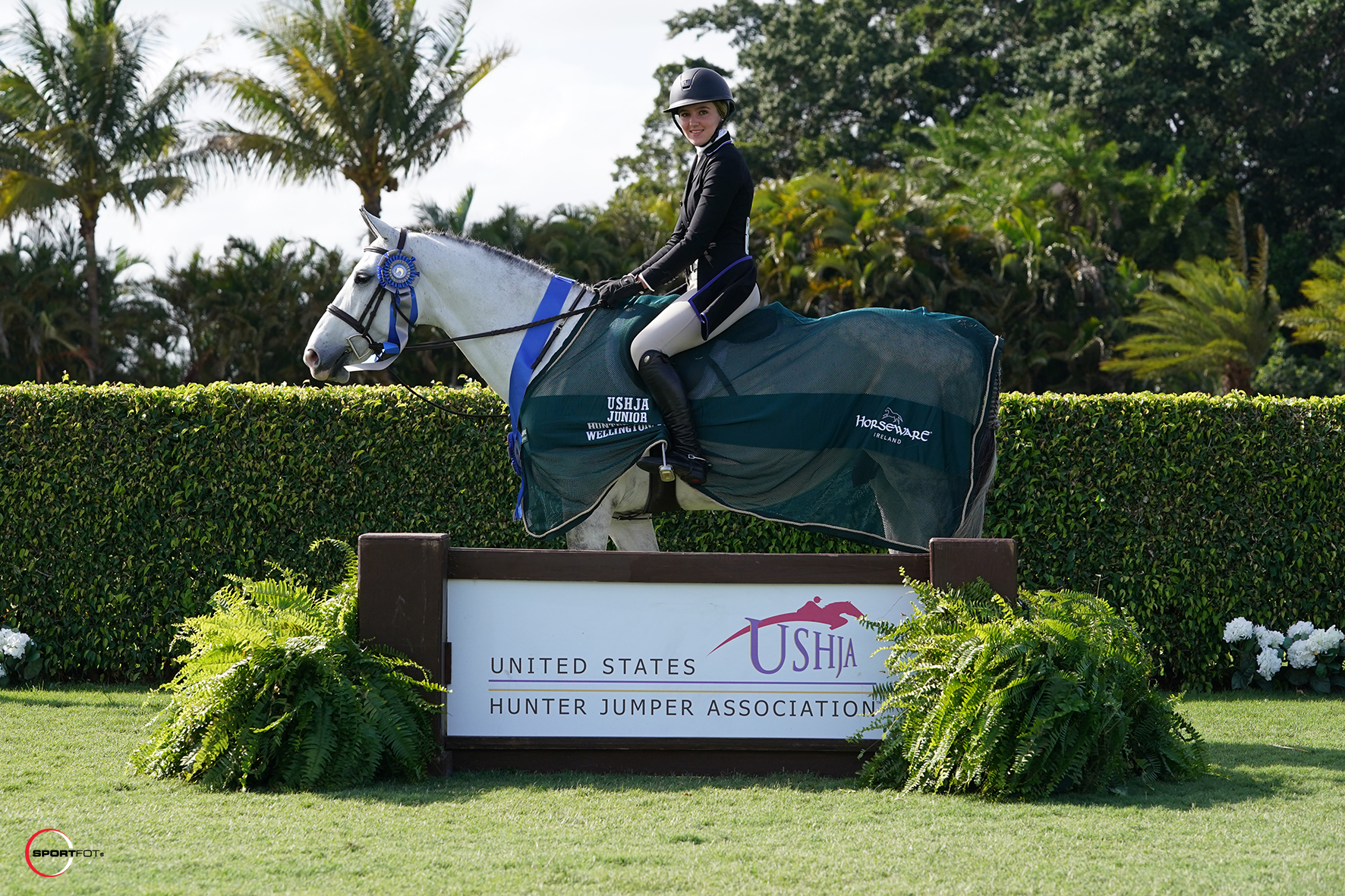 Second place was awarded to Alexa Elle Lignelli, of New York, NY, and Hampton Green Farms LLC's Lagerfeld. Lignelli and Lagerfeld received a classic round score of 89.01, a handy score of 87, and a total score of 176.01. Taylor Cawley, of Wellington, FL, rode Elite Equines LLC's Lalique to a third place finish and overall score of 176. The pair earned a classic round score of 87 and a handy round score of 89.
Final Results: $10,000 USHJA National Hunter Derby Hunt & Go – Professional
Horse, Rider, Owner
Round 1 Score, Round 2 Score | Total
1. Doctor's Orders, Victoria Colvin, Brad Wolf
92.00, 90.00 | 182.00
2. Carousel, Hannah Isop, Lisa Longo
88.00, 87.00 | 175.00
3. Drumroll, Kelly Mullen, Southern Arches, LLC
85.75, 88.00 | 173.75
4. Dan D'Angelo, Rachel Hake, Amy Guth
86.00, 87.50 | 173.50
5. Airplay, Jimmy Torano, Maddock Horses LLC
84.15, 85.50 | 169.65
6. Calisto, Greg Crolick, Jon Cotton
84.50, 85.00 | 169.50
7. Sugarman, Jennifer Bliss, Harris Hill Farm, LLC
85.00, 84.00 | 169.00
8. Dialicious, Kim Barone, Cynthia Bulwicz
81.50, 86.00 | 167.50
9. Darsino, Hannah Stevens, Susan Fowell
82.50, 83.50 | 166.00
10. Celtic Fire, Molly Allen, CF Partners
82.00, 82.00 | 164.00
11. Couer De Leon, Colin Syquia, Cynthia Sulzberger
79.00, 83.00 | 162.00
12. Rebel De Vizy, Meredith Gallagher, Olivia Kuo
72.00, 86.00 | 158.00
Final Results: $10,000 USHJA National Hunter Derby Hunt & Go – Amateur
Horse, Rider, Owner
Round 1 Score, Round 2 Score | Total
1. Jon Snow, Piper Benjamin, Piper Benjamin
87.00, 87.00 | 174.00
2. Escudo, Allyson Blais, Allyson Blais
86.00, 83.00 | 169.00
3. Checkandino, Nicole Oliynyk, Nicole Oliynyk
79.50, 85.50 | 165.00
4. Ice Time, Martha Ingram, John & Stephanie Ingram, LLC
80.00, 84.00 | 164.00
5. Quixotic, Julie Hogan, Linda Evans & Orion Farm
81.00, 82.00 | 163.00
6. For Love, Meredith Lipke, Meredith Lipke
78.00, 82.00 | 160.00
7. Calvanos, Alexander Goet, Alexander Goet
86.51, 72.00 | 158.51
8. The Spy, Kimberly Penfold, Glory Days Farm, LLC
82.00, 76.50 | 158.50
9. Conway, Michael Baum, Camille Branca
86.75, 71.45 | 158.20
10. Tristram 7, Julia Gildea, Holly Hill Farm
84.50, 72.25 | 156.75
11. Vistano, Lexi Maounis, Eliza Kimball
86.00, 70.00 | 156.00
12. Mr. President, Kiva Iscol, Chilmark Farm
83.50, 72.15 | 155.65
Final Results: $10,000 USHJA National Hunter Derby Hunt & Go – Junior
Horse, Rider, Owner
Round 1 Score, Round 2 Score | Total
1. Ocean Road, Ariana Marnell, Keri Kampsen & Lexy Reed
91.00, 89.00 | 180.00
2. Lagerfeld, Alexa Elle Lignelli, Hampton Green Farms LLC
89.01, 87.00 | 176.01
3. Lalique, Taylor Cawley, Elite Equines LLC
87.00, 89.00 | 176.00
4. Arabesque, Clara Propp, Aquitaine Equine
84.01, 85.00 | 169.01
5. Casino Cash, Ariana Marnell, Marnell Sport Horses
83.00, 86.00 | 169.00
6. Cassinir, Maggie Jacobs, Pony Up Sporthorses LTD
83.50, 83.50 | 167.00
7. Candor, Elianna Kirson, Ashland Farms
87.00, 79.45 | 166.45
8. In The Loop, Madison Hart, Tracy Hart
81.50, 82.00 | 163.50
9. Fleetwood, Campbell Brown, MMK Equestrian LLC
81.01, 80.00 | 161.01
10. Floris, Riley McKesson, Keren Halperin-Guy
77.00, 84.00 | 161.00
11. Stellar, Daniela Casline, Daniela Casline
86.00, 74.00 | 160.00
12. Edgewood's Wonder, Hannah Famulak, Monkey Business, LLC
76.00, 83.00 | 159.00