Jump Media Press Release
Dominic Gibbs of Colorado Springs, Colorado, ended his junior career on a high note with victory in the WIHS Equitation Finals aboard Mountain King Ranch LLC's Cent 15.
A field of 40 horse-and-rider combinations competed in the coveted, year-end final. The class spanned two days with the hunter phase taking place on Friday and the jumper phase held on Saturday. Riders' average scores from the first two rounds were combined, and the 10 highest scoring competitors returned for a final work-off where they swapped horses.
Gibbs and the 13-year-old Hanoverian gelding by Carenzo earned third place in the hunter phase after they scored an 88.75 and then topped the jumper phase with a high score of 90. The rider kept his cool for the final work-off and impressed the judges, Ralph Caristo, Sissy Wickes, Molly Ashe Cawley, and Callan Solem, on Skylar Wireman's horse, Fix Blue, to claim the top prize.
"I was really just hoping to stay consistent and have the three best rounds that I could," described Gibbs. "I feel like I know Cent like the back of my hand. I had originally bought him to be my high junior jumper, which obviously did not work out. He shined like a star in the equitation ring ever since day one. I'm so lucky to have such an amazing horse that I've had as a consistent partner through my last few junior years."
Gibbs and Cent 15, trained by Stacia Madden and Beacon Hill Show Stables, are well-known names in the equitation ring and definitely no strangers to the winner's circle.
"The most gratifying part of Dominic's career with Cent was that it was a horse he brought along basically himself," said Madden. "Dominic didn't start by winning every class on him, but he never gave up. He always realized the strengths that that horse had to offer. He was always looking to better each round and never cared if he made a little bit of a mistake as long as he was learning from it."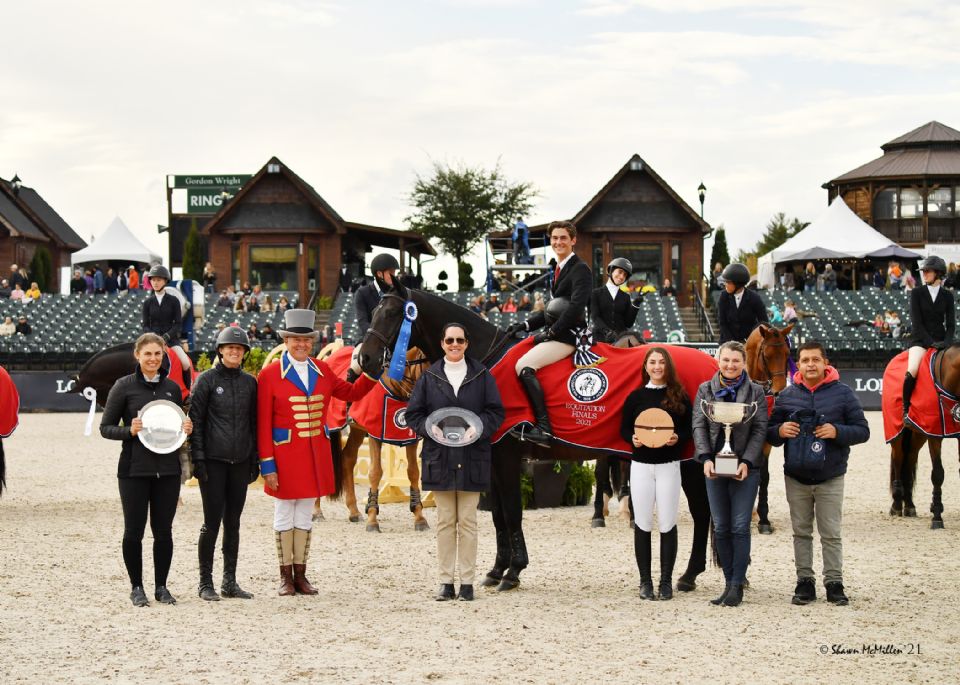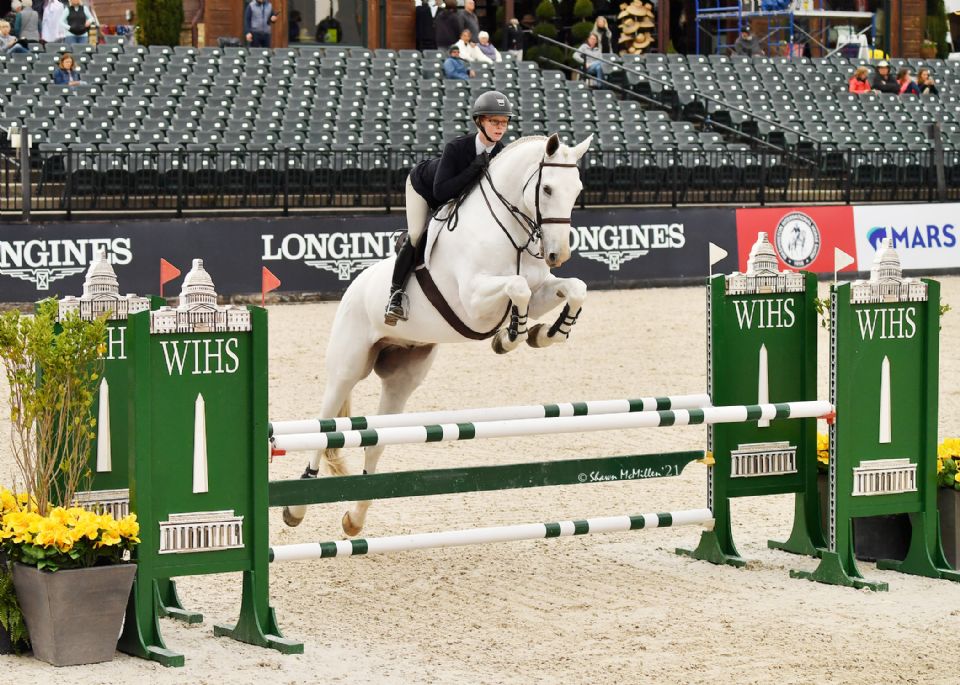 Finishing in second place was Skylar Wireman of Bonsall, California, on Heritage Farm, Inc.'s Fix Blue. Wireman finished fifth in the hunter phase with a score of 86.5 on Friday and earned a score of 89 in the jumper phase to be tied for second. This year was the rider's second time participating in the equitation final, and unlike most of her competitors, Wireman was on a very new mount.
"The horse I rode today, Fix Blue, I actually rode for the first time this week," explained Wireman. "It was a bit of a new mount for me, so I was getting to know him still, but he was really great. I enjoyed getting to switch onto Cent. I love that horse so much, and he is absolutely incredible. The fact that Dominic [produced Cent] himself is amazing."
Augusta Iwasaki of Calabasas, California, and Attendu de Lannois Z, owned by Ashland Farms, climbed seven spots to earn the third-place ribbon. Iwasaki earned a score of 85.5 to finish in tenth place on Friday in the hunter phase and then scored an 88 to earn fifth in the jumper phase.
"This is my fifth year doing [the WIHS Equitation Finals]," commented Iwasaki. "This year I was coming in with a horse that I started showing around this time last year. I've been working with him all year trying to get him ready for this final. This has been my favorite class to do on him all year. He really delivered, and I'm so grateful to everyone that got us here."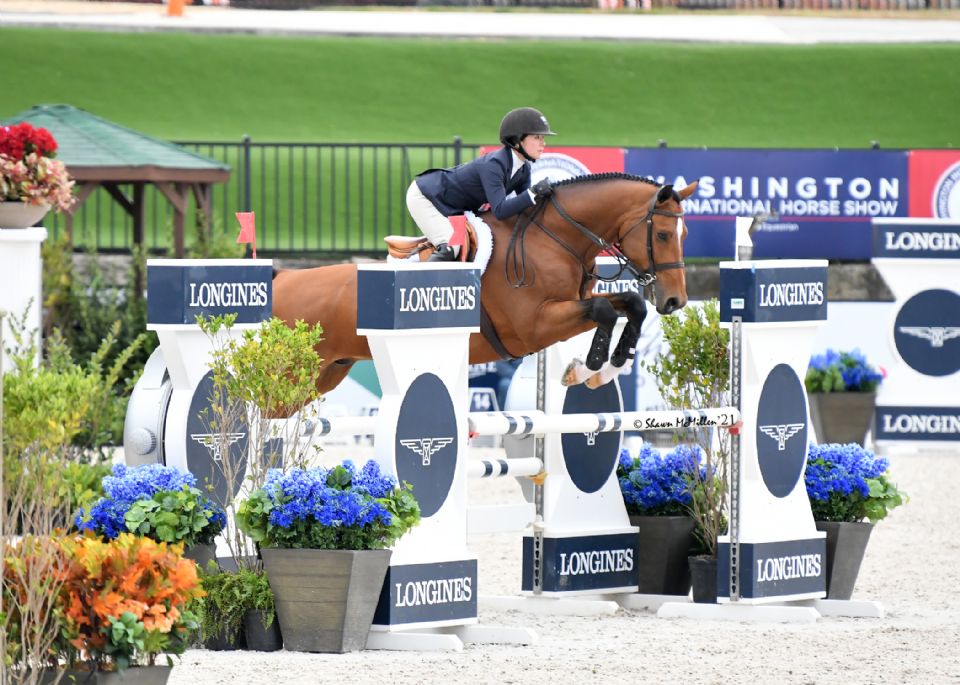 Sissy Wickes, one of the four judges, was impressed with the smoothness, technique, and softness of each rider in the top three. "I think this class in general is great because it combines the technical and stylistic parts of riding, and especially of equitation riding," explained Wickes. "These finals bring out the skills in every rider in both of those aspects. These three kids right here were amazing."
Gibbs felt a little extra pressure coming into this final because it was the rider's last show for the 2021 season, last class as a junior, and last equitation class of his career. Over the years Gibbs has worked on combatting his nerves in the show ring, especially for these bigger events.
"Mental game has always been a really big thing for me," said Gibbs. "I used to struggle with nerves a lot. Having done the equitation for a few years now, knowing what the finals season is like, and having that under my belt was a really good thing coming into my last junior season. Knowing my horse, trusting my training, and trying to deliver my best rounds were really big thoughts in my head this week."
Although this was Gibbs' last event for the year, he is excited to return in 2022 as a professional rider for Plain Bay Sales.
For his victory, Gibbs was presented with The WIHS Equitation Classic Trophy donated by Mr. and Mrs. G. Ralph Ours, III. Gibb's mount Cent 15 was awarded The Lugano Memorial Trophy donated by Stoney Hill.
Final Results: WIHS Equitation Finals
Rider/Horse
1 Dominic Gibbs/Cent 15
2 Skylar Wireman/ Fix Blue
3 Augusta Iwasaki/Attendu de Lannois Z
4 Tessa Downey/HH Moonshine
5 Luke Jensen/Conthacco
6 Catalina Peralta/Clover
7 Mimi Gochman/Andretti BH
8 Natalie Jayne/Charisma
9 Alexander Alston/Campreoll
10 Zayna Rizvi/Acer K