By Amanda Picciotto Feitosa for Jennifer Wood Media, Inc.
Sunday's first championship in the Rost Arena at the 2022 Winter Equestrian Festival (WEF) was for the T&R Development Large Junior Hunter 15 & Under division. Sterling Malnik of Ocean Ridge, FL, with her horse In Writing topped three out of the five classes in the division on their way to the championship title.
The division started Saturday and resumed with the under saddle on Sunday morning, in which Philippa Ammann strutted to the win with Katarina Ammann's Balousock B.B.S. Ammann and the 13-year-old Swedish Warmblood gelding by Balougraph went on to score an 85 in the stake class for their second win of the day, boosting them to the reserve championship honors.
It was Malnik and In Writing's consistency over the two days of competition that ultimately clinched the championship. The pair won both over fences classes on Saturday including the handy with scores of 86 and 88. They finished on Sunday with a win in the third over fences class with a score of 86.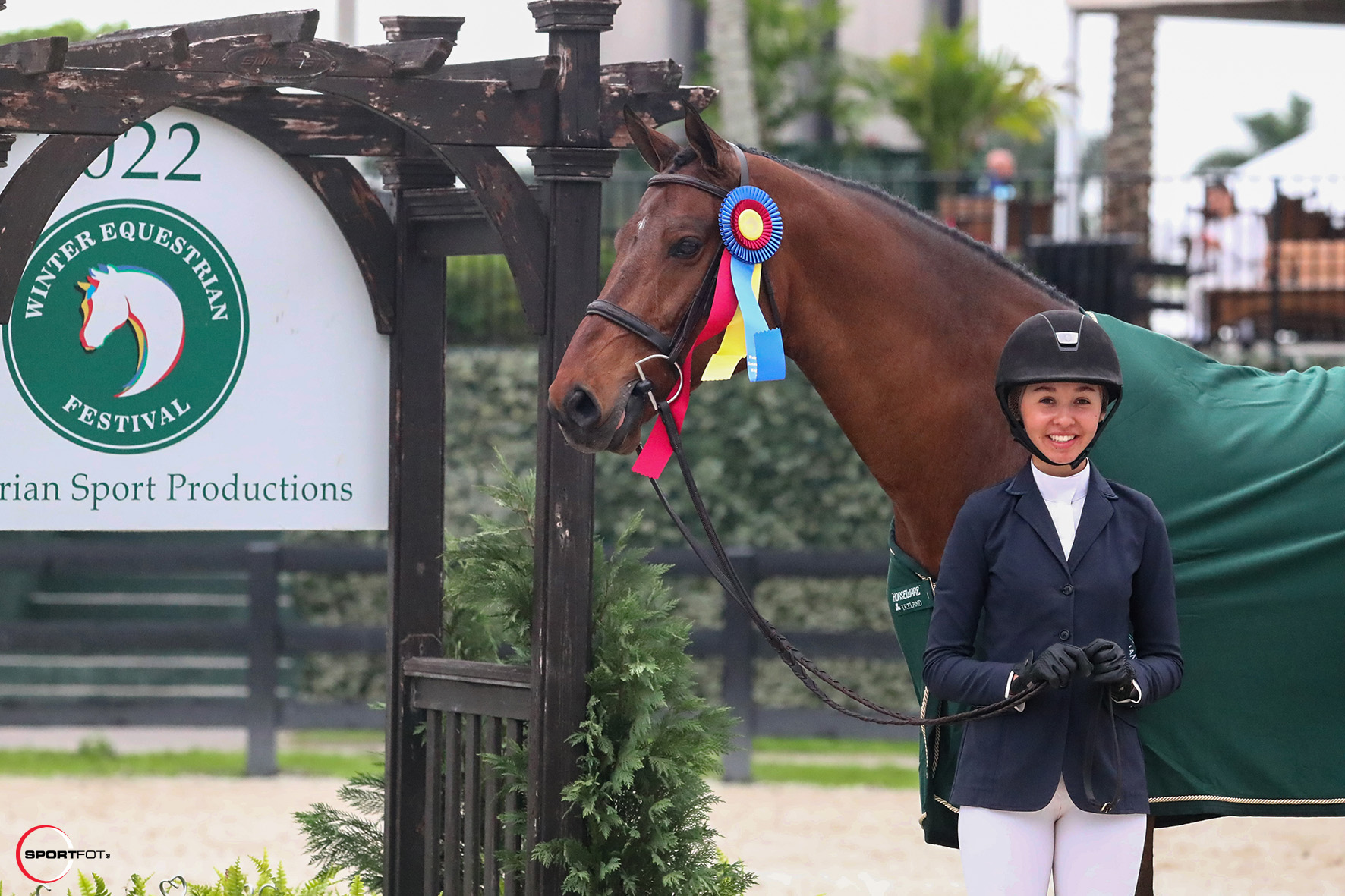 Malnik, who trains in the hunters with Bill Schaub and Steven Gregorio at Over the Hill Farm, has been partnered with In Writing for about two years. "Q," as he's known in the barn, might be all business in the ring, but he stole Malnik's heart with his cheeky personality.
"I'm absolutely in love with him. He's very goofy. He'll come over and pull off your hat just to get your attention," she shared.
Malnik used Premiere Week with Q as an opportunity to get the 13-year-old Holsteiner gelding by Quirado used to the showgrounds again since he had not shown since the fall indoor circuit.
"We had great rounds last week. It was just normal," noted Malnik. "I was proud and confident with our rounds for our first week back."
This week was a different story.
"We showed him again this week, and he was perfect. He knew right when we walked into the ring what to do. He was confident, and we had great rounds all weekend," she expressed.
Malnik continued her competition day in the equitation with the team at Beacon Hill and the jumpers with U.S. Olympian Laura Kraut. While it is certainly a challenge to adjust from one mount to the next across three disciplines, Malnik has gotten accustomed to maintaining her poise.
"When I get on each different horse, I just remember who I'm on and the things I need to do, and it pretty much always works out," she said.
With Q, Malnik has her sights set on WCHR week six, aiming to qualify for the Peter Wetherwill USHJA Palm Beach Hunter Spectacular night class, and she is excited for the rest of the season.