Edited Press Release
Wilmington, OH – Five entries went double clear over Bobby Murphy's twisting track Saturday at the World Equestrian Center in Wilmington, OH, but none could best Charlotte Clark and her own Kinsella (Capitalist x Jerpoint Mist) in the $30,000 Grand Prix.
Clark of Kendalwood Farm in Sunbury, Ohio, and Kinsella, a 12-year-old Chestnut Irish Sport Horse mare, have won countless feature classes at the venue throughout the years. They blazed Saturday's tracks with precision, consistency and speed, to finish both rounds leading the class. The team went quick and clear in the qualifying round, stopping the timers at 70.321 seconds, well under the time allowed of 80 seconds to secure a spot in the jump-off.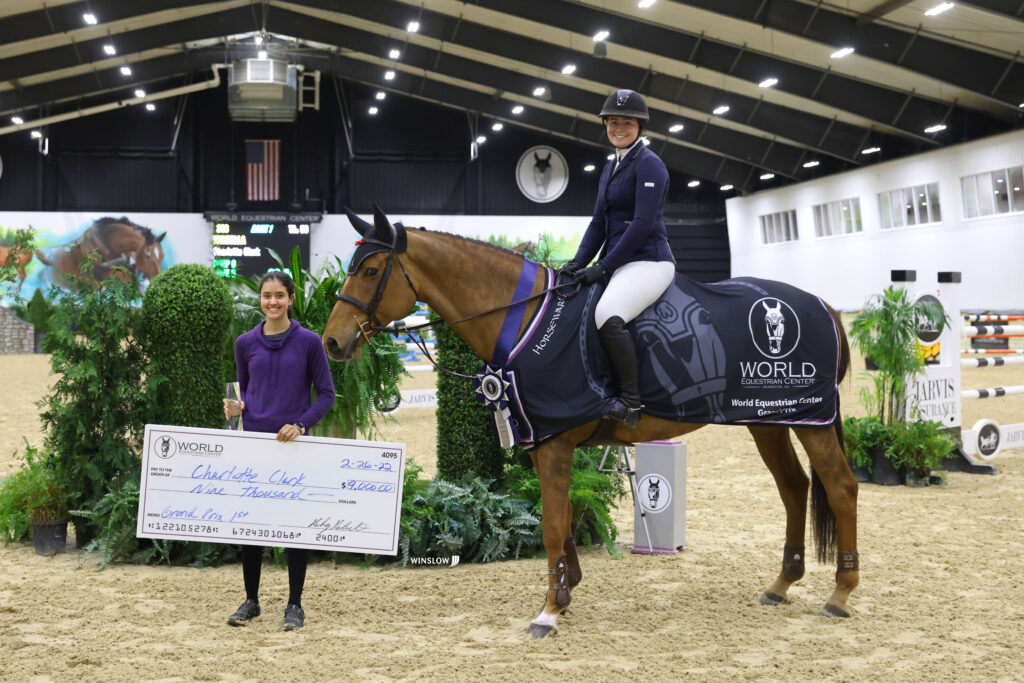 They returned last in the jump-off, maintaining a similar effort to that of round one, wasting no time and crossing the finish line in only 33.746 seconds for the $30,000 Grand Prix win.
"We had a very tidy turn between the first two jumps of the jump-off. There actually was a timer malfunction after my first jump – There was a weird glitch, so I had to start over," Kinsella said. "I was thinking, 'Oh my gosh, I really hope I don't knock it over the second time!' After that, all was good and we were just so tidy. Bobby Murphy's courses are my favorite to ride. He does a nice job and I'm always happy to see him at a horse show. Also, I want to thank my amazing groom, Olivia Saldivar. She is my go-to girl and takes such great care of 'Kinsey.'
I've known [Kinsella] for quite a while," she continued. "I've owned her for six years and got her when she was just five years old. We have had a very long relationship, I know her so well and trust her 100%. She is the easiest and sweetest horse to get along with. "
$30,000 WEC Wilmington Grand Prix Results:
Kinsella, Charlotte Clark: 0 | 0 | 33.746
Hendrik, David Beisel: 0 | 0 | 34.047
Catch a Star HSS: 0 | 0 | 34.130
Fawkes, Lindsay Lyden: 0 | 0 | 35.254
Classic Roc, Nick Novak: 0 | 0 | 36.241
Vegas H, David Beisel: 0 | 4 | 35.747
Essince W, David Beisel: 4 | 73.542
Fortysix & 2, Lyriss Jaeger: 4 | 77.031