Edited Press Release
Wellington, FL – March 6, 2022 – Competition for week 8 at the 2022 Winter Equestrian Festival (WEF), presented by Premier Equestrian, concluded on Sunday, March 6, with the $216,000 CSIO4* Grand Prix, presented by JTWG, Inc. Four-time Olympic medalist McLain Ward (USA) and his veteran partner HH Azur, owned by Double H Farm, led the victory gallop.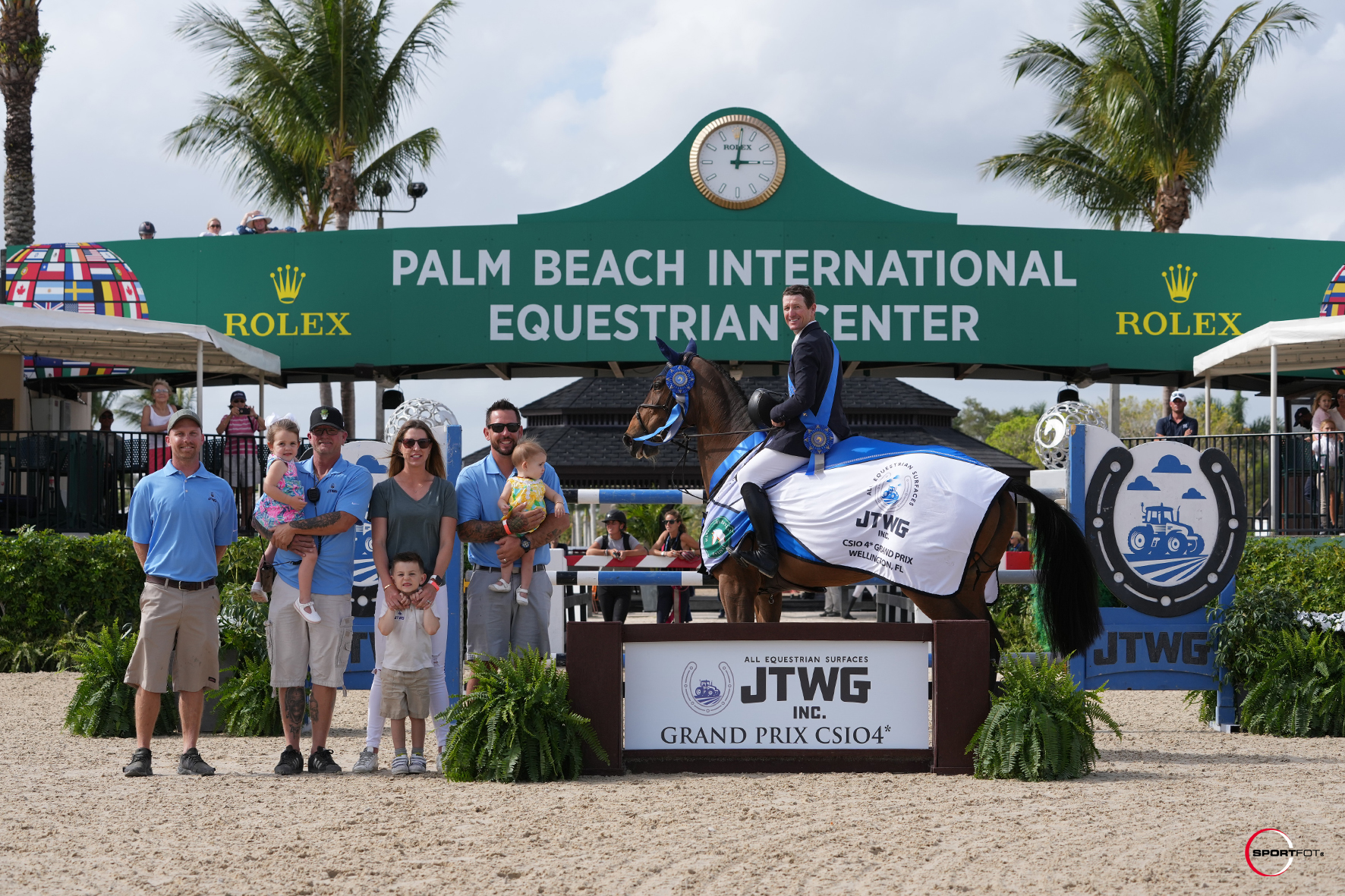 There were 48 starters in Sunday afternoon's grand prix, and they contested a course designed by Nick Granat (USA) and Steve Stephens (USA). Eight were clear to advance to the jump-off. Amanda Derbyshire (GBR) and Cornwall BH started the short course first but a rail for four faults in 36.75 seconds left them in fourth place. Karl Cook (USA) and Helen Signe Ostby's Coachella 4 also had four faults in a slower time of 38.05 seconds for seventh place.
Ward and HH Azur were next into the ring and "Annie" stretched her stride out to blaze around the course clear in 35.22 seconds, setting an unbeatable time.
"She was really covering the ground great," affirmed Ward. "I always have to watch a little bit of her left turn. That's always been her weak side, so I was a little worried about the Fidelity jump, but I made sure she jumped it before I tried to turn back too quick. She really performed beautifully, and we were able to get the nine [strides] home and put just enough pressure on these guys that we held up."
Ward's student Lillie Keenan (USA) and Agana van het Gerendal Z, owned by Chansonette Farm LLC, were quick in 37.20 seconds but with four faults; they finished in sixth place. Hilary McNerney (USA) rode her own Captain Cooper to eighth place after eight faults in 38.28 seconds.
At just 24 years old, Ioli Mytilineou (GRE) continues to show her growth in the sport. She and Levis de Muze, owned by Elia Construction SA, stopped the timers in 36.84 seconds with a clear round and slotted into second place at the end of the class.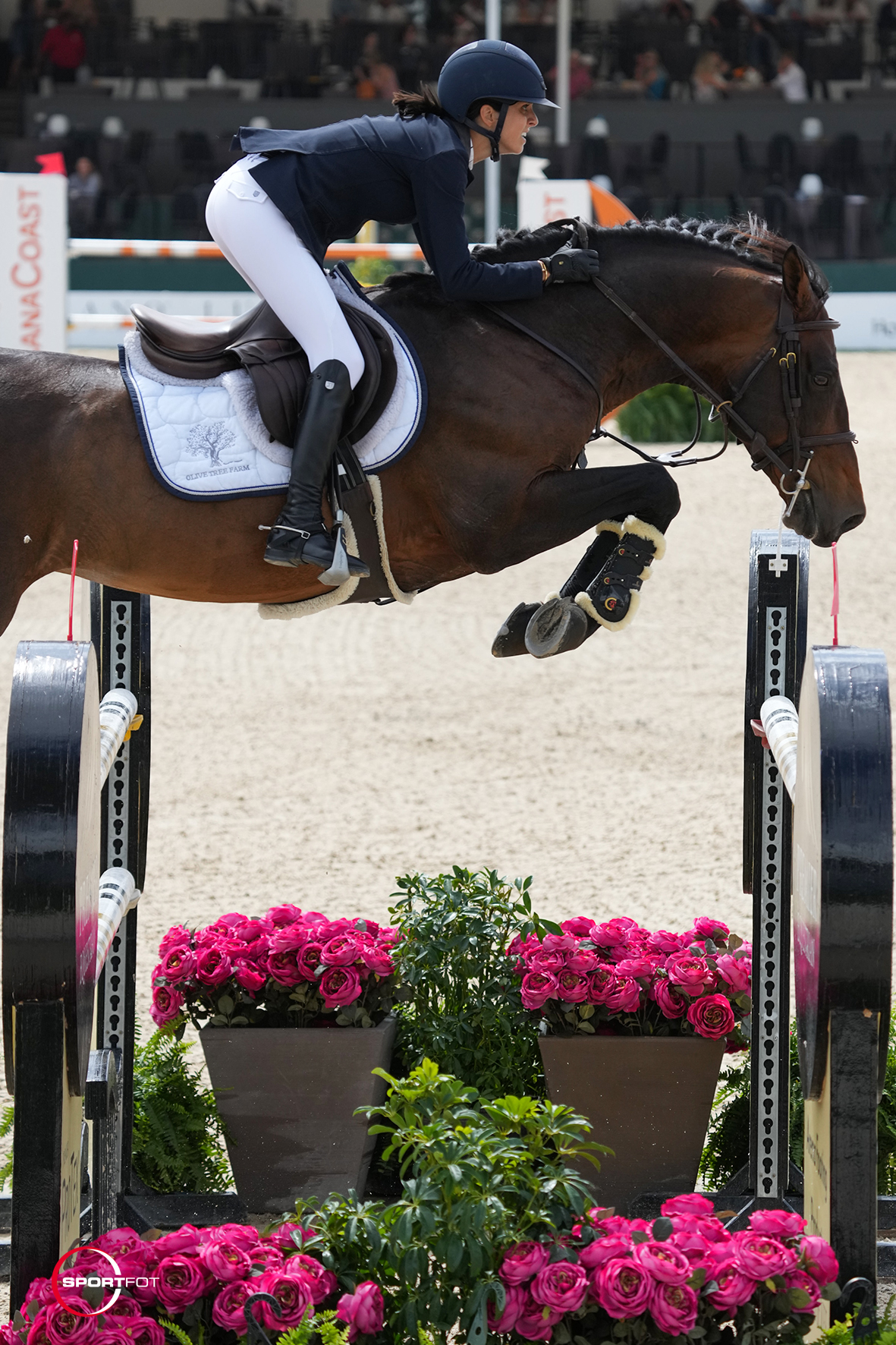 Of her top grand prix finish, Mytilineou expressed, "It means absolutely everything, to be honest. Last year here I was mostly fourth or fifth place, so I never actually got into the prize-giving ceremony. To be in it between McLain and Ben, two of the best riders in the world, is insane to me.
"When I went into the ring, the last thing my trainer said to me was, 'Don't risk a rail. You can be quicker than McLain anyway.' I just looked at him and laughed, but I tried to go as fast as I could and go clear," she recalled.
Her mount Levis de Muze, an 11-year-old BWP stallion by Elvis Ter Putte x Tinka's Boy, helped her to a top-12 finish at last year's European Championships, but has had a quiet start to the 2022 season. They will compete in next week's CSI5* competition.
She has ridden Levis de Muze since he was seven years old. "He's honestly my best friend," said Mytilineou. "I talk about him more than I talk about anything else. I feel like we know each other so well. Of course, I'm still very green, but he's also still very green, so there's a lot of stuff we still need to figure out. But every day that I ride him I could cry because I think one day he's going to retire. Every time that I ride him, I'm just so grateful to have him."
Erynn Ballard (CAN) and Gakhir, owned by Ilan Ferder and Esperanza Imports, had four faults in 37.09 seconds and took home fifth place.
Last into the jump-off, Ben Maher (GBR) and his mount Faltic HB, who went double clear in Saturday night's Nations Cup, were going for the win, but with a front rail at the first jump for four faults in 36.30 seconds, they settled for third place.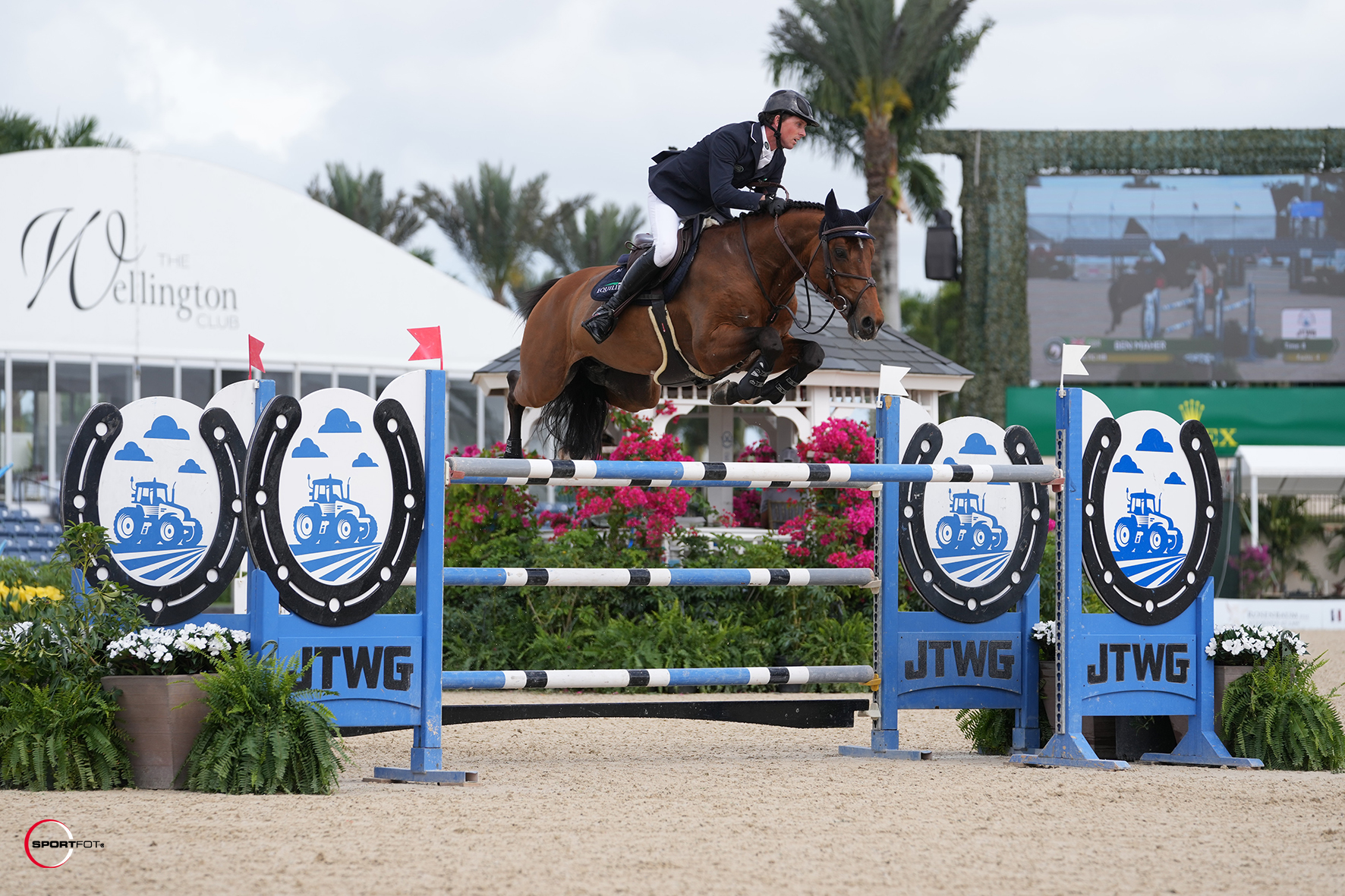 "The plan was to try to beat McLain," laughed Maher afterward. "That's twice now I've lost to him [this season]. [Faltic HB] didn't jump the first jump in the first round so well either actually, and I told myself that today I needed to angle number one to get a good rollback to [jump] two. We just had it down. I kept going because there was still good prize money on offer.
"He jumped two rounds last night amazing, and he jumped very good today," continued Maher of Faltic HB, Oakingham Stud's 12-year-old KWPN stallion by Baltic VDL x Concorde he has ridden since October 2021. "That's just the sport. Azur and Ioli's horse are two of the best horses in the world, so nothing comes easy here. He's come along great, and it's been a good trip for him. I'm very fortunate to be able to have horses like him."
While Maher is on a newer horse, Ward has been riding HH Azur, his 2016 Rio de Janeiro Olympic Games mount and winner of the 2017 FEI Jumping World Cup™ Finals, for seven years and considers every class with her as "bonus at this point."
"She's a warrior," said Ward of the 16-year-old Belgian Sport Horse mare (Thunder van de Zuuthoeve x Sir Lui VD Zuuthoeve). "The horse gives so much, and she doesn't owe me one round or one jump. When she's feeling right, we aim her to a competition."
Ward almost didn't qualify for the grand prix since they had eight faults in Thursday's qualifier. "I think I was a little overconfident," he admitted. "I was a little rushed in the morning, and I didn't work her very well. She's a hot horse; she was a little wild, and I tried to go a bit too fast."
The cards went their way though, and it was meant to be that HH Azur would add yet another grand prix victory to her record.
"She felt great in the first round and felt even better in the jump-off," said Ward. "I'm forever grateful for every grand prix we get with her."
Final Results: $214,000 JWTG, Inc. Grand Prix CSIO4*
1. HH AZUR: 2006 Belgian Sport Horse mare by Thunder vd Zuuthoeve x Sir Lui vd Zuuthoeve
MCLAIN WARD (USA), Double H Farm: 0/0/35.22
2. LEVIS DE MUZE: 2011 Belgian Warmblood stallion by Elvis ter Putte x Tinka's Boy
IOLI MYTILINEOU (GRE), Elia Construction SA: 0/0/36.84
3. FALTIC HB: 2010 KWPN stallion by Baltic VDL x Concorde
BEN MAHER (GBR), Oakingham Stud: 0/4/36.30
4. CORNWALL BH: 2008 Holsteiner gelding by Con Air x Cambridge
AMANDA DERBYSHIRE (GBR), Gochman Sport Horses LLC: 0/4/36.75
5. GAKHIR: 2011 KWPN stallion by Spartacus TN x Labor's VDL Indorado
ERYNN BALLARD (CAN), Ilan Ferder and Esperanza Imports LLC: 0/4/37.09
6. AGANA VAN HET GERENDAL Z: 2011 Zangersheide stallion by Aganix du Seigneur x Topas
LILLIE KEENAN (USA), Chansonette Farm LLC: 0/4/37.20
7. COACHELLA 4: 2012 Oldenburg mare by Christian 25 x Last Liberty 2
KARL COOK (USA), Helen Signe Ostby: 0/4/38.05
8. CAPTAIN COOPER: 2007 KWPN gelding by Namelus R x Corland
HILARY MCNERNEY (USA), Hilary McNerney: 0/8/38.28
9. MY WAY: 2010 Oldenburg stallion by Mylord Carthago*HN x Cassini II
LUIZ FRANCISCO DE AZEVEDO (BRA), Santa Cecilia Stables: 1/78.04
10. PAGANINI 170: 2013 Hanoverian stallion by Perigueux x Lordanos
LIUBOV KOCHETOVA, Liubov Kochetova: 2/79.89
11. MOYA VD BISSCHOP: 2012 Belgian Warmblood mare by Darco x Utrillo Van De Heffinck
NICOLA PHILIPPAERTS (BEL), Nicola Philippaerts: 4/73.57
12. COSMONA: 2011 Danish Warmblood mare by Cosmeo x Bogegardens Apollo
GIAVANNA RINALDI (USA), Anton Marano: 4/75.65
This Post Brought to You by:
Taylor, Harris Insurance Services
Taylor, Harris Insurance Services (THIS) was founded in 1987 to provide specialized insurance for all types of equine risk.We place our policies with the highest rated and most secure carriers, meticulously selected for reliability and prompt claims settlement. We are proud of our worldwide reputation for responsive and courteous service, and we welcome the opportunity to discuss your equine insurance needs and provide you with a quote.
Access to multiple underwriters
Leader in the U.S. and European markets
Customized policies provide you with a choice
Trusted advisors in the equestrian industry
Direct access to insurance professionals
Policies that cover every breed and discipline across all 50 United States