Edited Press Release
Wellington, FL – March 17, 2022 – On Thursday, March 17, at the Palm Beach International Equestrian Center, international competition continued during the week 10 of the Winter Equestrian Festival (WEF), sponsored by Horseware Ireland. Nick Dello Joio (USA) snagged the victory in the day's featured event, the $75,000 Adequan® WEF Challenge Cup Round X CSI4*, beating out seven other top pairings for the win aboard Cornet's Cambridge.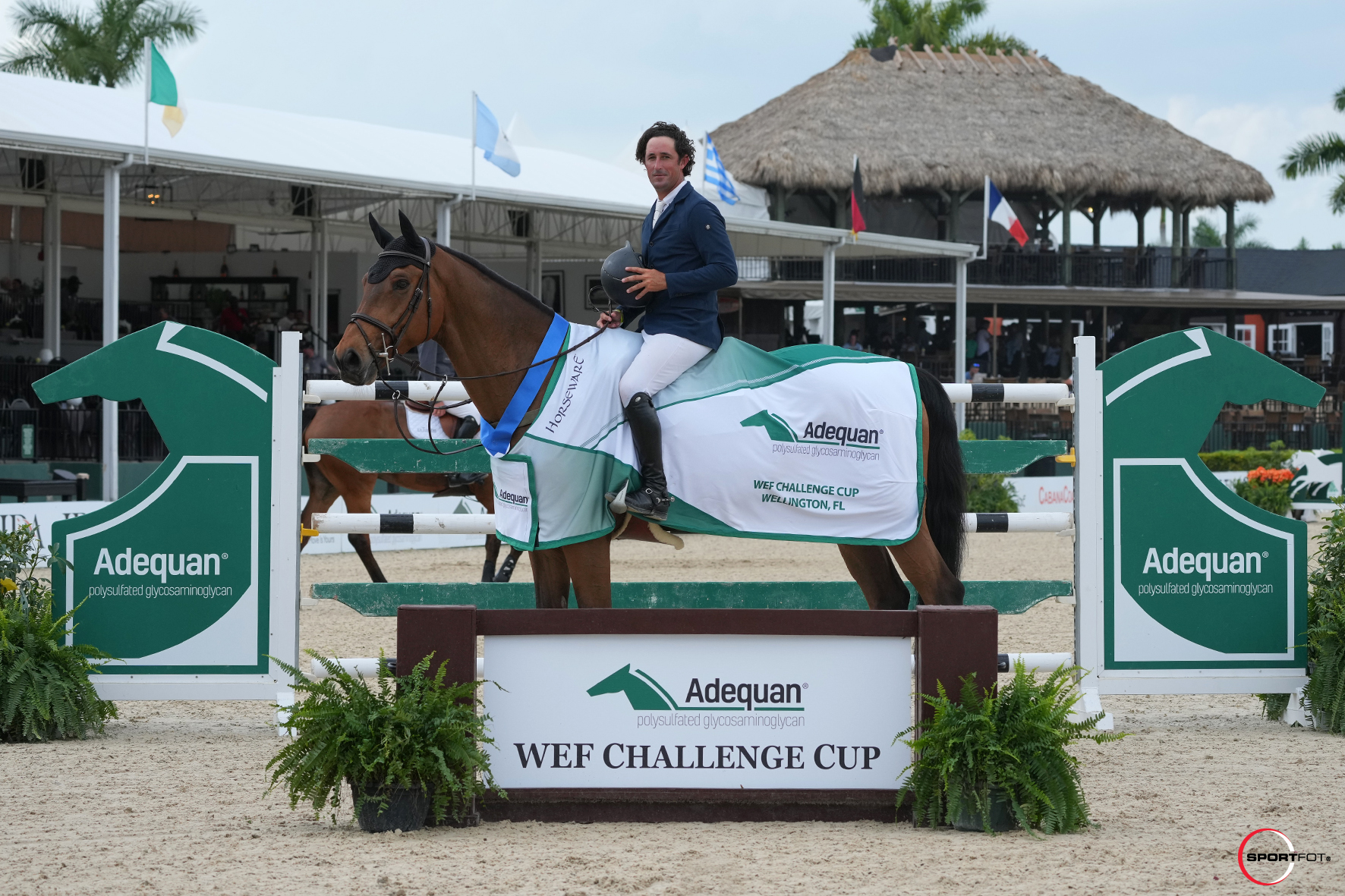 A large field of 70 horse-and-rider combinations contested Michel Vaillancourt's (CAN) first-round challenge with hopes of adding their names to the list compiled for the jump-off track. Darragh Kenny (IRL) proved the luck of the Irish was alive and well on this Saint Patrick's Day as he and Volnay Du Boisdeville produced the first clear effort. Seventeen different nations vied for the top spot but the final battle came down to three Irishmen, three Americans, Beat Mändli as the lone representative for Switzerland, and Ben Maher as the solo contender for Great Britain.
Nick Dello Joio was one of three U.S. riders to return for the short track but his expert navigation over the course with The Berry Group LLC's 10-year-old Oldenburg gelding Cornet's Cambridge (Balou Du Reventon x Cambridge 8) proved to be enough to hold on to the lead. The duo laid down a fast and flawless performance, clocking in at 37.87 seconds which put them two seconds ahead of the closest challenger.
"He is not the type of horse that would ever catch your eye in a smaller class, but he is extremely intelligent and he knows when to kick it in to gear," explained Dello Joio. "He's naturally very careful so he makes it easy to get ahead of yourself. I have taken it slow with him since coming to Florida and wanted to build him up.
"Today's course was difficult and a lot of the growing pains I have had with this horse have come from trying to do too much," he continued. "He is so brave and careful that he really prefers it when the rider stays out of his way and doesn't try to help him. I decided to just let him jump around how he was most comfortable today and clearly it paid off."
The pairing was not originally in the cards for Dello Joio, but he happened across the gelding while trying other horses to purchase and pursued him, despite the fact that he was not currently listed for sale.
"I was trying horses in Switzerland and, when I was trying a different horse, saw him in the barn," added Dello Joio. "I was told he wasn't for sale, but I asked for a price anyway, and after several days of communicating I was able to try him. I took him off property when I went to try him the second time, and he just came alive. Between that experience, and his show record, I was sold. I had a good feeling about him, and he was probably one of the best decisions I've made."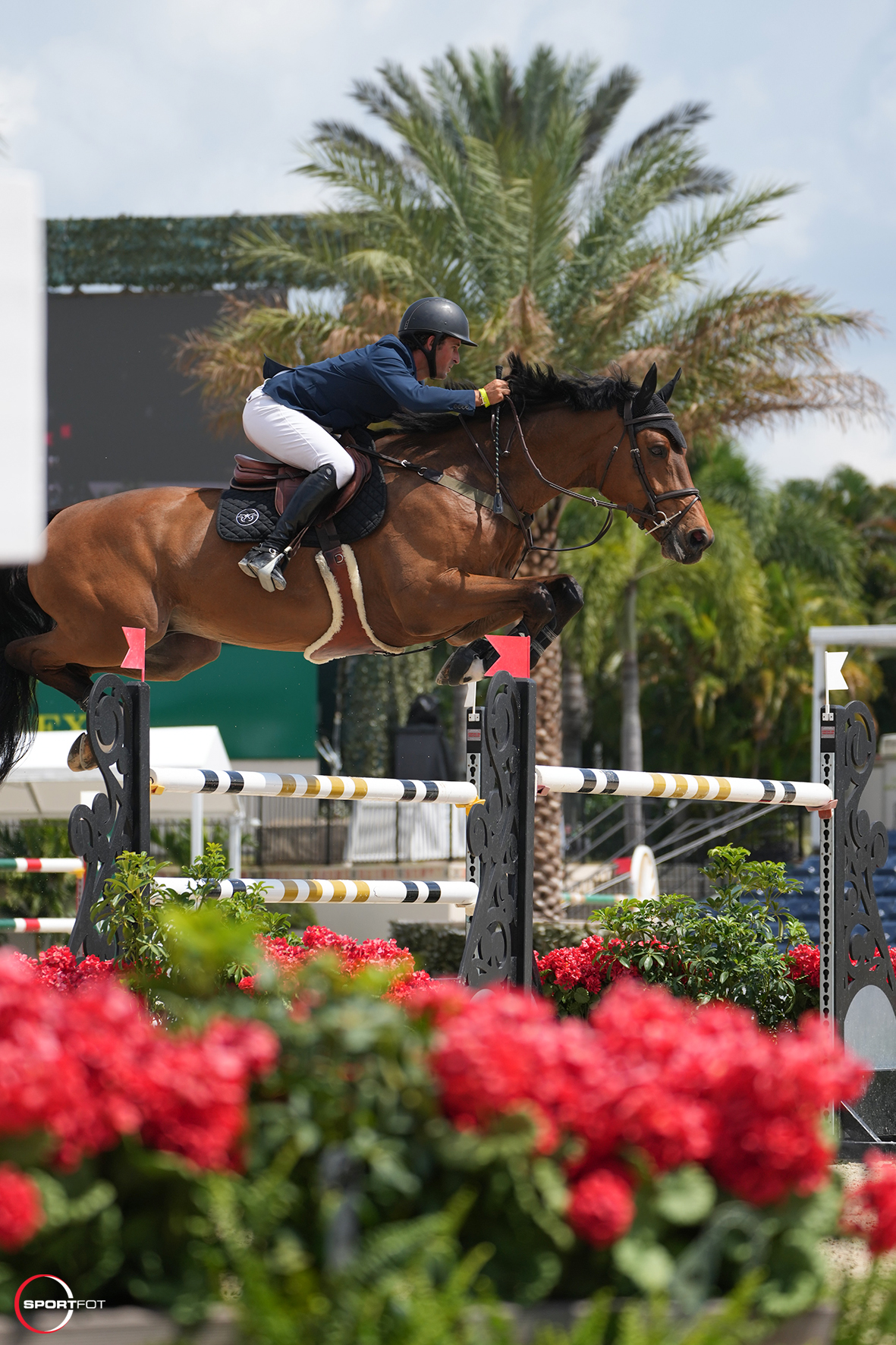 While not at the top of the podium, Ireland still had a strong performance with Mark McAuley and Jasco VD Bisschop taking second place, while Jordan Coyle rode to third aboard Centriko Volo. McAuley chased Dello Joio's time with SNC McAuley Equestrian's 13-year-old BWP gelding (Dulf Van Den Bisschop x Verania) and produced the only other double-clear effort, but was not quite quick enough across the ground after landing with a time of 39.61 seconds. Coyle then put forth the fastest four-fault score with a time of 36.56 seconds on Celtic Park LLC's 10-year-old Oldenburg gelding (Centadel x Chacco-Blue).
Daniel Coyle (IRL) and Ariel Grange's Oak Grove's Carlyle also appeared to have good fortune from their home nation on their side as they topped the $6,000 Bainbridge Companies 1.40m CSI4* out of 53 competitors. Coyle and the 14-year-old Holsteiner gelding (Casall x San Patrignano Corrado) rode to a fast 33.68 seconds to take the lead ahead of Alberto Michan's time of 33.76 seconds.
Final Results: $75,000 Adequan® WEF Challenge Cup Round X
1. CORNET'S CAMBRIDGE: 2012 OS gelding by Balou Du Reventon x Cambridge 8
NICHOLAS DELLO JOIO (USA), The Berry Group LLC: 0/0/37.87
2. JASCO VD BISSCHOP: 2009 BWP gelding by Dulf Van Den Bisschop x Verania
MARK MCAULEY (IRL), SNC McAuley Equestrian: 0/0/39.61
3. CENTRIKO VOLO: 2012 OS gelding by Centadel x Chacco-Blue
JORDAN COYLE (IRL), Celtic Park LLC: 0/4/36.56
4. GINGER-BLUE: 2011 KWPN mare by Plot Blue x Royal Bravour
BEN MAHER (GBR), Jane Forbes Clark: 0/4/37.94
5. SOUPER SHUTTLE: 2011 Hannoverian mare by Stakkato x La Zarras 2
CHLOE REID (USA), Live Oak Plantation LLC: 0/4/40.22
6. DSARIE: 2008 KWPN mare by Veron x Ahorn
BEAT MÄNDLI (SUI), Grand Road Partners GMBH: 0/4/42.28
7. VOLNAY DU BOISDEVILLE: 2009 Selle Francais stallion by Winningmood x Copacabana II
DARRAGH KENNY (IRL), Vlock Show Stables LLC: 0/8/37.54
8. GERKO: 2011 KWPN gelding by VDL Zirocco Blue x Chin Chin
DAISY FARISH (USA), Lanes End Showjumping: 0/20/46.71
9. LANDON: 2013 Zangersheide gelding Comilfo Plus Z x Quadrillo
KENT FARRINGTON (USA), Haity McNerney: 1/74.50
10. QUINTIN: 2010 KWPN gelding by Quaprice Bois Margot x Emilion
HYDE MOFFATT (CAN), Ariel Grange: 2/75.93
11. BONHOMME RICHARD: 2011 Selle Francais stallion by Catoki x Quaprice Bois Margot
ALISE OKEN (USA), Hi Hopes Farm, LLC: 3/76.64
12. AGANA VAN HET GERENDAL Z: 2011 Zangersheide stallion by Aganix Du Seigneur x Topas
LILLIE KEENAN (USA), Chansonette Farm LLC: 4/70.62