Edited Press Release
Wilmington, OH – Opening feature class action for the final week of World Equestrian Center – Wilmington's 2022 Winter Classic series hosted 23 speedy showjumping contenders facing off during the $15,000 WEC Welcome Stake 1.35m.
Bobby Murphy laid that tracks over which six riders carefully negotiated a clear first round, securing a spot in the jump-off. Four went double clear with only fractions of a second separating first and second place. Skylar Wireman piloted Karen (Levistano x Cleopatra) delivered another precise, high-speed performance to capture their second WEC Welcome Stake win of the 2022 season.
"Karen was a bit spicy today! She's had a light week and was for sure feeling fresh," Wireman said. "I knew when I walked the course that it would be a bit tricky because of the lines. The six and one-half stride to the double on the far side of the arena was not the easiest. The horse that I rode earlier in the class was much more green with the track and had some trouble. Karen handled it great."
Seventeen-year-old Wireman and MKT Equine Investments' 10-year-old Hanoverian mare led the $15,000 WEC Welcome Stake victory lap. They sealed the deal by producing two lightning-fast rounds; 70.563 seconds in the qualifier and 36.480 seconds in the jump-off.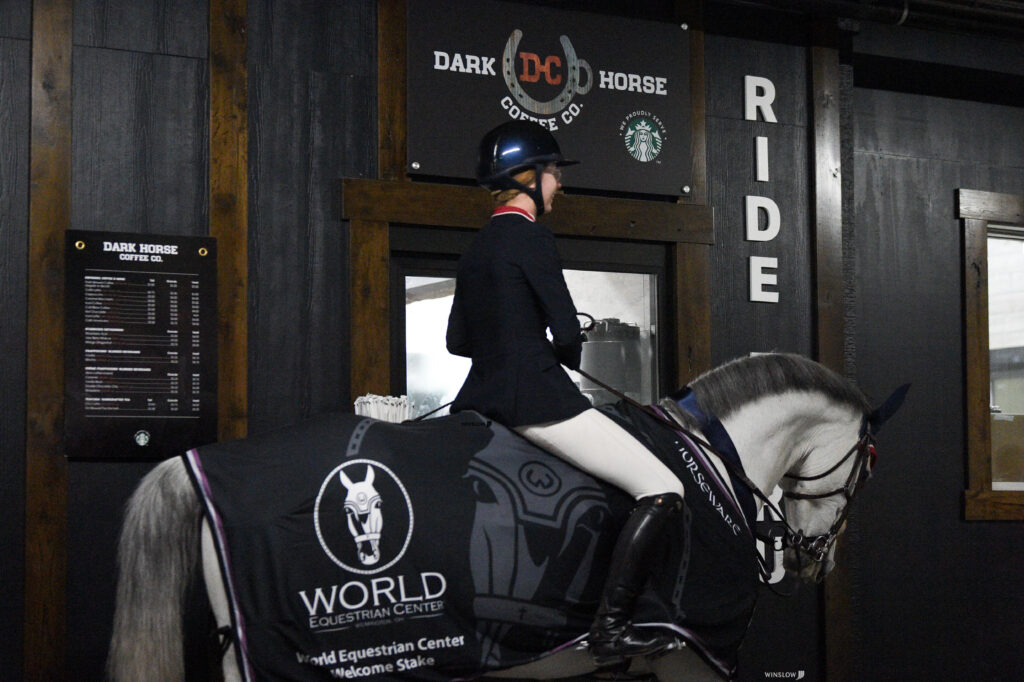 Sam Pegg and Ten Sixty Stables' Big Girl Z (Big Star Jr x Oglaya) have been top competitors during their several week-long stay at World Equestrian Center – Wilmington. Pegg (CAN) and the 9-year-old chestnut mare crossed the timers without a rail down in 76.168 seconds. They directly advanced into the jump-off, carefully clearing each effort in 37.200 seconds for second place honors.
Johnson and her own Eastpoint (Cardento x Jorlanda) finished in third place. The pair logged times of 78.265 and 41.064 seconds to secure a top-three finish during the final WEC Welcome Stake of the winter season.
$15,000 WEC Welcome Stake 1.35m Results:
Karen, Skylar Wireman: 0 | 0 | 36.480 
Big Girl Z, Sam Pegg: 0 | 0 | 37.200
Eastpoint, Hillary Johnson: 0 | 0 | 37.200
Chaccomo 11, ​​Drew Arnold: 0 | 0 | 43.340
Gluckskeks, Sam Pegg: 0 | 4 | 40.262
Gallup, Sarah Meier: 0 | 8 | 40.300
Jackson VDL, Megan Bash: 4 | 70.194
Frankenstein, Laura A. Hauser: 4 | 76.257
Pacifica, Sam Pegg: 4 | 76.953
Nightshade SCF, Sarah Meier: 4 | 77.558
---
This Post Brought to You by: Purina
We Shape the Future of Health & Wellbeing for Pets & People. We're Committed To Pets, People And The Planet We All Share. Purina Cares. Innovation. Quality. Safety