Edited Press Release
Wellington, FL – April 16, 2022 – It was a picture-perfect day on the derby field for the $140,000 Bainbridge Companies Grand Prix CSI3* on Saturday, April 16. The highlight class of the second week of the 2022 ESP Spring Series saw a starting order of 36 elite contenders test the opening track set by American course designer Ken Krome. In an exciting jump-off round, Olympic team silver medalist Kent Farrington (USA) and Orafina soared straight to the top of the leaderboard to claim the coveted prize and the lion's share of the prize money.
"I have now had Orafina for almost two years. I really think a lot of her. She was quite green when I first started riding her. She is exceptionally careful and is really fast, so she is my kind of horse. I am excited about her future," shared Farrington of the 2012 KWPN mare by For Fashion x Corofina. "Going into an impressive venue like the field here is always a challenge for greener horses like her, especially after jumping a bunch of rounds on the sand. However, I think the footing here is great, and it is a great opportunity to build up a horse on a grass ring."
The class showcased an international field of entries representing 17 countries, including Argentina, Brazil, Chile, Colombia, the Dominican Republic, El Salvador, Ireland, Japan, Lebanon, Mexico, New Zealand, Poland, Puerto Rico, Spain, the United States, and Venezuela. Krome created a pattern of 13 obstacles in the first round, which ultimately saw eight partnerships leave all the rails in their cups to advance to the jump-off.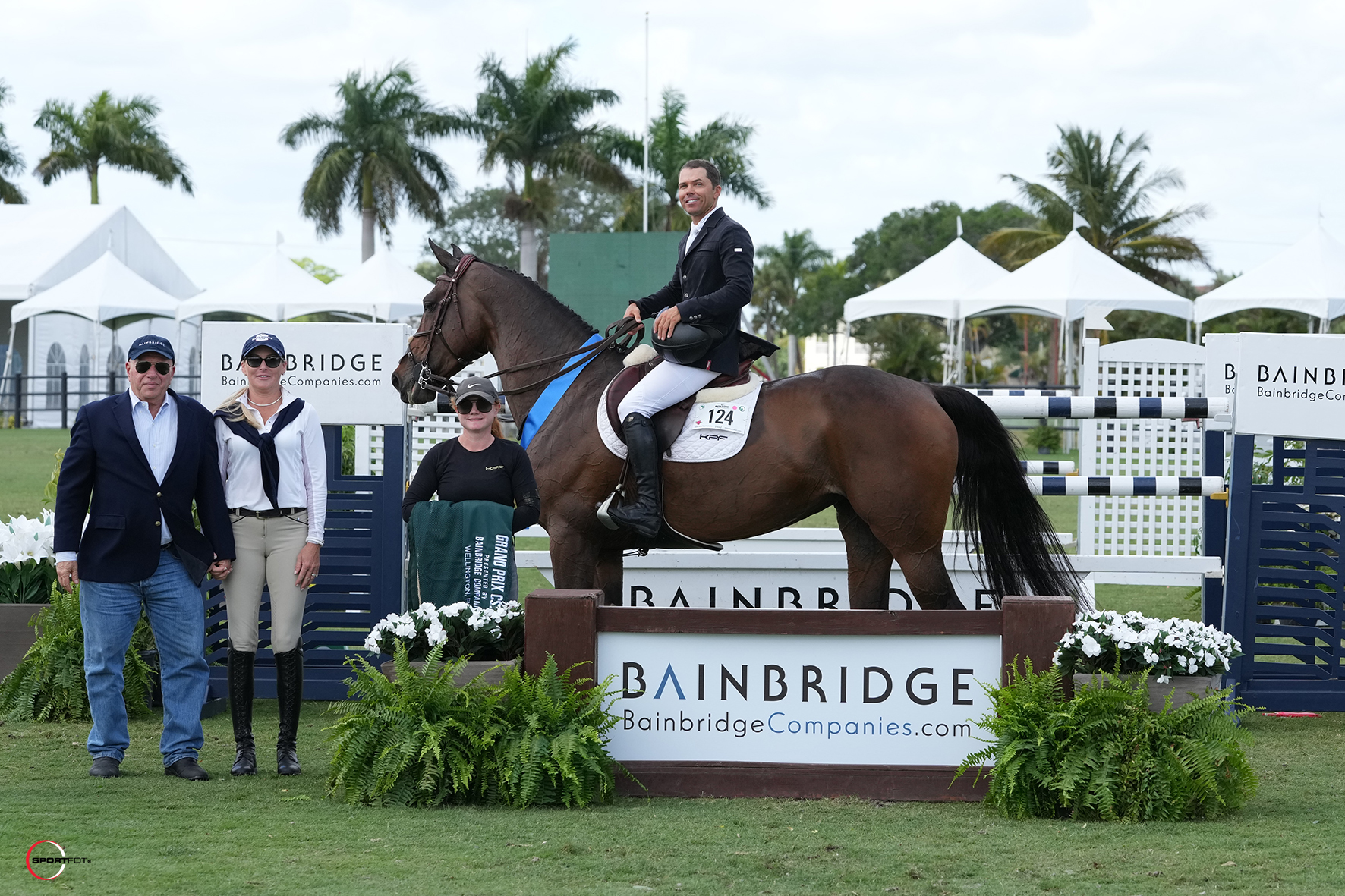 The first pair to test the jump-off, Carly Anthony (USA) and Portfolio Horses' Jet Blue, placed a clear round over the shortened course, setting the time to beat at 40.07 seconds, which would land them in fifth place. Darragh Kerins (IRL) was the next rider to go clear but stopped the clock two-tenths of a second behind Anthony's time for sixth place. Fifth in the jump-off-order, Farrington and Orafina, owned by Kent Farrington LLC, flew through the course, slicing nearly five seconds off Anthony's leading time. Hector Florentino Roca (DOM), Gonzalo Busca (ESP), and Santiago Lambre (BRA) followed Farrington on the field but couldn't catch his time, solidifying Farrington and Orafina as the winners of the$140,000 Bainbridge Companies Grand Prix CSI3*, with a winning time of 35.77 seconds.
On his plans for the future with Orafina, Farrington shared that he will continue to bring her along in competition. "I thought she stepped up this past winter circuit and had some great results. She surprised me in a good way when she was able to jump in a five-star grand prix. She almost won one of them," he remarked. "I am in a phase where I am building up some younger grand prix horses. My older grand prix horses are winding down their careers as my young ones are building up to that level. So, I am hoping that she will be a part of that team."
Lambre finished the day in second place aboard NRG Farm's Chacco Blue II, a 2007 Oldenberg stallion by Chacco Blue x Cincaba Rouge. Lambre finished his speedy jump-off at 36.76 seconds leaving Florentino Roca and Wyndmont's ABC Quantum Cruise, the 2009 Irish Sport Horse gelding by Obos Quality x Cruising, in third place as they crossed the timers at 38.21 seconds.
Chairman and CEO of The Bainbridge Companies, LLC, Richard Schechter was also present at the class. "Wellington is a very special place with an incredible equestrian community that brings people from the hunter/jumper world, the dressage world, and the polo world together. I'm especially involved in the hunter/jumper world, and because I live here year-round, I want to make sure that this sport expands and continues to grow here in Wellington. I'm very excited that the new partnership seems to want to expand the show season, and I'm very much in favor of that," he remarked.
As the groom of the winning horse, Mary Glier was the recipient of the Schneiders Groom Award following the $140,000 Bainbridge Companies CSI3* Grand Prix CSI3*. As part of the recognition, Glier was presented with a bag of high-quality grooming supplies courtesy of Schneiders Tack.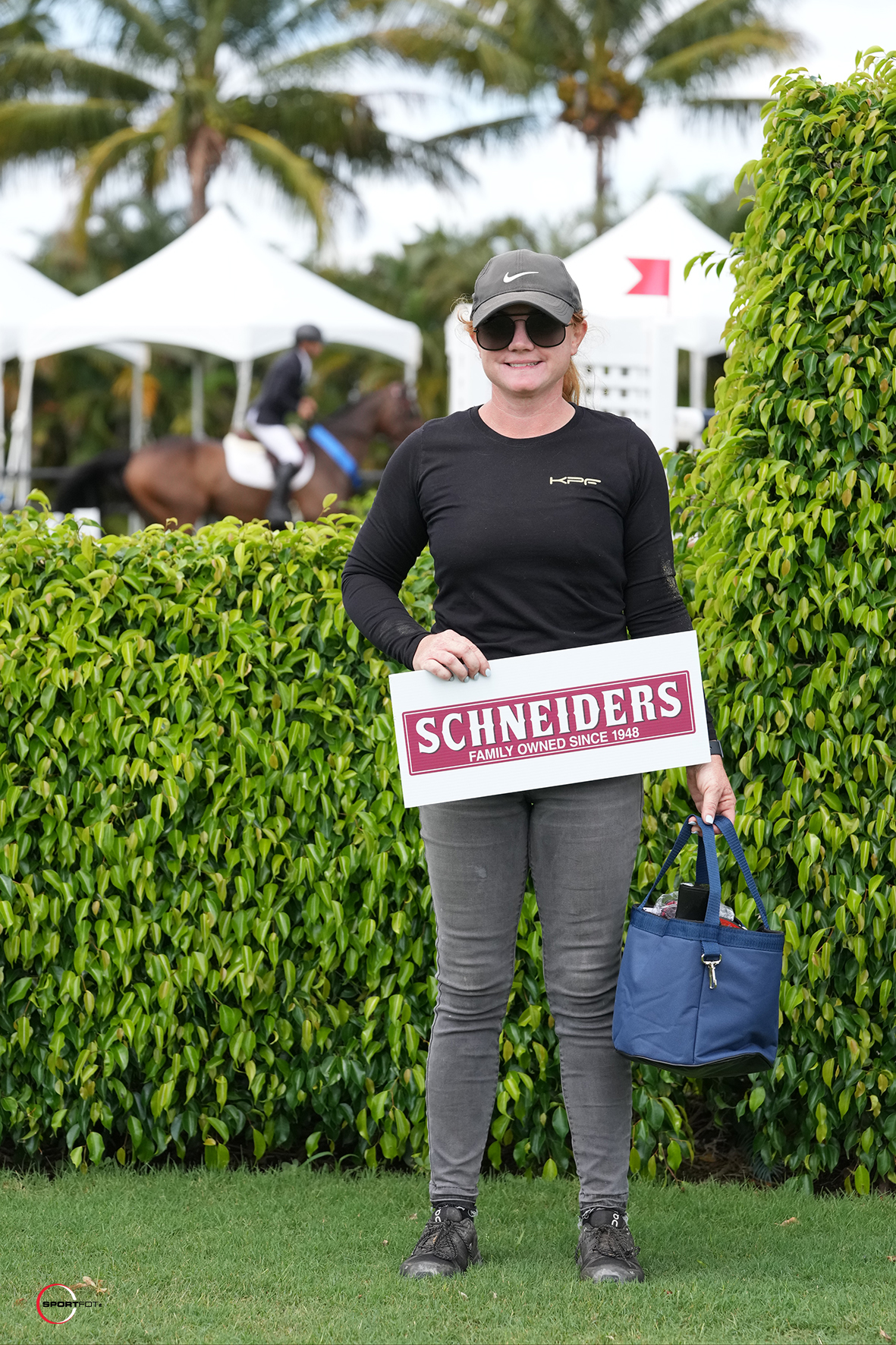 For the full results of the $140,000 Bainbridge Companies Grand Prix CSI3*, please click here.
Following CSI3* grand prix action, a new group of riders took to the field to compete in the $35,000 Resilient Fitness Grand Prix. A total of 38 horse-and-rider pairs tested the course, which consisted of 16 efforts, with just four advancing to the jump-off. Ultimately, James Billington (GBR) emerged as the class victor after speeding through the short course in 37.643 seconds with Samantha Mackenzie's Inajottie WB. Tomas Yofre (ARG) piloted Cardora, owned by Stellium Sport Horses LLC, to a second-place finish with a jump-off time of 38.735 seconds. Rounding out the podium, Luis Fernando Larrazabal (VEN) cleared the jump-off in 39.19 seconds with Victoria Heurtematte's Condara.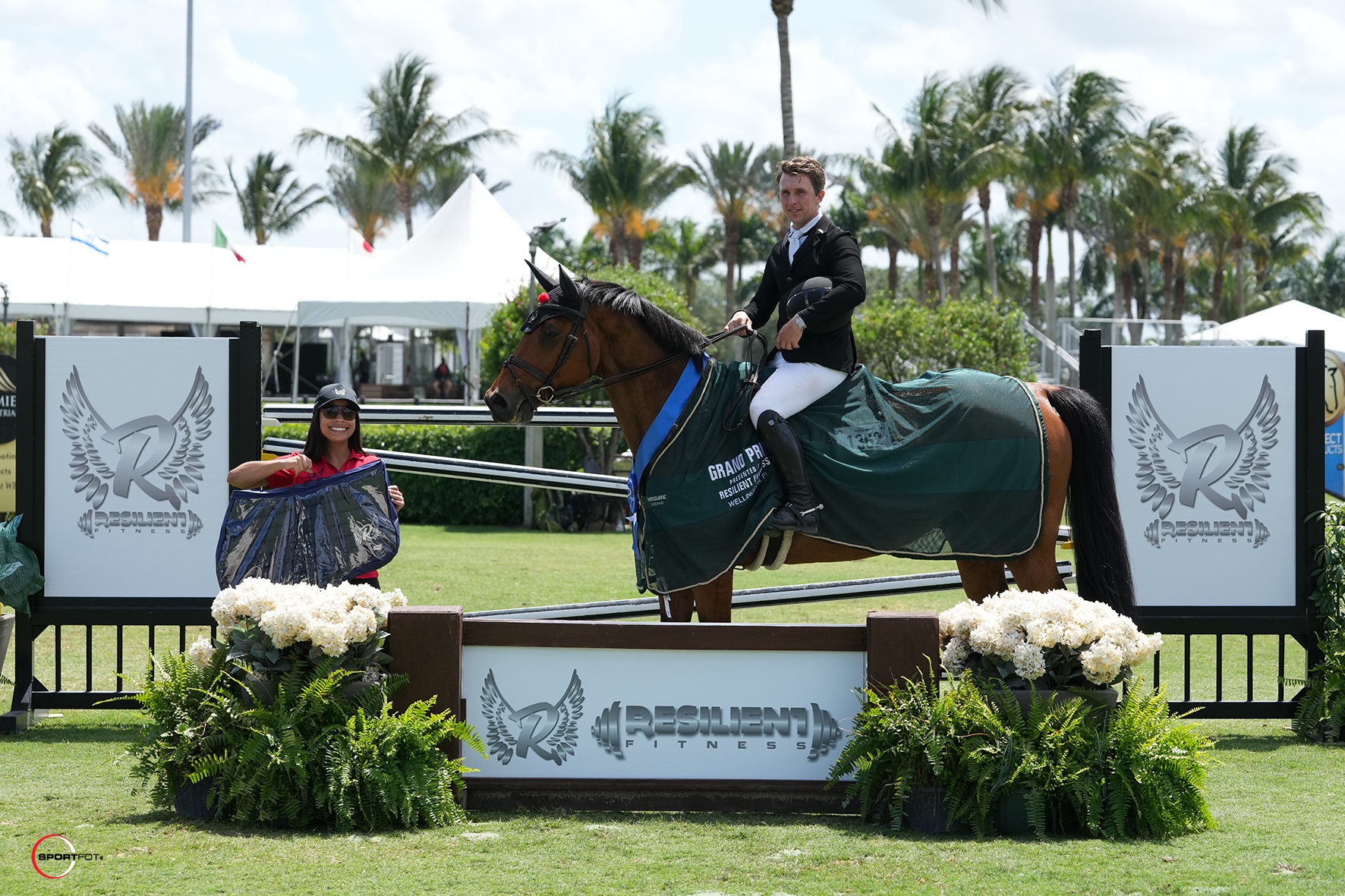 Out of a field of twenty-four competitors in Saturday morning's $2,500 High Amateur/Junior Jumper Classic, presented by Noltrex® Vet, top honors were awarded to Maya Nayyar (USA) aboard her own Vertige De Vigneul. In the jump-off, Nayyar and Vertige De Vigneul were the only combination to put in an accurate, quick, and clear round in the short track and crossed the timers in 44.539 seconds. Nayyar's jump-off competitors included Caroline Drummond (BRA) aboard her own Joules VD Hooghoeve, who rode to second place, and Alexandra Thornton (GBR) and Dunwalke LLC's Blueberry, who finished in third.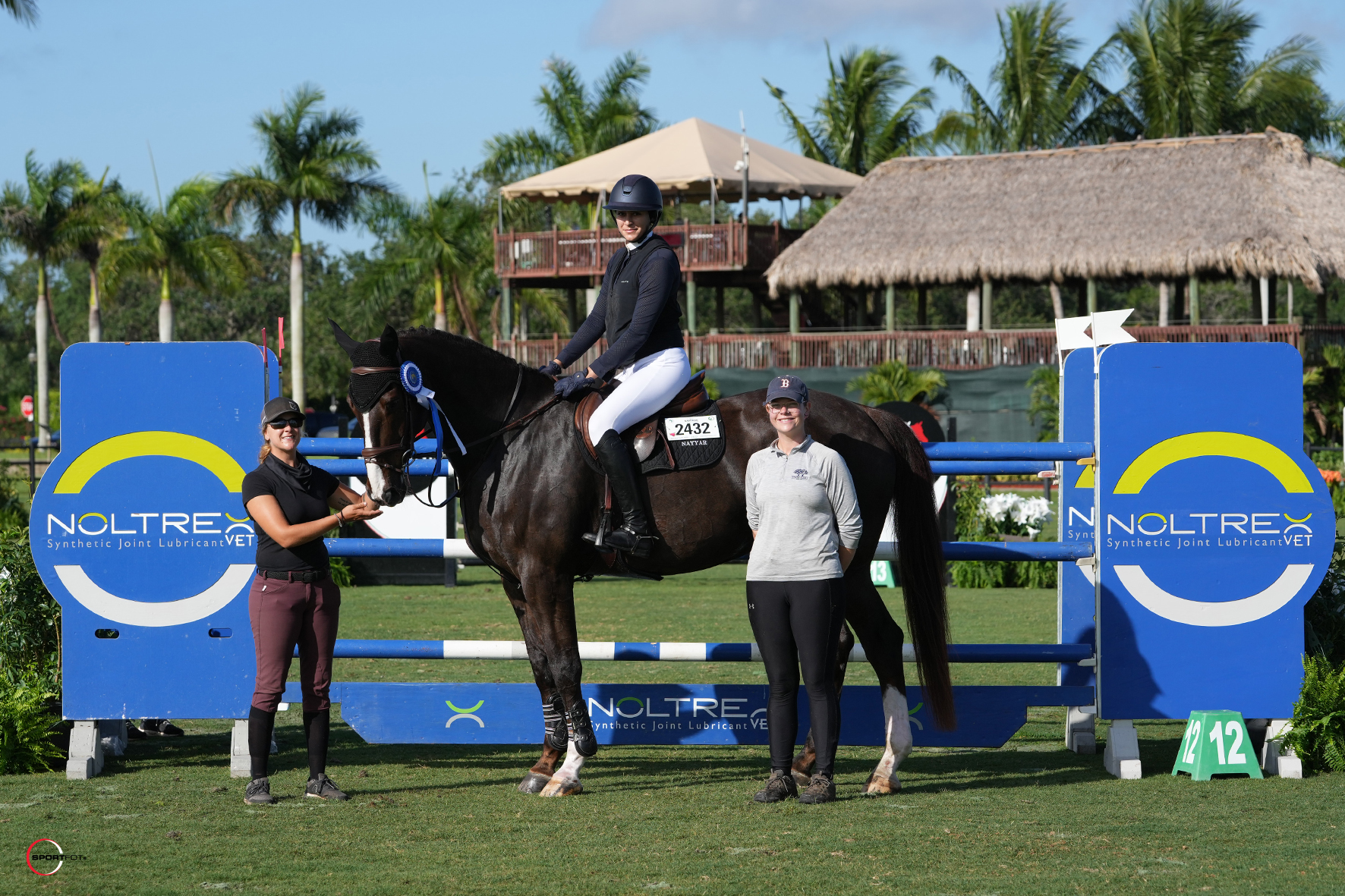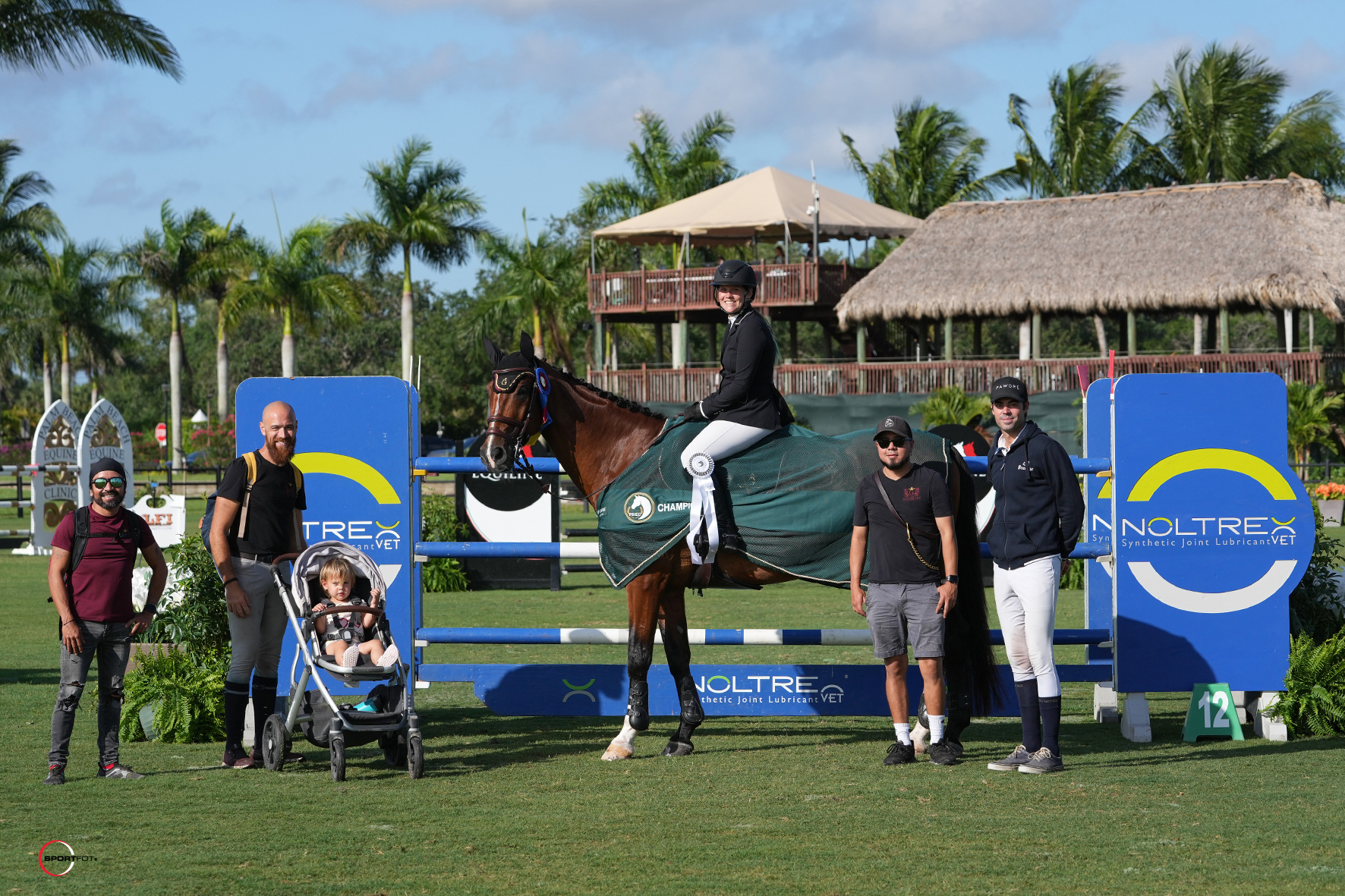 Full Results: $140,000 Bainbridge Companies Grand Prix CSI3*
ORAFINA: 2012 KWPN mare by For Fashion x Corofina
KENT FARRINGTON (USA), KENT FARRINGTON, LLC: 0/0/35.77
CHACCO BLUE II: 2007 Oldenberg stallion by Chacco Blue x Cincaba Rouge
SANTIAGO LAMBRE (MEX), Santiago Lambre: 0/0/36.76
ABC QUANTUM CRUISE: 2009 Irish Sport Horse gelding by Obos Quality x Cruising
HECTOR FLORENTINO (DOM), Ronnie Beard & Wyndmont: 0/38.21
CLASSIFIED: 2013 Irish Sport Horse gelding by Je T'aime Flamenco x Larissa II
GONZALO BUSCA (ESP), Stransky's Mission Farms, Inc: 0/39.67
JET BLUE: 2011 KWPN gelding by VDL Zirocco Blue
CARLY ANTHONY (USA), Portfolio Horses LLC: 0/40.07
CARLOS JD Z: 2009 Zangersheide gelding by Canturo x Baloubet
DARRAGH KERINS (IRL), NRG Farm LLC: 0/40.21
ICARUS: 2008 BWP stallion by Douglas x Ralisca
FRANCISCO GOYOAGA MOLLET (ESP), Straburg Mornin Inc: 0/4/50.94
ARPEGGI: 2010 Westphalian gelding by Arpeggio x Lancer III
BROOKE KEMPER (USA), Caroline Blum: 0/EL
CELINE: 2007 KWPN mare by Calvaro Z x Heartbreaker
KAREN POLLE (JPN), Karen Polle: 1/82.81
H5 TURBO Z: 2009 Zangersheide stallion by Thunder Vd Zuuthoeve x Gicini
CARLOS HANK GUERREIRO (MEX), H5 Sport Horses LLC: 2/83.96